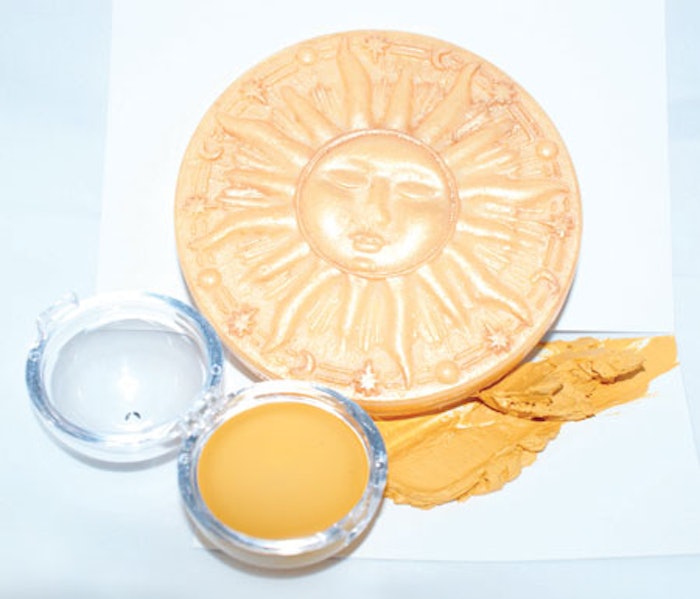 BASF
Trends are not just about color. A multitude of complex factors combine to tell a story and to evoke a mood.
A prominent color trend has a discrete and minimalistic feel, leading to enhanced natural effects on the face.
Complex colors that aren't readily identifiable as simply one color or another require artistic blending of multiple effect pigments.
Texture is also a crucial part of color cosmetic formulation.
Research and development in color cosmetics is always on a fast pace, matching technological innovations and global consumer needs in a changing world—and some exciting makeup trends are on the way. Products that will be formulated to meet these color trends will satisfy the demands of a multitude of consumer groups for makeup and beauty products, generally, that are fresh and innovative and represent today's lifestyles. Consumers want to feel that the product is unique and multifunctional: made just for them.
This article will discuss these upcoming trends as they relate to color, texture and performance for a range of cosmetic products and how different looks can be achieved using a variety of effect pigment technologies. Effect pigments are translucent, as opposed to traditional colorants that can be more opaque and chalky on the skin. Effect pigment particles reflect light directly but transmit some light through to underlying particles where the light is then reflected again, giving an overall appearance of depth and dimensionality to face, skin, nails and hair. Effect pigments and skin are well-suited to work together. Skin is naturally translucent, luminous, and dimensional. Effect pigments can enhance the skin by providing additional radiance and translucent color tones, as well as color correcting properties.
The unique optical characteristics of effect pigments can help translate these future trend looks into color cosmetics and personal care products.
Trends are not just about color. A multitude of complex factors combine to tell a story and to evoke a mood. Textures, performance and shelf appeal also play an important role in the selection of cosmetic products by consumers.
So how are these upcoming color and textural trends translated into finished cosmetics? BASF, for example, looks at the key descriptions in each palette—glossy, luminous, sheer, and a host of other influences that provoke a look or a mood. This allows a determination of which effect pigment technology will enable the formulator to create cosmetics that bring these ideas to life.
Sun-kissed Beauty
"Sun-kissed beauty" is among the trends to consider, and luminosity and radiance are effects associated with this look. Floral colors such as light pinks and brighter crimson and coral shades lift the mood of the consumer. Tan and terra-cotta shades are also a part of this trend. Influences are derived from nature: sun and sand. The look of the skin after being outdoors in the sun, and healthy, glowing skin are all part of this trend direction.
Key descriptive words for this trend include: shimmering reflections, dewy, glossy, gel like, sheer luminescence, pure and delicate, translucent, luscious glow, barely tinged with color, powdery, coppery glow, radiant, cashmere feel, flushed looks, and earthy tan and terra-cotta tones that are graduated to pink, orange and copper.
The look of radiant, illuminated skin that gives the consumer a fresh, natural look, can be accomplished by using medium particle size interference pigments in skin-enhancing shades of red and gold pigments such as BASF's Flamenco effect pigments. Pigments such as these, when used in foundations for the face, and creams and lotions for the body, are designed to impart a pure, healthy and young look to skin.
When these iridescent orange and red colors are combined with a medium particle size range synthetic mica-based white pearl that has an extremely white color, the overall look in cosmetic products is one of sheer coverage with a hint of glowing color. The color is clean and feminine.
Shimmering transparent effects for this trend can be achieved by using intermediate particle size borosilicate pigments. The clear substrate of BASF's borosilicate and pure white synthetic mica pigments are ideal where transparent color effects are desired. Upcoming trends for earth tones such as tans and terra-cotta are realized through the use of iron oxide-coated effect pigments of varying substrates such as BASF's Cloisonné mica-based and Reflecks Dimensions borosilicate-based effect pigments. These pigments are also used to achieve the bronzed, metallic looks.
Regal and Majestic
Majestic color such as precious gold accents and jeweled ornamentation is a second upcoming color direction. Pink gold, brushed copper and platinum, as well as blue–grayed mauve and turquoise blue are part of this trend direction.
Key descriptive words for this story for texture are: pearly accents, inspired by water, eroded iridescence, aged gold, regal, motion and depth, watery aqua-blue tones, semi-precious gems, light-catching, sparkle, jeweled brilliance, soft metallic, antique like, and brushed copper.
To achieve regal or royal connotations in cosmetic products, for example, gold colored Cloisonné iron oxide-coated mica pigments in various particle sizes—with effects from satiny to sparkling—can be used. Small particle size pigments such as these are used where subdued and soft effects are desired. The larger particle sizes are used to achieve more dramatic and bold effects, and this color story calls for both.
Water inspired bluish aqua colors are complex. BASF achieved these colors by combining its Reflecks MultiDimensions color-changing effect pigments with the jewellike Gemtone green and blue absorption effect pigments. Reflecks MultiDimensions borosilicate-based color-changing effect pigments were also used in the interpretation of this color palette to add a sense of motion or depth to color cosmetic and personal care products.
Light-catching and layered effects are also called for in this color palette and can be achieved with large particle sized, sparkly white pigments. A silvery or platinum sheen is added to cosmetic products by using a unique, flaked form of dry high luster bismuth oxychloride that can be pre-dispersed into many types of cosmetic formulas. BASF achieved the effect with its Biju Ultra UFC. Prior to the development of this technology, the use of high luster bismuth oxychloride was limited mainly to nail enamels. The look of worn, eroded iridescence to add antiqued effects can be achieved by using darkened, gem like natural mica-based effect pigments.
Natural and Minimalistic
A third upcoming color story has a more discrete and minimalistic feel. Combinations of grays and beiges (an important color direction), and subtle half-tones—ranging from cool, smoky khaki and gray to warmer golds—are featured.
Key descriptive words are: luminous complexion, soft glow, enhanced natural, creamy and sheer, discrete, healthy and glossy (hair), lush and pearly, soft accents, metallic sheen, erased.
What does this mean for makeup and personal care products? For one thing, enhanced natural effects on the face. This look can be achieved by using effect pigments in small particle sizes in both iridescent (red, gold and orange) and metallic shades (such as gold, bronze and copper). Rather than give a sparkly look on the skin, these pigments enhance skin with a soft and luminescent glow. Bismuth oxychloride-based colors such as BASF's Chroma-Lite line also give sheer, natural color and soft luminous looks to the skin. Both the small particle size mica-based pigments and the oxychloride-based effect pigments have a silky feel on the skin as well as enhancing skin adhesion and long-wearing properties, especially in powder formulations. They give a creamy texture to the formulations, meeting the need for beauty and performance.
Combinations of fine particle size white effect pigments with black effect pigments yield beautiful smoky grays. By adding in an interference red effect pigment, a complex smoky gray with iridescent red highlights is achieved that emulates the look of a lunar eclipse.
An interesting new trend will be "erased" features. The brows, lips, eyes or nails are concealed with makeup that matches the skin tone to allow other features to be emphasized.
Retro Precision
A fourth color and texture direction will feature pinkish beige and gray, along with deep and dense reds, and berry and wine shades such as burgundy.
Key descriptive words: strong reds, classic elegance, shiny or matte, lacquered, seductive and alluring, deep burgundy reds, 1950s couture, porcelain finishes, satiny complexions, perfection and precision, and light diffusing.
BASF found that its Reflecks Dimensions and Cloisonné pigments in rich colors such as Really Rouge, Sparkling Blackened Red, Rouge Flambé, and Nu-Antique Red were appropriate for meeting the task of transforming cosmetics into the rich reds and burgundies of this color story.
Complex colors that aren't readily identifiable as simply one color or another require artistic blending of multiple effect pigments. To achieve the looks called for in this color story, Cloisonné Golden Bronze and Orange were blended with the shimmering and pure white synthetic mica-based Chione Snowfall white. Through testing blends of these types of effect pigments, it was easy to envision differentiated highlighters and foundations that add just the right glow to the skin.
Consumer Appeal
From skin and hair care products to sun care and spa products, consumer products can benefit from the use of effect pigments. Feelings of well-being, luxury and indulgence all result from the use of elegant looking products. Effect pigments create this look through the manipulation of light.
The appearance of the product on the shelf, particularly those products in transparent packaging, can entice the target consumer market. Just a few examples include the use of large particle sparkly pigments for teen and children's products, and the use of small particle size effect pigments for consumers who want a more sophisticated or natural look. Furthermore, consumer shelf appeal can be enhanced through creation of certain images such as luxury, glamour, opulence, sophistication, fun or trendiness.
More Than Just Color
Texture is also a crucial part of cosmetic formulations. In certain color cosmetics, silky skin feel, adherence to the skin and long-wearing properties are valued by consumers. When BASF evaluated feel, Mearlmica SVA treated with lauroyl lysine was used—particularly in pressed and loose powder products such as eye shadows, blushes and bronzers—to achieve these value-added performance benefits.
Effect Pigments and Trend Interpretations
Trends evolve with every new fashion season. Interpreting them into beauty products is both an art and a science, and a range of cosmetic products that meet upcoming trends can be achieved using a broad variety of effect pigment technologies. No matter where the trends take us, special effect pigments can be a powerful marketing tool to help create new looks for consumer products.
Flamenco, Cloisonné, Chione, Chroma-Lite, Biju, Gemtone, Reflecks, and Mearlmica are trademarks or registered trademarks of BASF.
Nancy McGuire is the technical project manager, cosmetic applications—effect pigments, for BASF BeautyCare Ingredients.