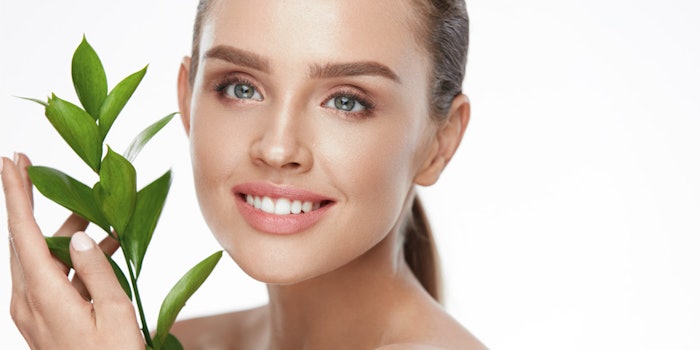 A green revolution is underway in the global personal care, cosmetics and beauty industry. Skin and hair care product manufacturers are seeing significant increases in consumer demand for naturally derived, plant-based and petroleum-free products.
According to Grand View Research, the market for organic personal care products will reach $25 billion by 2025 at a CAGR of 9.4%, with skin care products owning the highest share of this segment at 33.7%. 
The Positive Environmental Impact of Plant-Based Solutions
The U.S. Department of Agriculture's BioPreferred Program's most recent reporting from 2018 shows continued aggressive growth in bio-based chemicals, including for use in cosmetics and personal care products. 
The latest report highlighted that, "Biobased products, a segment of the bioeconomy, contributed $459 billion to the U.S. economy in 2016, a 17% increase from 2014."
The report showed that such bio-based products, which specifically avoid petroleum refining processes or uses of petroleum-based chemicals and instead rely on plant-based solutions, displaced up to 12 million metric tons of climate-harming greenhouse gases in 2016 and up to 9.4 million barrels of petroleum oils.
In cosmetic and beauty industry applications, the USDA BioPreferred Program report states, "This industry produces a wide range of products from essentials, such as deodorant and body wash, to discretionary items, such as creams and lotions. Consumer demand for environmentally friendly products with natural ingredients is helping to create a new market that relies on biobased products. As companies in the U.S. expand their reach globally, exports are expected to increase by 4.6% in the period between 2018 and 2022."
These positive trends reflect broadly based demographic shifts that resulted from more consumers (especially millennials and Gen Z) linking their own future wellness in a changing global climate directly with their personal beauty and wellness goals. Hashtags like #greenbeauty, #ecobeauty, #greencosmetics and #naturalskincare number in the millions of posts on platforms like Instagram. 
Global Demand for Authentically Eco-friendly Brands
In the Asia-Pacific region, eco-friendly skin care products are credited in a 2018 study in the journal Sustainability with rapidly rising market share, while constituting the fastest-growing segment among green cosmetics.
The study authors reported, "There is a highlighted demand for green skin care products because consumers are becoming increasingly concerned about buying eco-friendly products." 
In North America in 2019, executives attending the Sustainable Cosmetics Summit in New York City learned that fully two-thirds of American women now purchase natural and organic beauty products, up nearly 20% from just a decade ago.
Furthermore, they learned that consumers are scrutinizing personal care product supply chains for social and environmental risks as never before. Consumers everywhere are able to easily spot greenwashing, and demand authenticity and transparency from brands.
What Is A Green Cosmetic?
In a 2019 EU personal care consumer trends study published in the journal Resources, the authors observed, "Green cosmetics are environmentally friendly products—defined as non-hazardous to natural resources, and renewable. They can basically be used without harming the environment. Green cosmetics are natural cosmetics, primarily made up of plant and fruit extracts and concentrates."
The authors also cite that the earliest skin care preparations—going back as far as ancient Egypt—used natural clays, waxes, and plant-based resins. Green cosmetics therefore are nothing new, yet experiencing a rapid global resurgence.
The key elements of a green or natural cosmetic product could be characterized in an unbroken flow diagram from the skin's cellular surface outward to the surface of the earth from which they derive. Compositionally, green cosmetic and personal care products must be non-toxic and come from natural (not synthetic or petroleum-based) materials. 
Therefore, the cells (or micelles) contained in "green" products are as close to their natural chemistry as it occurs in nature. Truly green brands are just as conscious of purity in sourcing any natural carrier materials, and recognize that they must also fit these same green, naturally derived criteria even though they may be functionally inert.
Brands committed to sustainability throughout the supply chain understand that while formulating with ingredients that are non-toxic, non-petroleum origin and naturally plant or mineral derived is important, other processing and distribution factors must also be considered, and meet certain requirements.
Ingredient suppliers seeking to make green claims and instill green values across supply chains, also have all these factors to consider, including:
The agricultural (for plants) or mining (for minerals) practices used to produce raw/crude starting materials, and the absence of animal-derived ingredients
The physical and chemical processes used to refine the crude materials
The social, economic and legal/regulatory systems employed throughout the supply chains and the extent to which they assure ethical, legal, equitable, cruelty-free, non-discriminatory, and abide by fair labor and trade practices
The carbon footprint and embedded non-renewable energy sources involved in processing and transportation
The efficiency of water and renewable resources consumed to produce the finished material
The recyclability or reuseability of the packaging used to store and transport the ingredients, and the minimization of petroleum products in such packaging
The extent to which by-products involved in all phases of manufacturing have further functional/beneficial uses (good), or simply become waste (bad)
The transparency and traceability to raw natural sources which the entire supply chain from source producer to end consumer can document
How Green Is "Green"?
While it is undoubtedly tempting to equate a natural or plant-based ingredient automatically with being "green" or "eco-friendly," formulators and brand marketing executives must be careful to avoid the pitfalls of "green-washing" and make every effort to remain transparent and fully authenticate their "green" claims.
Indeed some putatively "green" supply chains are rife with shocking labor and environmental practices, and aware consumers are therefore refusing to take part in the dark side of beauty.
For example, plant-based palm and avocado oils, shea butter, carnauba wax, vanilla and cocoa—all commonly used in skin care formulations—may carry some of the highest environmental, social and governance (ESG) risks including child labor, forced labor, deforestation, water pollution and corruption, according to a 2018 Verisk Maplecroft Research analysis. 
As this study's authors noted, "Ethical consumerism is here to stay, and it has significant influence over the shopping decisions made by millennials, so scrutiny of what goes into the millions of cosmetics produced every year will continue and demands for transparency will increase. When a brand's reputation is at stake, it is worth remembering that the cosmetics supply chain is only as strong as its weakest link."
 A key consideration beyond the physical composition of an ingredient, therefore, is the transparency with which its supplier discloses the social and economic means by which its raw materials are harvested, mined, procured and processed. How do your company's ingredients or products stand up? Your customers are paying close attention. 
Multinationals Assert Leadership
In the absence of agreed international or standard industry definitions of what constitutes "green," large cosmetics brands are taking matters into their own hands through internally led source transparency reporting systems.
Unilever's Sustainable Agriculture Code (SAC), which began in 2010, and L'Oreal's Sustainable Sourcing Methodology (SSM), which began in 2018. are two examples.
Both are now third-party administered for greater trust and transparency through the NGO Rainforest Alliance. Unilever's stresses these five interwoven standards that result in metrics upon which continuous improvement are benchmarked:
Sustainably sourcing to the highest standards from our network of suppliers
Driving change through continuous improvement policies with suppliers
Raising awareness of sustainable sourcing among our consumers
Playing a leading role in the transformation of agricultural sectors relevant to our business, particularly sustainable tea and palm oil
Protecting biodiversity
L'Oreal's SSM also stresses specific socially sustainable points of compliance:
Labor conditions must be decent and safe, in line with human rights and the principles prescribed by the International Labour Organization, across the whole supply chain
Equal opportunities and zero discrimination between producers are verified, and women's empowerment is encouraged
The growing and harvesting of crops must contribute to improving producers' livelihoods and respect traditional knowledge of biodiversity, in line with the principles of the Nagoya Protocol
Cultivation and harvesting practices preserve biodiversity, particularly forests
Sustainable, low-carbon agricultural practices are in place
Having this entire process verified by an independent third party, in order to measure the positive impact of the programs on the respective sectors
It is extremely encouraging to see large brand holding companies make commitments like these because of the vast numbers of consumers—in the billions—who eat or apply their products every day around the globe.
Cosmetic ingredient suppliers and finished product producers who are not already self-assessing their products against these standards are well advised to begin doing so.
National Distributors Pushing Green Upstream
Moving upstream from the largest cosmetics and personal care brands, some cosmetic ingredient distributors are also applying eco-sustainability principles to their vendor qualification and sourcing practices.
The U.S. firm Acme-Hardesty, a major supplier of palm and castor oil-based oleochemicals, along with a large portfolio of plant-based ingredients, is a founding member of the Roundtable on Sustainable Palm Oils (RSPO). 
Acme-Hardesty is taking a proactive approach to partner with suppliers who are fully committed to fixing the notorious tropical deforestation effects that global demand for palm oil products fomented and making its entire portfolio of bio-based ingredients sustainable. 
The company recognizes its pivotal role in driving green consumer demand trends upstream to the managed palm plantations largely in Southeast Asia that supply the raw materials in an innumerable amount of consumer topical beauty and personal care products. 
According to the company, "As a leading supplier of castor and palm derivatives, Acme-Hardesty recognizes the need for renewable raw materials for manufacturing sourced in an ethical way. We are committed to upholding responsible sourcing practices to reduce environmental and social impacts associated with our products." 
Acme-Hardesty publishes an annual Sustainability Report providing annual metrics, for example, on the rapidly rising proportion of RSPO verified imports making up their portfolio of palm derivatives.
Similarly, in Europe, the Swiss-based cosmetic ingredients distributor Clariant has developed sustainability standards based on ISO 16128 "natural" definitions and the Renewable Carbon Index (RCI) metrics. This has resulted in a portfolio of over 50 "Green Performers" ingredients that pass the company's transparent supply chains and biomes diversity criteria. 
These ingredients are geared to R&D personal care cosmetics formulators such that superior technical performance in given applications is married to the company's commitments to source traceability to transparency and to its formal green standards compliance. 
This covers a range of functional ingredients in bio-based surfactants, emulsifiers, emollients, hair conditioners, preservatives and silicone alternatives. Clariant claims that the result is "…substantiated sustainable technologies for key building blocks of cosmetic formulations. Our ambition is to continue developing and expanding these green technologies so formulators can create cosmetics with even higher RCIs—and no compromise in performance."
Cosmetic ingredient distributors establishing green, eco-sustainable portfolios and metrics are clearly on the cutting edge of cosmetic and personal care brands' capacity to supply consumers products they can trust to enhance personal, bioregional and ultimately planet wellness. This also happens to respond smartly to the key demographic shifts cited above.
The Supplier Role
At the opposite end of the spectrum from the end consumer and from famous DIY eco-brands like Lush is the green/natural personal care ingredient supplier.
Whether through inherently green production and processing models—as with some vegan, sustainably farmed traditional ingredients like jojoba oil, turmeric (curcumin) or seaweed extracts—or through core value-driven enterprises seeking to transform a product class or supply chain, more and more ingredient suppliers are advancing the green revolution through bottom-up, supply-driven models. This is a trend and a space to watch.
Leading beauty and personal care ingredient suppliers are deploying methods and strategies to improve eco-responsibility, creating competitive ripple effects across ingredient categories. One key strategy is disintermediation—aka removing the middle-man—between supplier (or supply region) and manufacturer to boost source traceability and mitigate supply chain disruptions, already a key trend in natural foods and supplements.
A growing global demographic of eco-aware consumers, especially the rising GenZ buyer, clearly prefer plant-based alternatives to silicone-based and synthetic ingredients. This is driven by their more innate understanding of the direct connections between personal and planetary wellness through what they put in or on their bodies. 
In the realm of plant-based (vegan and eco-sustainable) ingredients, Mintel reported recently that the marked rise in the appearance of vegan claims is "based upon the perception by mostly non-vegans that these products are healthier and safer" including for the environment.
So even though the number of vegans in the population is still small, more mainstream consumers' beauty product choices are influenced by vegan-driven values and quality points.
One example within plant-derived ingredients is the rise of regenerative farming practices which give more back to the soil ecosystem—pollinators, earthworms, beneficial soil microbes—and to rural farmland biodiversity than it takes to grow them. Such suppliers are aligning with unavoidably increasing consumer concern about the eco-social impacts of end user products. 
These suppliers truly believe that ingredient supply chain sourcing practices likely have the single biggest influence on sustainability as they directly impact crop and land management practices, ethical labor practices, packaging, distribution, and finished product manufacturing. 
They are among the most fully green, sustainable, and scalable in plant-based cosmetic and personal care ingredients, which are increasingly sought after by the large standard-setting multinationals who are steadily requiring measured eco-social improvements their ingredient porfolios. 
Bringing It All Home
In the fullest sense of the term, the green, eco-sustainable supply of any natural cosmetic or skin care product should signify that the environment, the economy and human communities all benefit significantly from its use in commerce. 
What we use for beauty and wellness in our homes ought to drive greater ecological beauty and wellness all over the world, not take from it. This means that as a product's demand grows, even to market-leading dominance, the overall sustainability of the product's category also improves over time. 
Achieving this objective measurably over time energizes the companies, their employees and supply chain stakeholders and the natural environments from which the wellspring of natural beauty and holistic wellness ultimately rises. 
There are many paths and many shades of green that companies will take over this new decade, but they are all rooted in building trust and transparent accountability in the inherent health (non-toxicity) and bio-ethical integrity of every link in the supply chain.
Greg Cumberford is a 30-year botanical wellness advocate, products formulator and clinical science researcher in nutritional and personal care applications. He is the VP for science and regulatory with Natures Crops International, a vertically-integrated supplier of regeneratively grown, risk-mitigated and science-backed specialty oil ingredients.
---