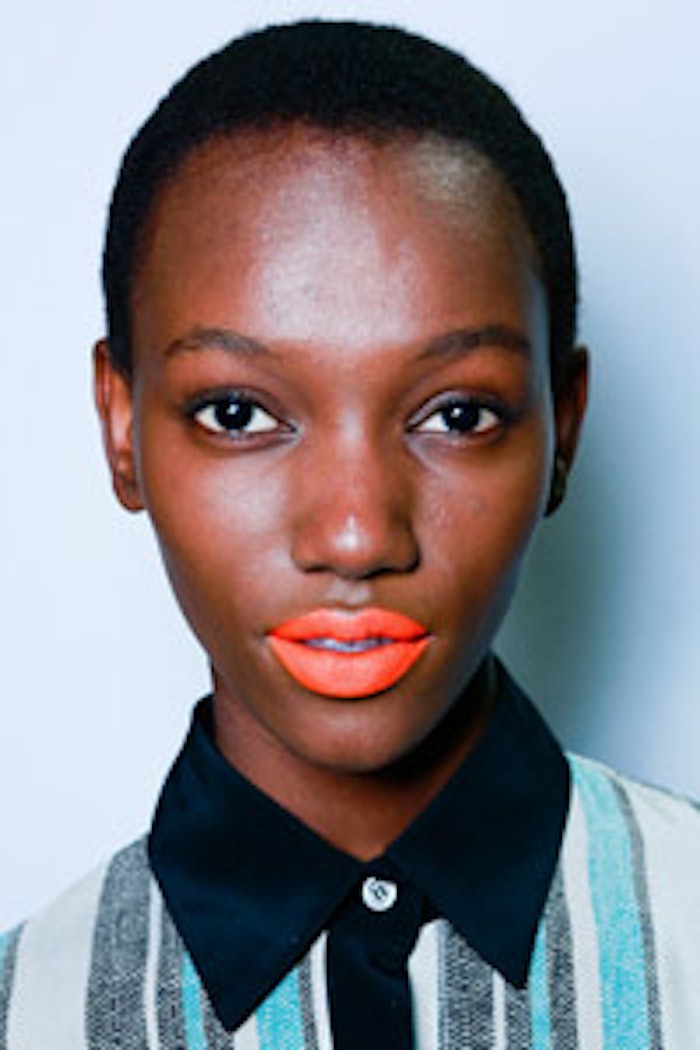 style.com
Each season, a select number of beauty trends become the go-to looks. Some are straight off the runway, while others evolve from the previous seasons. And while the trends themselves are usually obvious, the driving forces that have gained them a spot at the top aren't always as evident.
Here, we'll dive into some of the drivers and influences behind the top beauty color trends for spring/summer 2014.
Fresh Faced
As seen on the runway at 3.1 Phillip Lim, Jill Sander, Prada, Chloe and Alexander Wang.
Women, and increasingly men, are investing in quality products to protect and care for their skin. New formula technologies and innovations allow for greater results, and consumers expect to see great improvements in the condition of their skin. The outcome? Women feel more comfortable with the condition of their skin and wear less base makeup. This rejection of a "painted face" is reflective of a larger societal trend, where youth reigns supreme. This obsession with anti-aging leads to the desire for flawless, supple skin, and the au natural face appeals with its youthful connotation, a hint of naiveté.
Although the look may appear completely natural, a few key products have risen to great heights to help achieve this flawless complexion. Tinted moisturizers and spot concealers even out skin tone, while highlighters and illuminating products brighten key areas of the face to create a dewy, youthful glow. BB and CC creams also are popular for slight touches of makeup without the typical layer of coverage.
Warmed Up Metallics
As seen on the runway at Jason Wu, Christian Dior and Gucci.
Evolving from the tarnished metallics trend of fall/winter 2013, a warmer incarnation of these heavy metals lights up faces this season. Copper, bronze and rose gold are favored for their complexion-enhancing qualities.
These warmed-up metallics suggest a shift in the luxury market, where overt opulence is replaced with understatement. Rough-hewn textures appeal for their unrefined nature, and as natural resources become depleted around the world, their use becomes coveted across all industries, treasured for their exclusivity. These earthy mineral hues are applied as highly textured material, with a subtle polish.
Lids, lashes and brows offer an ideal canvas for adornment. New leafing techniques and sparkling pigments also introduce popular ways to feature a bit of metallic makeup.
Energizing Orange
As seen on the runway at MSGM, DKNY, John Richmond and Prabal Gurung.
Recent seasons have seen an influx of brightly colored lips, mostly in the red family. For spring/summer 2014, electric orange is introduced as the trend, a forward evolution of the ruby pout. Rustic red, tangerine and apricot orange command attention, with a flirty attitude. These juicy and delicious hues replace the classic red lip and bring a positive and optimistic expression.
In a world full provocative media, shock value has reached a saturation point. A lighthearted attitude becomes a refreshing outlook and sunny, vibrant color is appreciated for its cheerful demeanor.
In these shades, matte textures add dimension to color application.
Smoky Plum and Eggplant
As seen on the runway at Celine and Rochas.
Grunge and goth movements that originated in the 90s have seen a resurgence in recent years. Noteworthy fashion labels have embraced the movement, creating mainstream color benchmarks for fashion and beauty. Young trendsetters look to this aesthetic for inspiration in a time where rebellious behavior does not command the same attention, as it has all been done before.
Moving forward from the dark hues synonymous with the style, smoky purples revitalize the vamp movement with a softer side while retaining a dirty-pretty quality. Warmed-up plum and eggplant replace hard black lines. And high shine, glossy finishes create layers of transparency on eyes. Also, lips are matte or include a touch of moisture with a satin finish.
Cool Pink
As seen on the runway at Prabal Gurung and Cynthia Rowley.
Pink has always been a staple in color cosmetics, renowned for its ability to enliven skin tones of any hue. And although often associated with an overtly feminine connotation, modern pink stands as a symbol for female empowerment.
As women assert their position in the workforce, they become confident in their identity, celebrating individuality and creative spirit. Instead of rejecting classically feminine colors, they are embraced.
The blue undertone of cool pink gives this girlish hue a strong edge. Thus, the bright hue is seen on lips for spring/summer 2014, often in opaque matte applications.
Roseanna Roberts has served as the director of color trends at The Color Association of the United States (CAUS) for the past four years. During her time with CAUS, she spearheaded the launch of the beauty forecast—the first new committee to be added to the association in more than 20 years. Roberts also works as a color and trend consultant in New York. Contact her at [email protected], and peruse more of her work at roseannaroberts.com.