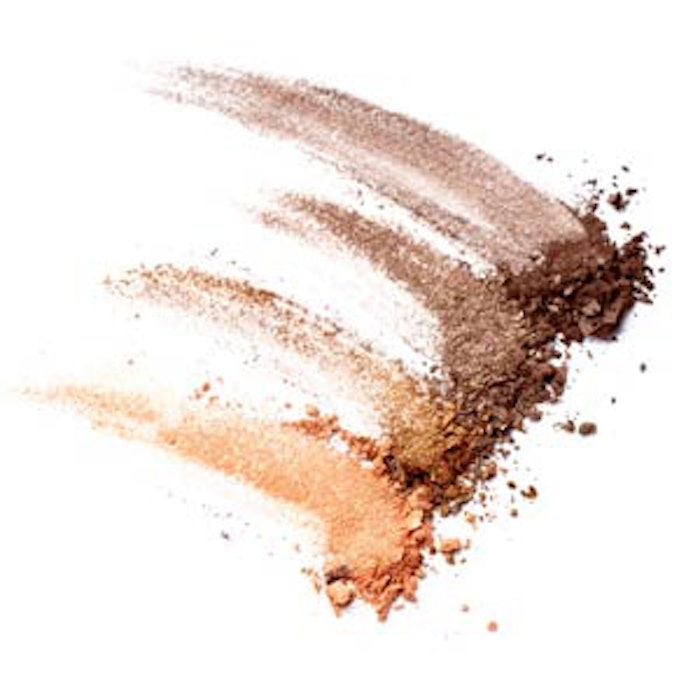 By now, we have seen just about everything (including color) in cosmetics. Shock value no longer holds its appeal. More than ever, a "laid back" approach to beauty is the preferred method of execution. Barefaced celebrities are celebrated for revealing their true selves.
Demand for genuine product reviews and endorsements drive the need for digital sharing interfaces. Everyone from "it" girls to bloggers to coworkers weigh in on their beauty must-haves. Expert advice is also available at the click of a mouse, with live video consultations available via Google Helpouts.* As retail sales shift to online platforms, this type of feedback becomes paramount.
Fall/Winter 2015–16 introduces four distinct color trends. The power of the fairer sex inspires both The Reign and In Your Skin, while Gloomerous and Tribe and True find inspiration in unexpected locales. As always, texture plays a crucial role in each story. Metallics retain a place in the palette, adding an element of understated luxury to the season.
In Your Skin
When it comes to makeup, modern day cosmetics encourage methods to cover, conceal and camouflage any perceived flaw. In Your Skin (see sidebar) turns this concept on its head, reconsidering beauty standards. Instead of working against these "imperfections," why not work with them?
Going gray doesn't mean giving up. Embracing the aging process offers an opportunity to play with color in other areas, like the face. Nude hues remain top of trend. Keeping to natural coloring becomes outdated, replaced by experimentation with lighter and darker skin tones for a dimensional look.
In Your Skin plays off the demand for multifunctional color cosmetics. Consumers expect anti-aging and skin perfecting qualities with an impeccable, natural look. High definition television and the proliferation of selfies on social media sites like Instagram have further increased the expectation that cosmetics deliver flawless looking complexions.
Traditional pigments can get trapped in fine lines and wrinkles, highlighting imperfections. By influencing the transmission and scattering of light, soft focus materials optically blur skin imperfections and promote healthier, radiant-looking skin by reducing the appearance of fine lines and uneven skin tone. Alumina-based soft-focus pigments provide a high level of diffuse light reflection and transmittance for even, translucent coverage (see Table 1).
Table 1. Tone-correcting properties of SpectraFlex alumina-based pigments
| | |
| --- | --- |
| Soft-focus with Interference Color | Skin Enhancement |
| White | Skin-illuminating, contouring |
| Gold | Highlighting, contouring; can help conceal blue to violet shades in under-eye circles |
| Red | Provides a healthy glow |
| Violet | Brightens dull, sallow skin |
| Green | Corrects for redness from acne, scars and rosacea |
Additionally, alumina-based pigments can be coated with varying thickness of titanium dioxide to produce interference colors that can be used to give skin luminosity and radiance or correct for color imbalance.
These pigments can be used to create foundations, powders and contouring products that enhance the natural beauty of the consumer. Small-particle-size (2–19 microns) SunSHINE Soft effects in interference colors and blends of metallic shades can also be used to enhance complexions with highlights in a technique referred to as "strobing"—the latest Instagram trend to follow the popularity of contouring.
Key Characteristics of In Your Skin
Embrace what mother nature created: enhance rather than erase
Experimentation with various shades of "nude"
Cool grey comes alive with warmer brights
Mix of gloss and satin finishes
A Closer Look at In Your Skin Trends
The Reign
There has never before been a time in history when women have had such a prominent position in the workforce. The Reign celebrates these trailblazers, who carve fresh paths for future generations of young female execs. From high profile CEOs to ball-busting politicos, the palette is one of bold-faced confidence and self-assurance.
Aspects of The Reign can be seen emerging on the fall 2015 runways. Makeup mastermind Val Garland used a variety of copper- and bronze-toned sequins to create a bold statement for Temperley London's fall collection, while Peter Philips, creative and image director of makeup at Christian Dior, took a more subtle approach for Dior's haute couture with a wash of warm peach-flecked gold and a complexion highlighted with a diffuse wash of luminous pearl.
Brilliant sparkling copper effects can be achieved with SunSHINE synthetic micas (INCI: fluorophlogophite). Natural mica is limited to a particle size of 150 µm in eye area applications, while synthetic micas have no particle size restrictions.
SunSHINE Super Glitter in copper and bronze shades have a particle size range of 40–250 µm. Smaller particle sizes can be used to provide opaque soft, satin-like effects in SunSHINE Super Copper and Bronze grades with particle size ranges of 9–45 µm. Additionally, the SunSHINE color effect in Fancy Peach (9–50 µm range) offers an alternate play on the use of warm, copper tones for the eye.
Key Characteristics of The Reign
Redefining girl power, in its most sophisticated form
Take charge palette of poised, bold colors
Cool berry hues set off by warm metallic copper
High-shine finishes
Gloomerous
The forecast takes a bit of a darker turn with Gloomerous. Truly finding beauty in the beast, the looming Trash Vortex floating in the Pacific serves as inspiration here. Taking up a mass the size of Texas, this "marine tumbleweed" is the world's largest landfill, polluting the ocean and coastlines.
Growing concern for its consequences are brought to life by increased media coverage. Images of sun-bleached and salt-water-worn flotsam are punctuated by pops of fade-resistant color, creating a palette of contrasting hues.
Maison Margiela's fall 2015 ready-to-wear collection exemplifies the Gloomerous trend with dark, rich textures accentuated with pops of bright color in hair, makeup and accessories. While bold graphic black eyes dominated the catwalk, audacious shades of blue, chartreuse, and hot pink accented the eyes and lips of some models. Electric orange and aqua added intrigue to coiffure.
Intenza pigments combine the intense chroma of organic pigments with pearlescent substrates to bring these bold colors to life in cosmetic formulations without the need for the complex grinding or milling that is required of conventional pigments. Shades like Mango Tango (orange), Firefly (yellow) and Aqua Splash can be utilized in nail polish, and temporary hair chalks to bring these bold details from runway to reality in more subtle touches.
Key Characteristics of Gloomerous
Finding beauty in human detritus
Faded hues contrast vibrant color
Traditionally unattractive hues are reinterpreted and made appealing
Gradients of smoky color with a matte texture
Tribe and True
Global cultures continue to influence trends on all levels. Exploring the concept of happiness and what it truly means across the world, Tribe and True considers the "tribal" groups that are not defined by geography, but rather by psychographic identification. Taking a more literal approach to the palette, colors are inspired by remote tribes from around the globe and their idiosyncratic approach to color and adornment. Earthy red and yellow iron oxides along with iron blue from the SunCROMA line of inorganic pigments play into this trend.
A Closer Look at Tribe and True Inspiration
Leslie Harrington Ph.D., is the Executive Director of the Color Association of the United States. Kelly A. Dobos M.S., is the Cosmetics Technical Manager at Sun Chemical Performance Pigments; kelly.dobos@sunchemical.com.