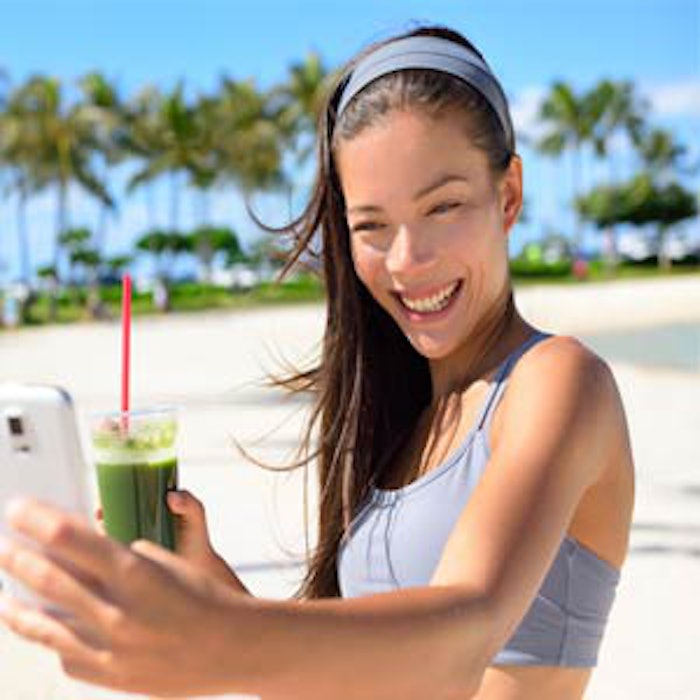 According to Twitter, 2014 was the year of the selfie. The term has since become synonymous—and even symbolic—of today's hyper-digitized and hyper-connected society.
While sometimes controversial, taking a selfie has rapidly normalized among today's consumers, becoming a characterizing feature of modern society, in particular with millennials and the newly coined centennials (gen Z). According to Datamonitor Consumer's 2014 survey, 64% of consumers between the ages 15 and 34 believed being active (writing or posting) on social media was important, compared to 48% of consumers aged 35-plus.
Further reading: Selfie Culture Has More Women Seeking to Look Good for Impromptu Photos
Harnessing this selfie culture, which is becoming increasingly ingrained among younger generations, therefore creates an important avenue for beauty innovation and inspired approaches, particularly as modern society becomes ever more image-conscious.
Image Culture
Today's consumers are living in a society which places a great deal of value on the outward appearance of individuals. This pressure is growing and being felt across all demographics, particularly younger consumers.
Ninety-one percent of consumers aged 15 to 17 found their looks and appearance to be important, and declined as the age cohorts increased (Datamonitor Consumer's global survey, 2014). Therefore, the need for appearance validation is growing alongside products which can enhance appearance, particularly as image-based social media interaction becomes integral to consumer lifestyles.
Also by Jamie Mills: Why Beauty Brands Are Pushing Anti-pollution Claims
The Limits of Real-life Beauty Solutions
Today's consumers are also growing up in a society that values and encourages personal expression and individuality. Consumers are therefore able to project themselves in new ways, beyond the confines of their friends and family.
Social media has opened up an entirely new world of "friends," who they can expose their personal brand to. This means that individuals are subjected to greater scrutiny and judgement by the online community, and therefore places a degree of pressure for one's personal "brand" to be accepted, while also influencing others.
Selfie apps allow consumers to not only add and adjust make-up but also alter their weight, height, suntan and eye color, and add accessories, clearly highlighting the limitations of "real-life" beauty solutions. The combination of social media and enhanced mobile technologies, or augmented reality, is expanding traditional social exchanges, which are no longer confined to physical interaction.
Consumers can socialize any time of day via mobile platforms. Posting selfies online or sending images is increasingly commonplace in consumer routines today, even replacing writing text messages for some. Therefore, the need to be photo-ready is becoming essential.
Innovation Opportunities
The growing relationship with, and even dependency on, image-based social media in today's culture represents an important method by which brands can innovate. This is particularly important given that the millennials of today will be the seniors of tomorrow. The image-based facet of their nature is likely to be carried forward and ingrained into future societal behavior, making selfie-inspired approaches an important opportunity for beauty brands.
Edited Beauty
One of the defining characteristics of image-based social media platforms such as Instagram is that consumers are able to edit and enhance their appearance electronically by the use of filters. This creates opportunities for beauty brands to use this concept in their positioning, which instantly familiarizes consumers with the positive benefits of filters used online, and therefore the appearance-enhancing properties of the product.
One such example would be Sephora's recently launched Colorful Eyeshadow Photo Filter Palette, which offers color palettes inspired by the "picture-perfect, professionally lit look" in two varieties: Sunbleached Filter and Overcast Filter. From a formulation perspective, opportunity exists to explore approaches which can replicate professional results and expand upon the concept of Photoshopping from images to real-life. Solutions which can shape and illuminate are growing in importance for today's image-conscious and digitized consumers.
Popular celebrity trends such as contouring (pictured), designed to enhance the structure of the face, are becoming increasingly popular, and mainstream brands are tapping into this. One example would be Marc Jacobs' #Instamarc Contour Powder, which claims to be a "perfecting filter in a compact" and uses contouring powders to sculpt, define and highlight the face.
Another example is Diorskin's Star Foundation, which claims to be inspired by "professional illuminating techniques" in order to recreate the "perfecting light of Dior studios." The product uses light-pulsion technology to disperse light across the face and therefore make the user look more photogenic.
A Selfie Future
The trend toward selfie-inspired beauty offerings is still in its infancy. However, in today's image-conscious society, the appeal of being able to "wear" an enhanced, Photoshopped appearance from day-to-day, which goes beyond images on social media, will ensure that a positive outlook remains for this trend.
Jamie Mills is an Associate Analyst within the personal care and household sector at Datamonitor Consumer. Since joining Datamonitor Consumer more than three years ago, she has specialized in the personal care categories with a keen focus on the latest trends and their impact on current and future innovation.