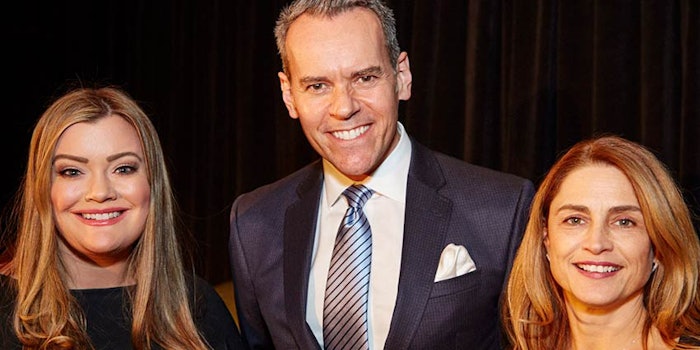 The U.S. color cosmetics market will be worth $18 billion by 2020, said CEW chairwoman Jill Scalamandre (president, Global Makeup Center of Excellence, Shiseido Americas Corporation), during the organization's recent event, "Beauty's Color Quake." During a wide-ranging expert panel that followed, it soon became clear that no two brands are following the same path toward success.
An Indie by Any Other Name
While large brands have benefitted from the category's rise, it's the smaller, more nimble players that are truly setting agenda. Which is why CEW hosted a panel of innovators, featuring Robert DeBaker, president and CEO, BECCA Cosmetics; Jamie Kern Lima, co-founder and CEO, IT Cosmetics; and Susanne Langmuir, founder and CCO, Bite Beauty.
The brand has a "long way to go in lips."
Bite Beauty, BECCA Cosmetics and IT Cosmetics have been acquired by Kendo/LVMH, Estee Lauder and L'Oreal, respectively, highlighting just how hot this category has become.
But DeBaker noted that, just because a company is acquired by a big strategic player, doesn't mean that they cease to have an "indie" spirit. No matter who owns a brand, authenticity is still possible.
Stay Focused
Similarly, Langmuir noted that it is tempting for Bite Beauty to expand beyond lips, particularly because many of the ingredients that benefit lip products are transferrable to skin care. However, she said, the brand has a "long way to go in lips" and that Bite Beauty remains fanatical about every product detail, which is handled in-house, from R&D to production and beyond.
DeBaker said that he believes the industry exists in a product-driven world, not a brand-driven world. As such, he argued, companies are telling the story of their brands through products.
To illustrate: When DeBaker took the helm at BECCA Cosmetics, he nearly eliminated the entire SKU range. Why? The executive explained that, at one time, BECCA had more than 350 SKUs that were powering sales of just about $400 million. This was simply unsustainable, he argued, in part because brands have such little floor space at retail. One simply cannot successfully merchandize 350 SKUs in three feet of space. Ranges have to be optimized for the available retail footprint.
DeBaker added that he realized he needed to create consumer interest with products that were innovative, replenishable and which told a great story.
Take Your Time, Hurry Up
Lima noted that building brand equity is critical. At IT Cosmetics, the executive has focused on being obsessed in earning trust with consumers, "one IT girl at a time."
While BECCA Cosmetics makes quick bets on relevant trends, its top 10 SKUs are largely unchanged from a year ago. So, even as the brand pursues trends, the core of the business is relatively stable.
And, even when chasing a new trend, DeBaker noted that the company makes sure it's going where the consumer wants them to go and honoring what it is truly best at, which reinforces BECCA's brand authenticity.
How to Pick a Retail Partner
Recently, IT Cosmetics garnered 12 QVC Customer Choice Beauty Awards, solidifying the brand—and Lima herself—as a customer favorite. In fact, today it is difficult to imagine of IT Cosmetics without also thinking of its strong relationship with QVC. But it wasn't always this way.
When the QVC opportunity arose, Lima jumped at the chance to expand the exposure of the brand, not realizing at the time that this strategy was rather unusual. It turns out that this bit of "ignorance" was fortuitous for IT Cosmetics. Sometimes it pays to not know what you don't know.
The Power of Specialty Retailers
No channel is passé, said Lima. She explained that the success of IT Cosmetics on QVC and its eventual rollout to retailers such as Ulta and Sephora has required a strong distribution ethic.
Lima noted that the brand has focused on not growing too fast to ensure every retail partner enjoys a flawless experience. By coming through, brands can build trust that can later be leveraged to take risks.
Lima, on the other hand, described IT Cosmetics as more obsessive than reactive.
Langmuir noted that Bite Beauty picked a single partner, Sephora, and expanded to more than 1,000 doors in just over three years. This exclusivity has given the brand significant support from the retailer. It also means that there are fewer stakeholders to convince when pitching new ideas, making it easier to stay true to the core ideals of the brand.
DeBaker explained that specialty retailers are demand creators, making them an "easier" option for unique, modern brands. Specialty retailers can often do the "heavy lifting" of spreading trends, allowing the brand to take advantage of consumer interest.
Specialty retailers understand brand DNA, said Lima, and are able to take risks and dream big.
Is it Better to Be a Tortoise or a Hare?
In the age of social media, trends move faster than ever, said Langmuir. But moving fast and making sure everything is done right are often concepts in opposition.
Bite Beauty has a solution, however. Langmuir explained that, because the company keeps its R&D in-house, it was able to leverage base formulations upon which trendy products can be built—without sacrificing stability, packaging or consumer safety.
In this way the brand was able to scale up production of its Gold Crème Lip Gloss when the product caught on in social media.
If you are honest with your consumer, tell the truth and react quickly and smoothly, your brand can (re)gain trust.
Lima, on the other hand, described IT Cosmetics as more obsessive than reactive. While the brand is inspired by consumers on social media, Lima's goal is to launch products that will resonate for years.
The company's You Sculpted! Six-tone contouring palette for the face and body has been on the market for about eight years, helping women bring out their features. 
That said, IT Cosmetics was one of the first brands to introduce a cushion compact in the United States with its CC+ Veil Beauty Fluid Foundation SPF 50. At the same time, it has been able to reposition existing products to meet emerging trends.
For instance, Lima explained that the Hello Light cream existed before the strobing boom, but was easily pivoted toward the trend.
Moving Fast, Correcting Mistakes on the Fly
Speed is inherent to how BECCA Cosmetics operates, said DeBaker. By being "intelligently opportunistic," the brand is able to identify the trends that match its brand identity and make the leap to capture consumers.
He warned, however, that speed without innovation is useless. DeBaker explained that if an organization believes in a concept it will figure out a way to get it done right and quickly. To do so requires a strong supply chain team with buy-in to make quick delivery without blowing up the business.
The trick is to gain audience engagement without sacrificing authenticity.
Of course, this strategy works—but only if the product development and rollout is done right. BECCA Cosmetics learned this lesson earlier in the year when it partnered with influencer Jaclyn Hill to launch the BECCA x Jaclyn Hill Champagne Glow Collection.
The palette was hyped extensively on social media, but early consumer reviews complained of product quality issues that had resulted from a lab that did not deliver the appropriate product quality. BECCA and Hill moved quickly to acknowledge and correct the issue, delaying the release but proving they were actually listening to consumers. 
The lesson for DeBaker: if you are honest with your consumer, tell the truth and react quickly and smoothly, your brand can (re)gain trust.
Active Listening
Consumers are good talkers and brands should be active listeners, said DeBaker. By identifying patterns in the chatter, companies can react nimbly to positive and negative feedback, alike.
While Langmuir cautioned that brands need to be careful in leveraging pay-to-play relationships with influencers. Consumers have become so accustomed to influencer culture that they quickly and easily identify paid posts and, in some cases, may feel less engaged with them.
In the absence of time or supply limitations, how can brands elicit consumer intensity?
These paid editorials may not have the same impact as a genuine review. DeBaker noted that it can be difficult "helicoptering" influencers into a brand because the influencers already have their own point of view and personal brand established. The trick is to gain audience engagement without sacrificing authenticity.
In selecting social media partners, BECCA Cosmetics looks at it more than the number of followers. The brand also looks at how influencers are linked to the beauty space and whether there are opportunities to be had among up-and-coming influencers—people on a growth trajectory. Most importantly, said DeBaker, it is critical that influencer partners are genuinely interested in your brand.
Throwing a Good Party
Recently, BECCA Cosmetics launched a limited-time pilot program via Snapchat that prompted sales at Sephora. The promotion moved more than 90,000 units in just a few hours, crashing Sephora's app. While DeBaker was proud of the results, he wondered aloud if such a success was repeatable.
Citing Kylie Cosmetics' tendency to rapidly sell out the latest restock of cosmetics, DeBaker noted that even the hottest brands don't push the scarcity angle too far for too long. Even Kylie Cosmetics now tends to be in stock more often.
Lipstick is applied as many as seven times a day, said Langmuir, creating opportunities to infuse products with added benefits with significant consumer appeal.
However, said DeBaker, in the absence of time or supply limitations, how can brands elicit consumer intensity? The answer, he said, could lie in live social broadcasts, which could be the next step toward driving immediate purchase and trial.
Lima explained that, while IT Cosmetics has not yet partnered with paid influencers, it has used tools such as Facebook Live to enhance its social engagement.
No matter the strategy, said Langmuir, successful social media is all about "throwing a good party."
6 Emerging Color Cosmetic Trends
They're hiring: Both Lima and DeBaker joked that they were actively looking for marketers, digital experts and others to join their teams. If you want to join these rising stars, it sounds like a good time to reach out. 2
All that shimmers: Bite Beauty's launch of the Gold Crème Lip Gloss is not going to be limited to the holidays, said Langmuir. Instead, she believed that layerable colors with shimmer, glimmer and holographic effects will have relevance well into the New Year.
Ingredients: Consumers are increasingly focused on color brands offering natural, organic, vegan and food-based ingredient claims.
Multifunctional: Lipstick is applied as many as seven times a day, said Langmuir, creating opportunities to infuse products with added benefits with significant consumer appeal. Lima concurred, noting that IT Cosmetics is all about being a color-infused skin care brand. DeBaker added that younger consumers have a high awareness of skin protection and therefore are less interested in skin care as a separate offering. Therefore, color cosmetics with skin care/sun care benefits are likely to be a hit.
Social influence: DeBaker noted that brands will continue to generate products that allow consumers to look their best in the many videos and photos they post on social platforms. Lima added that social media is providing vast amounts of education, which inspires women everywhere to experiment more with their products, even if they'd never set foot in a store to ask advice of a salesperson.
Now, now, now: Color is fun, instant gratification, said Langmuir. It's easy for consumers to adopt seasonal looks and trends and to have immediate access to Fashion Week runway trends.