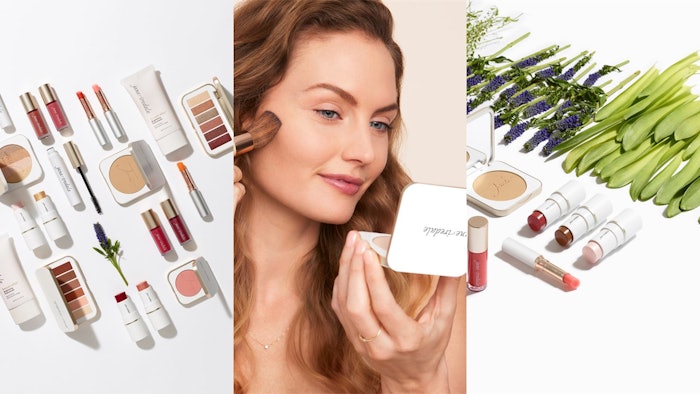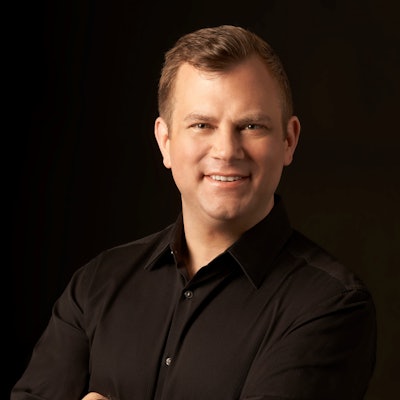 Skin-friendly formulations and clean ingredients are among the hottest trends in color cosmetics today. Yet almost 30 years ago, jane iredale was founded around these very principals: clean, high-performance makeup that is good for the skin.
Given that the broader beauty industry has gradually caught up to the fundamentals of this early innovator, Global Cosmetic Industry magazine checked in with jane iredale's CEO, Chris Payne, to understand the brand's evolution and where it's going next.
Makeup's untapped professional channel opportunity
Makeup is generally underrepresented in the professional beauty channel, which tends to be dominated by skin care. jane iredale's founding concepts made it ideal for this untapped space.
Citing the brand's clean ingredients, skin-loving benefits and no-fade performance, Payne explains, "Upon creation, the skin care benefits of the products became a natural fit for the professional space. As an early adopter of the professional channel (three decades long), jane iredale recognizes the unique position it provides, that can't be replicated within traditional retail."
The executive notes that unlike the flooded general retail market, the professional channel provides "a more straightforward entry point." In addition, Payne says, "It [the professional channel] adds credibility and a trusted voice behind a product recommendation, leading to an ideal initial brand experience." jane iredale has harnessed these dynamics to become the leading makeup brand in the professional space.
Beyond expert backing, Payne says, the brand has succeeded because jane iredale's products improve the quality of professional treatments, particularly by protecting "the investment the patient has made in their skin." Today, jane iredale products are used and sold by skin professionals and even integrated within professional treatments.
For instance, the jane iredale After Glow service provides skin care clients with post-treatment camouflage and protection. The protocol comprises the brand's HydroPure Tinted Serum, PurePressed Base, Hydration Spray, PureBrow Brow Gel, Glow Time Blush Stick and HydroPure Hyaluronic Acid Lip Gloss.
Meanwhile, jane iredale's Brow Bar brow design services at spas feature turnkey solutions to define, shape, tame and enhance brows. In addition, the brand has developed tailored assortments for professionals providing bridal makeup services.
Payne notes that the brand's success shows that "there is a huge opportunity for makeup to become the next category to be 'professionalized.'" How big is that opportunity? According to Allied Research data, the professional beauty sector is projected to reach $348.4 billion by 2031, up from $211.5 billion in 2021.
This year alone, industry sources claim jane iredale could surpass sales of $135 million.
Clean & expert-backed
In the first half of 2023, according to Circana data, U.S. prestige skin care sales were dominated by clinical/derm-first brands, pointing to consumer focus on expert-backed products. While skin-friendly makeup may be trending, jane iredale is unique in its investments in partnerships with dermatologists, plastic surgeons and skin professionals as a core component of its distribution strategy.
Payne notes, "As jane iredale was a pioneer of clean skin care makeup that delivers results while also being a safe solution for all skin types, professionals use, recommend and sell it—the ultimate testament of their trust—not just because it is great makeup, but because it is great makeup for the skin."
He adds, "Today's consumers are more educated and are seeking professional-level endorsements."
This phenomenon is growing in part due to the democratization and increased accessibility of professional skin care and dermatological services.
Perfecting the pro-to-digital model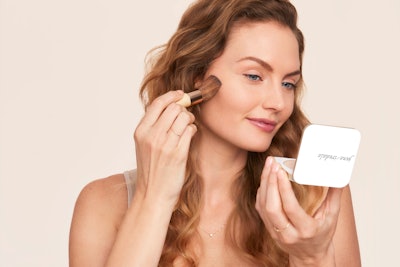 To further tap into the growing professional sector, jane iredale has, so far in 2023, opened 396 new partner doors, a 41% increase versus 2022, according to Payne, and representing a 93% jump in revenue. Today, the brand boasts 4,000 U.S. professional beauty partners.
This is a global endeavor, however. Payne notes that jane iredale is distributed by skin professionals in more than 50 countries, representing 3,000 professional partners internationally. Among its key international partners are Healthxchange in the United Kingdom and EIG in Southeast Asia.
Additional growth markets for the brand include Germany, Normandy, Benelux and Canada.
International distributors have reportedly opened more than 200 accounts in the first half of 2023, thereby growing jane iredale's professional partner footprint by 7%. Yet, no matter the market, everyone is playing from the same pro-to-digital business model jane iredale first established in the United States.
This year's partner growth is driven "by our focus on providing benefits to the professionals and help them grow their business, while also helping them provide a memorable and enhanced experience for their clients," Payne says.
Among the brand's offerings to its partners are the previously mentioned Brow Bar and Afterglow signature service for post-treatment camouflage and protection. In addition, jane iredale provides its partners with simplified merchandising solutions, including a custom display for the brand's three-step Skincare Makeup System to help new customers "prime, perfect and set makeup on skin," according to Payne.
Which leads us here: Beyond the first purchase, expert-backed recommendations have serious implications for customer loyalty and retention. Payne points out that janeiredale.com has experienced a 16.8% year-over-year gain in customers new to jane iredale, which is significant because 55% of the website's customers first discovered the brand via the professional channel.
The model is clearly working. According to stats provided by jane iredale, the brand's e-commerce site has a 44% retention rate (based on unique customer email IDs that have made purchases in the current and prior year). This has fed into the brand's 12% year-over-year growth rate in the digital channel overall (janeiredale.com alone has experienced 11% growth in the same period).
The brand is also not shying away from the crowded brick-and-mortar retail market where it has expanded into more than 100 Bluemercury locations in the United States.
Beyond professionals: under the influence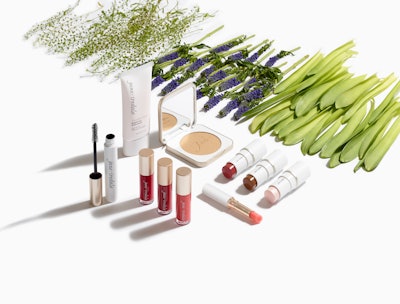 jane iredale keeps its professional partners, as well as its international distributors and stockists, front-and-center in its organic social strategy. And while the brand thrives in the expert-backed space, it also collaborates with content creators/influencers.
"This mix of content tells the unique story of our brand as a professionally rooted brand, but also a successful consumer digital brand," says Payne.
The influencer marketing component drives costumer acquisition by telling the brand story through new voices. This helps amplify product launches and brand campaigns and generally increases brand awareness.
According to Payne, jane iredale has "significantly" grown its targeted influencer outreach over the last year, generating 271% growth in engagements year-over-year.
"Focusing on nano-influencers to tell our brand story to their very engaged followers has proven very successful," the executive says. "These smaller creators produce high quality content and have high engagement rates, which allows our brand to be shared with hundreds of smaller, loyal audiences at once."
jane iredale has also found success with paid influencer partnerships that resonate with the brand's audience and demographic. In one shining example, the brand partnered with a creator that had discovered jane iredale organically. After entering a paid partnership with the influencer, the content creator produced nearly 1/3 of total paid social revenue in the first quarter of 2023.
Payne notes that the reasons for this success were clear: "Her content was genuine, resonated with our shoppers and she has a very loyal following."
Optimizing digital replenishment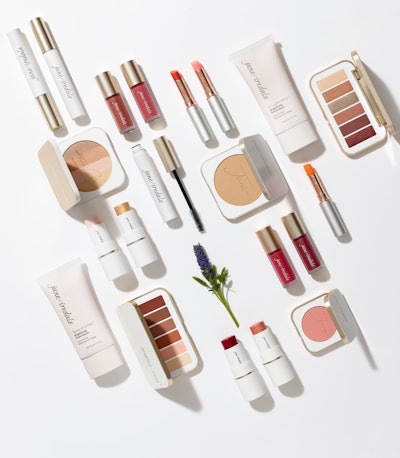 To ensure new and returning customers have the best experience possible (and keep coming back), janeiredale.com features fast shipping, a virtual try-on tool and shade-matching features, as well as the Beauty Rewards loyalty program in which shoppers receive exclusive offers and can redeem gifts and points.
The brand's DTC customer service includes a live chat function and live virtual consultations, as well as email and phone support. Payne notes, "Our Beauty Advisors (customer service team) are also very versed and educated on our entire line including application techniques, ingredients and shade matching, which provides the digital shopper with the support that they receive in the professional brick and mortar setting."
In addition, jane iredale's DTC experience includes a convenient and money-saving auto-replenishment program for shoppers' most used and loved products.
Anatomy of a restaging
All of this expansion follows the successful recent restaging of jane iredale, which was designed to expand the brand's client base around the world without losing its core identity.
Payne notes, "We knew that we had an opportunity to bring forth a new look for jane iredale that reflected how people are shopping and their changing expectations, without losing its DNA and core mission: clean, innovative product formulas that combine smart skin care science with powerful natural ingredients and high-quality minerals to deliver beautiful results while strengthening and nourishing skin."
He adds, "This restage helped to clarify, educate and be more deliberate externally in what we stand for; committed to the professional channel, but today, working more synergistically through the pro and digital channels."
The new, modernized brand identity was reflected in revamped packaging and a new logo, as well as in advertising creative, the DTC website, and social and digital channels. The packaging reflected the brand's values by light-weighting plastic components or leveraging alternative materials, as well as by offering reusable and/or refillable products. When possible, the brand also ensured that items were recyclable.
On the content front, jane iredale is touting not just product efficacy, but also "the emotional impact of having products that make you look and feel your best," Payne says.
In addition, he concludes, "We know discovery is rampant, but we want to be sure in the discovery process we're using our digital content as a means of education so customers can understand what ingredients they should be looking for, the skin care benefits and how to trust the professionals endorsing the brand."
jane iredale's reinvention comes at a moment of significant growth potential.