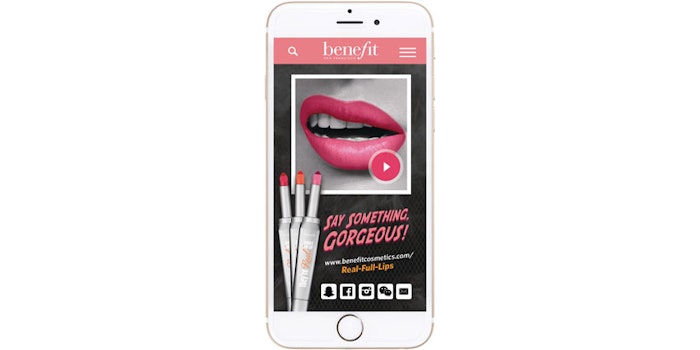 Benefit Cosmetics, which recently decoded women's brows, commemorating the launch of its new They're Real! Double Lip, a two-in-one lip liner and lipstick, with the launch of Benefit Cosmetics' Real Full Lips video generator. According to the company, it's a way of encouraging self-expression among its customers.
Users can log onto Benefit's website and create a custom animated video featuring the eight shades of the lipstick/liner duo.
How it Works
Pick out a They're Real! Double the Lip shade.
Choose an animated expression for the lips such as smiling, blowing a kiss or whistling.
The generator provides 10 pre-set phrases to choose from that the animated lips will say including, "When life gives you lemons, I apply more lipstick," or "I don't need a boyfriend. I need a million dollars and a donut." Users can also create a 250 character phrase of their own.
Select the voice for the animated video. These include three female voices, one male voice, 15 different languages and 17 diverse accents.
Once the video is finished, users are encouraged to share it on social media with the hashtag #getREALlips.
Lisa Goodfriend, global digital creative director at Benefit, explained, "Instead of burning bras, today's woman is showing her fierceness by embracing bold lips and smoky eyes, she feels more empowered to speak her mind."
The Real Full Lips generator will be available on Benefit's website from February 1 through May 31.