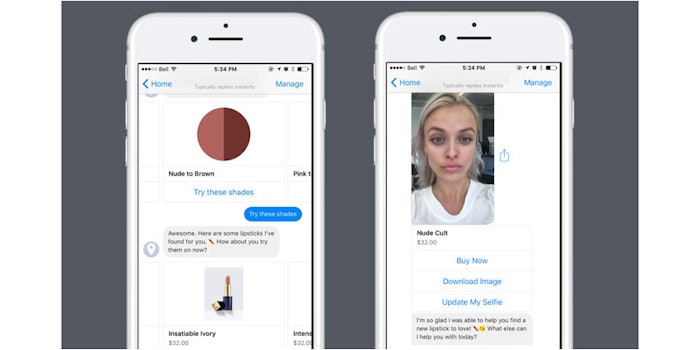 Earlier in 2017, Estée Lauder and Modiface teamed up for an augmented reality (AR) product try-on to be featured on Estée Lauder's website. Now, part 2 of the partnership is being introduced: a new lipstick chatbot. 
According to Modiface, the conversational lipstick advisor--available in Facebook Messenger-was created to help guide customers searching for their ideal lip shade. 
How it works: 
Users can search for and virtually try-on Estée Lauder's full assortment of lip shades, each individually shade-matched by ModiFace to represent the actual product.
Users can take a quiz that provides personalized shade recommendations based on the user's ideal color and finish preferences. Recommended shades can then be virtually tried-on and purchased.
Users can perform a unique search-by-color capability that allows shoppers to search for lipsticks by taking a photo of any object. 
Stephane de La Faverie, global brand president, Estés Lauder, said, "One of the key pillars of our partnership with ModiFace is the application of augmented reality and AI across all platforms where customers interact with our brand. Messaging applications such as Facebook Messenger are the perfect platform for consumers to search, explore, try-on, and ideally purchase Estée Lauder products."
Parham Aarabi, founder and CEO of Modiface, was quoted saying, "We see augmented reality as an essential layer of interaction between beauty customers and brands. Estée Lauder is among the leaders in embracing the notion of AR being used everywhere. We are very excited by the latest step in our partnership, and look forward with great excitement to the many steps that together we have in store for the near future."
To see Estée Lauder Lip Artist in action, visit here.