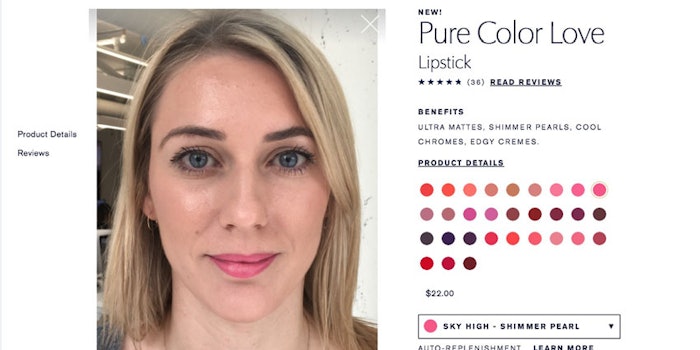 Picking out products on Estée Lauder's web and mobile website just got a lot easier thanks to ModiFace.
Estée Lauder has announced the launch of augmented reality (AR) based product try-on that is supported by ModiFace's Light Field Rendering technology.
The Details
Shoppers on the web and mobile website to "try-on" products in different shades on a photo or live-video while viewing the product on the brand's e-commerce product pages.
The AR integration consists of several upgrades, including advances in WebGL technology to create virtual surfaces to better model the textures and finishes of the products and ModiFace's latest generation of facial tracking to accurately map facial contours through any webcam.
Founder and CEO of ModiFace, Parham Aarabi, stated, "Our latest web AR technology combines the latest advances in AI, facial tracking and computer graphics to result in a realistic, widely usable and practical application that has been highly optimized for improving the online beauty shopping experience. We are extremely excited to bring this unique technology to market with Estée Lauder, one of the world's most renowned beauty brands."
Stephane de La Faverie, global brand president at Estée Lauder, was quoted saying, "We are delighted by our partnership with ModiFace which has resulted in an incredibly realistic and accurate representation of our products through augmented reality technology. We are especially delighted that this capability is provided to our consumers across all platforms, including mobile, web, and tablet, directly on the product page where it can make the biggest impact."