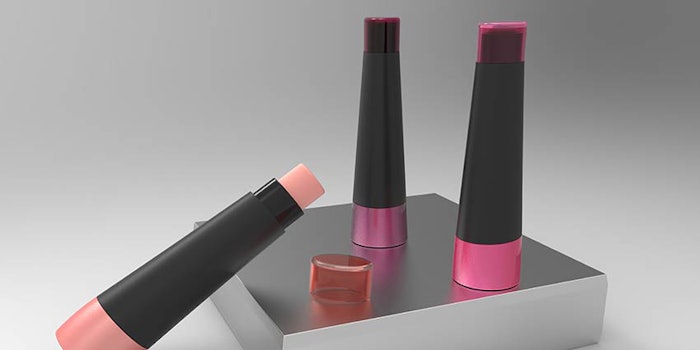 World Wide Packaging focused on innovations that offered a heightened, differentiating experience for the consumer. In addition to its 360-degree Paragon airless pumps, which are available in 30- and 25-mm sizes and in oval and square shapes, the company displayed a new lip and eye kit concept in its Collision Pallet, which has a hidden clasp and vacuum metalized parts for the deck and underneath the cover.
A uniquely shaped powder jar featured a removable insert for different textures and looks with a full sifter in the package.
The company's dual-ended Bow Tie stick allows brands to fill the packaging with two different formulations, for instance a spot concealer, primer or day-night lipstick formula. Branding details can be embossed in the center section of the stick or added to the three-piece construction cap.
World Wide Packaging's Sidecar compact features a custom swing-out closure, which offers a transitional design feature that creates a smoothing contour to a normally square package. Cover options are available in clear or opaque, with or without a mirror. Insert options can be mono, duo, trio or quad.
Transitions is an hourglass-shaped lipstick design with a clear-view cap and a color oval base for easy twist-up application. The tapered design allows for a more defined product delivery system for more accurate product application, according to the company.
The one-time-use One Shot pumps allowed for a formula to be activated by the consumer's pumping action. The supplier also showed its DFI technology, which allows for photorealistic decoration of all sizes of polyethylene tubes, offering unlimited colors and over-the shoulder printing.
The company's Elements tube allows brands to mold decorations such as company names into the tube head.