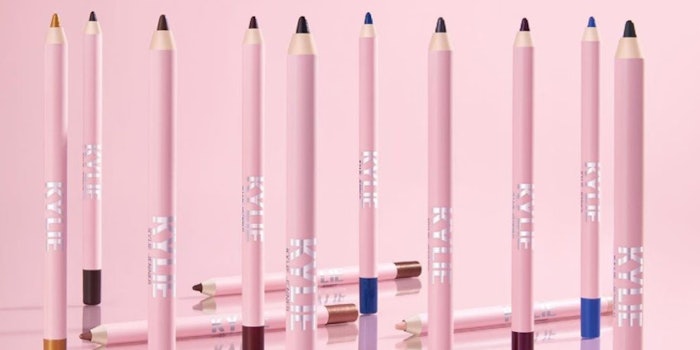 Coty has officially announced the relaunch of Kylie Cosmetics with a range of new products first revealed on the brand's Instagram, including gel eyeliners available in eight matte and seven shimmer shades that are long-lasting, vegan and smudge-resistant. The eyeliners are waterproof, vegan and cruelty-free.
The brand also tipped its new High Gloss lip product, available in 30 shades. The products are vegan, non-sticky and formulated to soften lips for a "mirror shine finish."
The new Kylie Matte Lip range includes 32 matte singles and 37 matte lip kits. The formulations are vegan, cruelty-free, non-sticky and last eight hours.
Update: These updated formulas have been created without animal oils, parabens or gluten, along with a long list of more than 1,600 other potentially harmful and irritating ingredients, per Coty.

Consumers will now be able to shop the brand globally through select brick-and-mortar retailers and a new direct-to-consumer website launching July 15 that offers access to both Kylie's cosmetics and skin care brands for the first time.
This launch will be the first time that Kylie Cosmetics will be available to shop in-store globally at select retail partners, including Harrods and Selfridges in the United Kingdom, Douglas in Europe and Mecca in Australia.
In the United States, the brand will relaunch with the new line in Ulta Beauty stores in August.
Kylie Jenner said: "I'm so proud to relaunch Kylie Cosmetics with all new formulas that are clean and vegan. Innovation has come far in the past few years. When creating this line, it was so important to me to commit to using clean ingredients across the board, but to never sacrifice performance. My new lip kit has 8-hour wear and is so comfortable on the lips, and all my new formulas are amazing. I'm excited for everyone to try the new products."
Sue Y. Nabi, Coty's CEO, said: "We are excited about the relaunch of Kylie Cosmetics with a reformulated range that is really at the forefront of everything Gen Z wants. Kylie Cosmetics is followed by many millions of people across the world. Our new online platform, along with selected retailers, allows consumers to buy their whole beauty routine in one space, from the cleanser to the moisturizer, the highlighter, or the lip color."