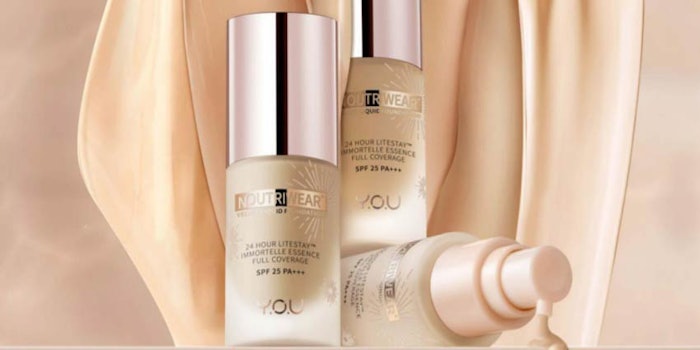 Y.O.U Beauty has launched the NoutriWear+ Series, which includes the Velvet Liquid Foundation and Complete Cover Concealer. The cosmetics are created with the brand's Litestay technology and C-Lock Essence to provide lightweight, full coverage base makeup that nourishes the skin.
Related: Klarna: 2021 US Holiday Shopping Trends
The NoutriWear+ Velvet Liquid Foundation is a light-diffusing primer designed to provide a velvety matte finish without feeling heavy. It contains Centella asiatica extract to soothe skin and reduce redness.
The NoutriWear+ Velvet Liquid Foundation comes in five different shades: Warm Ivory, Pink Nude, Yellow Beige, Medium Beige and Sand Beige.
It is recommended to use the Complete Cover Concealer after the foundation is absorbed to cover additional areas like acne and under-eye areas. The concealer comes with a precision-angled brush tip.
Litestay technology combines the brand's Filmexel technology and Soft Light-diffusing Powder to help control excess serum without drying skin. C-Lock Essence provides antioxidant properties and activates collagen production, nourishing the skin.