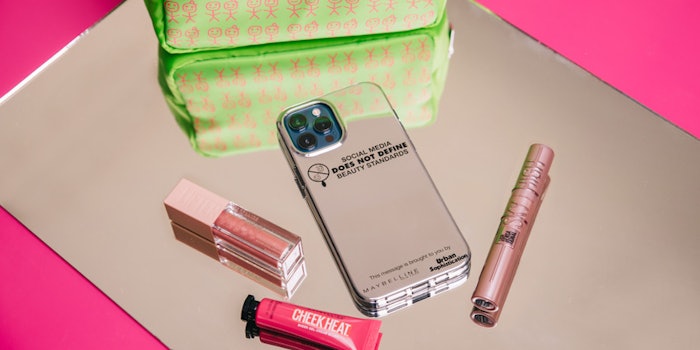 Maybelline has partnered with Urban Sophistication to launch a custom iPhone case and makeup bundle with all proceeds being donated to The Jed Foundation, a nonprofit that protects emotional health and prevents suicide for teens and young adults.
Related: Maybelline New York Launches Marvel Collection
The limited-edition bundle includes a custom, mirrored iPhone case with the phrase "social media does not define beauty standards" and a makeup bag with Maybelline products, including Cheek Heat Gel Cream Blush, Lifter Gloss and Sky High Mascara.
The bundle will be available for purchase on Urban Sophistication's website beginning May 13, 2021.
Maybelline's Brave Together program has also launched 31 Days of Brave for Mental Health Awareness Month. As part, Maybelline, in partnership with Wattpad, will co-host a panel with Wattpad authors around the topic of mental health on May 25, 2021.
To support Maybelline's program, Brave Together, the brand is committed to investing $10M over the next five years to mental health organizations, including NAMI, The Jed Foundation and Crisis Text Line.