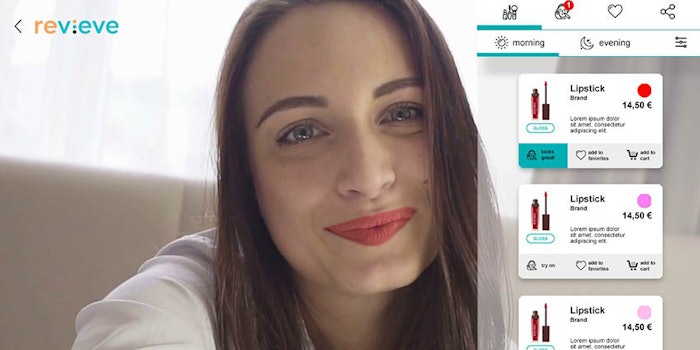 Beauty-technology engineer Revieve and Schwan Cosmetics have partnered to provide beauty brands with a digitized, personalized customer experience. The companies are introducing a technology that combines Schwan's understanding of color and texture with Revieve's skin analysis and virtual try-on capabilities.
Previously: Schwan Cosmetics Showcases 3D-printed Solutions and Wood Designs
By analyzing a user's selfie, the technology considers numerous factors, including the individual's skin radiance, eye color and pigment variance, before an algorithm connects the profile with product recommendations. Then, using augmented reality, the technology allows consumers to virtually try on their recommended products.
Related: Givaudan Launches A.I. Tool for Cosmetic Products
The technology also uses color data provided by Schwan Cosmetics Color Visualizer, the company's latest innovation, which is used to evaluate the best color match for the user. The Schwan Cosmetics Color Visualizer uses a high-resolution visualization of Schwan's 12,000 current colors under different lighting conditions. It can be used for e-commerce visualization, or integrated into apps, like Revieve.
Related: Sally Beauty Implements In-Store Color Assesment Tool for At-home Hair Dyeing
"By cooperating with Revieve, we offer our brand clients an integrated solution combining best-in-class products, relevant data and innovative omni-channel experience, thus bringing our client offering to the next level," said Bernd Preuschoff, senior vice president digital transformation at Schwan Cosmetics. "This is an important milestone and, at the same time, an incentive to further drive the digital transformation of the beauty industry and to create solutions that consumers need."
"We're thrilled to have the opportunity to partner with Schwan Cosmetics," said Revieve CEO Sampo Parkkinen. "Their immense expertise in colour and texture, their century-long history in beauty as well as their leadership in digital perfectly fits with our vision of the future of beauty"Integration of 12.000 color data."