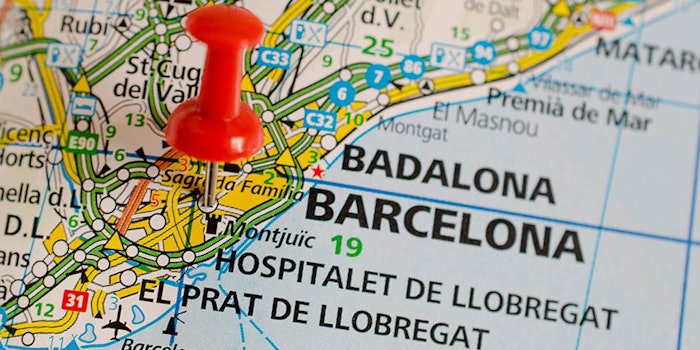 Celebrating its 30th birthday, in-cosmetics Global is returning, for its sixth time, to Barcelona in 2020. In-cosmetics Global, which hosted 843 companies and welcomed more than 12,000 visitors during its 2019 event, is anticipating 95% of the industry's biggest names to attend in 2020.
Previously: in-cosmetics Global 2019 Innovation Preview
The global cosmetic products market is expected to reach $805.61 billion by 2023 after reaching a decade high in 2018, according to Euromonitor. Industry growth continues to be propelled by major trends, which currently include conscious consumerism, advancements in beauty technology and the rise of the more knowledgeable consumers, "skintellectuals."
Deep dive: 3 Ways to Engage Skintellectuals
The event offers research and development (R&D) professionals the opportunity to source the latest ingredients, network with suppliers and learn about trends shaping the beauty and personal care industries. The 2020 show is set to welcome first-time exhibitors, which helps ensure attendees can meet suppliers of all shapes and sizes, including some of the newest faces in the industry.
What to expect:
Marketing Trends Theatre: visitors get to hear industry leaders share their expertise
Sensory Bar: allows visitors to smell, feel and test products on display
Innovation Zone: allows visitors to source ground-breaking materials for future formulations
Make-Up Bar: allows visitors to discover innovative pigments and technologies
Sustainability Corner: visitors can explore the latest advancements in sustainable raw materials
Formulation Lab: provides cosmetic manufacturers' R&D lab staff exclusive secrets they can practice when formulating
Fragrance Zone
Testing & Regulation Zone
Lab Zone
Indie Trail (launched in 2019)
Technical seminars, live demonstrations, specialty country pavilions and R&D tours
Additionally, Global Beauty Day, which debuted in 2019, will return on the second day of the 2020 event. Global Beauty Day aims to celebrate diversity and inclusivity, spanning across gender, identity, ethnicity and race. Suppliers who identify with these and assist R&D professionals cater to all are invited to participate in an exclusive round-table discussion, among other activities.
"Over the last 30 years, in-cosmetics Global has built its reputation as one of the industry's biggest and most important dates in the diary," Roziani Zulkifli, exhibition director of in-cosmetics Global, said. "The show truly has become a hotbed of innovation and the core destination for important networking and business meetings. We're incredibly proud of our history, and much like the industry upward trajectory of growth, we're excited to see the event go from strength-to-strength every year. We can't wait to show you what we have in store for 2020!"