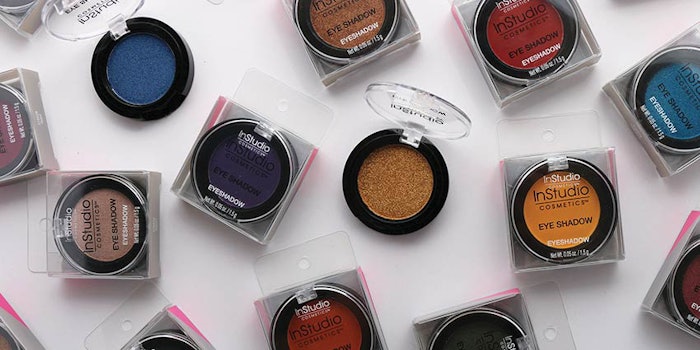 Cosmetic Design Group (CDG), a WWP company*, has launched InStudio Cosmetics, a range of hyper-value minis, of which 90% are priced at $1.00. The range launches August 1 and is retailing at Walmart. The move is in line with Global Cosmetic Industry's hyper-value beauty trend. It also comports with the softness seen in the prestige makeup sector, particularly in the United States.
The products will be offered exclusively to U.S. Walmart stores for a one-month promotional period, according to the company.
The gluten- and cruelty-free collection comprises lip treatments, lipsticks, setting sprays, powders, highlighters and eyeshadows. The launch also includes a hydrating watermelon scented flower lip oil. The eyeshadows feature more than 40 color options.
"Collaborating with Walmart facilitated a productive development process and yielded a quality—yet affordable—beauty collection," said Alison Kohlenstein, executive vice president of CDG. "The new line showcases CDG's ability to develop and execute collections for large-scale retailers at an attractive price point."
Inside Scoop: Designing High-value Beauty
Kohlenstein told Global Cosmetic Industry: "As we analyzed macro trends in the economy—early indicators of recession, a slow down in the prestige sector, strong performance of discount retailers—we saw a white space for ultra cost-effective, trend-forward beauty products."
She continued, "We decided to focus on a large assortment of color impactful shades, rather than every day basics in the complexion category, in order to keep the line more inclusive and easily shoppable. For instance, in the days where blockbuster palettes reign supreme, sometimes we forget about the mono-shadow. If you can make a mono-shadow cost-effective with great payoff, the customer can create a bespoke collection of shades without all of the waste."
Kohlenstein concluded, "It can be challenging to create a cost effective line, especially one of this large scale. It was a completely transparent product development process in partnership with Walmart. We were able to leverage their unique store trend analytics with our valuable insights and expertise as a manufacturer who's also a brand owner. In the end, we were thrilled with the outcome and were able to meet all the objectives of cost, quality and timing. There has already been a huge outreach through social media platforms from customers thanking us for the collection and wanting more!"
*CDG offers turnkey design services and assembly, displays, regulatory and warehousing services; WWP supplies cosmetic packaging components and plastic tubes and offers full-service turnkey solutions