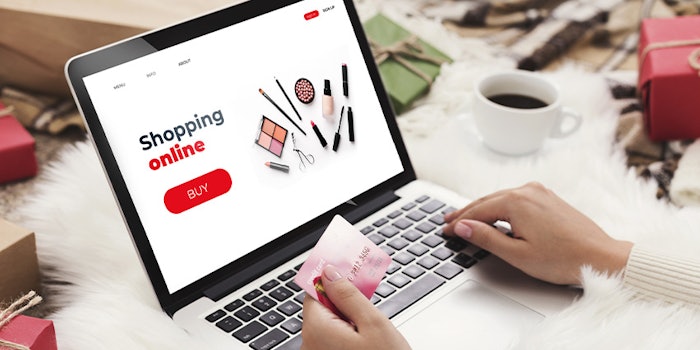 With the onset of the pandemic, online shopping has become the go-to for consumers with a predicted growth of the online sales in the beauty industry to reach the $10 billion range by 2023. However, there are some drawbacks to online shopping for cosmetic brands.
Related: Alibaba's 11.11 Singles Day Festival Announces New Features
The higher amounts of online orders cause shipping costs to skyrocket, hurting cosmetics brands. Even pre-pandemic, businesses on average could spend more than 10% of every sale on shipping and other logistics.
The cost can be compounded by those brands offering free shipping during the holidays.
Lojistic is a company and free logistics platform that says it helps businesses monitor, manage and reduce their shipping costs, including UPS and FedEx, by providing services such as parcel audits, carrier rate negotiation, shipping software, freight management and analytics for free.
Global Cosmetic Industry recently interviewed Luke Kupersmith, CEO and co-founder of Lojistic, on manufacturing, costs and certain changes brands might have to make. 
Q: What have you seen in terms of distribution trends during the pandemic-driven e-commerce boom?
A: With in-person retail all but non-existent right now due to COVID, consumers are getting more of their products through e-commerce. We've seen an incredible swing in the delivery of products direct to the customer versus the customer physically going to a brick and mortar location to make the purchase.
So, from a product distribution standpoint, there has been a big shift in the "come and get it model." It's been more "get my product to where I am," and that's typically been at home. We know that more products are being delivered to non-commercial locations, but that doesn't really tell the whole story.
More shipments are being distributed to private residences as opposed to commercial centers especially as businesses are leveraging new work spaces for employees working from home. So there's also been a geographic expansion of the workforce, as well as the delivery locations.
Additionally, we're all "guilty" of having personal items and products delivered to our offices. I know I am. Often, it's the safer, preferred option because someone will be there to sign for a package between working hours. Since so few people are working in offices currently, those deliveries just aren't happening.
So the biggest distribution trends we're seeing is an intense shift from commercial establishments, like a brick and mortar retailer or an office, to residential. From there, we're seeing a pretty big impact on the cost-per-package and delivery times. Prior
to COVID, packages would be delivered to a singular location.
This makes deliveries much more efficient. Now, parcel deliveries are being spread out, so the time it takes to empty a truck of its delivery load is much greater than if the entire truckload was delivered to one place.
Beyond that, before COVID but more so now because of COVID, there has been a major shift in leveraging third party fulfillment, distribution and logistic service providers. For many of these "3PLs," offering warehousing and distribution is their one sole function.
Many e-commerce retailers have had to rely on or evolve the existing relationship they have with their 3PL. For others, they've had to change their distribution model entirely.
Q: How prepared do you believe beauty brands have been to manage this major channel shift and its demands?
A: There are essentially two sides of a wide gulf of preparedness in the current environment. Before the pandemic hit, some companies were far too dependent of their brick and mortar retail presence. They were stuck in the "come and get it" model. Those companies truly have suffered during COVID restrictions as a result of that dependency.
On the other hand, some companies' revenue was entirely based on e-commerce prior to COVID, and they had negligible retail dependency. The companies that fit in this category have thrived, and we have seen them continue to thrive.
For them, it was just a matter of scaling the business operations that they already had in play. Their preparedness for "COVID commerce," and their success in and through COVID has been outstanding.
But, without a doubt, the importance of having a streamlined operation of getting your product from your warehouse or distribution center into your customers' hands is paramount to success. This is going to continue long after we return to "normal."
It's important to note that this gradual shift to e-commerce has been happening for a decade or more. COVID didn't create the current e-commerce/retail environment that we're in, but it did put a point of emphasis on a business' ability to deliver product to wherever their customer is. We're just seeing that "wherever" is now their home.
So the bottom line is that those who were mainly or completely dependent on having people come to a brick and mortar location have suffered, but those who prioritized e-commerce prior to the pandemic have benefited.
COVID has put an emphasis on the importance of e-commerce and the online presence for getting your products seen and purchased. And of course, the pandemic is emphasizing the importance of having an efficient logistics operation in place to get your product
to your customers, directly or through a 3PL.
Q: What are some of the main unnecessary costs you see these companies racking up? What are the main pain points?
A: A major unnecessary cost in the midst of COVID, and in the world of parcel delivery in general, is that UPS and FedEx aren't guaranteeing their services.
If you're shipping a package to your customer, and you pay for a service that guarantees next-day delivery, and yet, if it takes three days for the package to be delivered, you'd be paying a premium for a service that you didn't receive.
There's no recourse for the carriers if their money-back offer isn't in play. Without the guaranteed deliveries, it's important to manage and monitor your service level selection–and having the software in place to support the execution of your shipping.
For example, many retailers have some form of the question "What level of service do you want to purchase?" on their website. The days of asking this question are over.
Instead, retailers should be asking "When do you want to receive your product?" Then, by using intelligence software, you as the shipper can select the right service to have the package delivered by that date at the least amount of cost.
It's heartbreaking, truly, to see the extent that companies waste money on shipping. This existed pre-COVID, but it's been drastically exaggerated during COVID. Companies throw money away by using an express or air service when a ground service or less expensive
level of service would guarantee the same or lesser time in transit at a lesser cost. When this scenario is multiplied, the amount of lost revenue really adds up.
An overarching pain point that all businesses–but especially cosmetic, beauty and fragrance companies – grapple with is the exorbitant cost of shipping. It's a big challenge to balance when to charge for shipping, or whether or not to charge for shipping at all.
Do businesses offer free shipping and absorb those costs? How much does that affect their bottom line? Or, do you charge for shipping and potentially risk losing a sale to a competitor who offers shipping for free?
Consumers are savvy. And nowadays, they expect shipping to be free and fast. So sometimes charging for shipping can be a major deterrent. That's a trend that was here before COVID and continues to be a point of struggle for businesses to address.
It's not all bad news, though. There are a lot of resources and solutions that help businesses with things like fulfillment, rating, routing, auditing, costs, etc. It's a matter of whether or not a business is taking advantage of the available resources.
Q: Speaking generally, what will brands have to change at the organizational level to succeed in an increasingly digitally-driven marketplace?
A: Fundamentally and organizationally, all brands need to figure out how to more effectively communicate and engage with their consumers and to create a memorable
and valuable digital customer experience.
How you communicate with and engage with a consumer face-to-face is totally different than in a digitally-driven marketplace, especially one like the beauty and cosmetics industry that is so often face to face.
The operations and cultures of many companies in the beauty and cosmetics industry are rooted in that in-person, human experience. The culture and customer experience were dependent on people interacting with each other and seeing each other in the same space.
That's just not true now for many businesses. People aren't engaging face-to-face as much, and that's going to continue for a while.
It's going to be essential for businesses to succeed through this digitally-driven marketplace/environment/reality by being intensely intentional about how they engage, attract, and interact with their customers. Equally as important is how a business maintains
the loyalty of a customer that they'll never see in person.