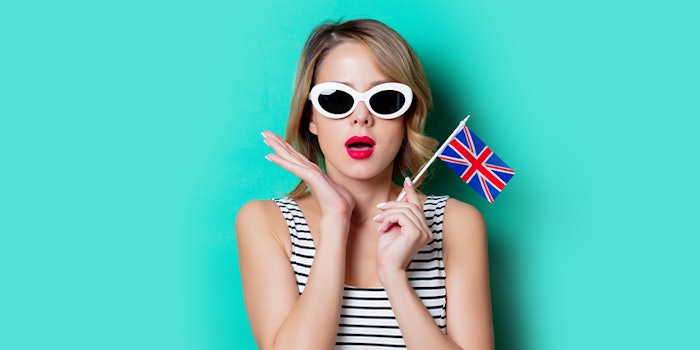 The British Beauty Council has released its sustainability report for the beauty industry.
Related: Verescence Releases Its 2019-2020 Sustainability Report
British Market
In 2018, the British cosmetics industry contributed £5.9 billion to the United Kingdom GDP alongside its domestic supply chain. Overall, the British beauty industry is worth £28.4 billion in 2018, which makes up 1.3% of the country's GDP. 
The British beauty industry has the potential to play a role in achieving national sustainability goals as the United Kingdom has declared a climate emergency. 
Natural Beauty and the Consumer
The global natural beauty market is estimated to hit £17 billion by 2024. However, there is no assigned definition of "natural," but natural beauty tends to be defined as any products that contains natural or organic products. Be that as it may, a product only needs to contain 1% organic ingredients to call it organic. 
In a survey conducted by Hubbub with 3,000 representative U.K. adults, 39% of people said that brands should produce more environmentally friendly products. This includes using less packaging, more transparent information on how to recycle and information on environmentally friendly ways to use products. 
Research by Futerra found that 88% of consumers want brands to do more to help them make a difference with 90% of Gen Z consumers expecting brands to do more to help reduce climate and impact and improve the state of the world. 
Already, one in seven people changed to more sustainable beauty products from the months of April to July 2020.
A total of 59% of people say they would be willing to refill their beauty and grooming products but research from Garnier found that 56% of British people currently don't recycle bathroom waste such as shampoo, conditioner and shower gel bottles simply because it's inconvenient to do so. 
Despite consumers wanting to use more sustainable products, one in three people don't understand the ingredients listed on products they use and one in five don't even know how to check the product's sustainability credentials. 
Certified B
Certified B Corps are businesses that balances purpose and profit. They are legally required to consider the impact of their decisions on their workers, customers, suppliers, community and the environment.
B Corp certified brands in the United Kingdom grew 28 times faster than the national economic growth of 0.5% in 2018.
The economic benefits of responding positively to scarce resource challenges are also emerging. Research suggests that companies experience an average internal rate of return of between 27% and 80% on their low carbon investments.
Companies Taking Charge
Ren has committed to be zero waste by 2021.

In June 2020, L'Oreal released its new sustainability strategy, which is explicitly based on respect for planetary boundaries.

Weleda is one of the first brands to achieve the UETB Sourcing with Respect certification for all of its products.

Lush has been investing in regenerative farms in Uganda, Peru and Guatemala.

Loop B TerraCycle is a service that enables consumers to buy familiar products in zero-waste packaging that is cleaned and refilled to be reused.
Recommendations for the Future 
The Council recommends the need for a Sustainable Beauty Coalition, spearheaded by the British Beauty Council, to address the climate and ecological crisis.
The Coalition will require industry-wide standards for certification of products, transparency with consumers, and will focus on themes such as climate, biodiversity, and waste.