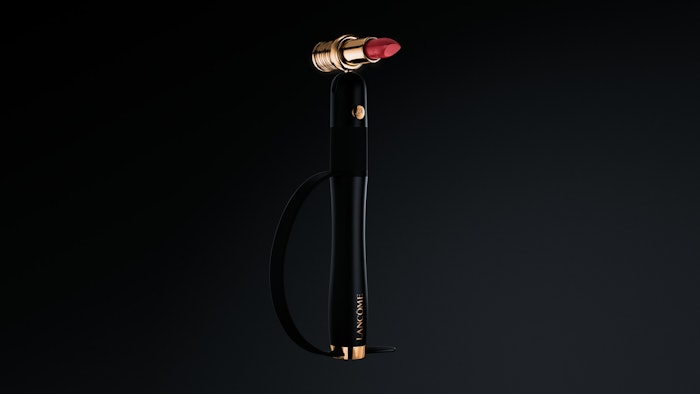 CES has been the premier launchpad for emerging beauty tech in recent years, and 2023's edition is no exception. To date, Neutrogena unveiled a 3D-printed vitamin concept, while Amorepacific has debuted on-demand skin care tech.
Now, L'Oréal has unveiled HAPTA, a handheld computerized makeup applicator (particularly lipstick) for users with limited hand and arm mobility, as well as Brow Magic, a "smart eyebrow makeup applicator that gives users bespoke brows for their face shape."
HAPTA was designed to address the estimated 50 million people around the world who have limited fine motor skills, which can render makeup application difficult to impossible.
The device features Verily-developed technology to stabilize and level utensils and combines this built-in smart motion control with customizable magnetic attachments that give users 360 degrees of rotation and 180 degrees of flexion.
(In January 2022, L'Oréal and Verily, a precision health company, announced a strategic partnership to advance skin health.)  
A "clicking" feature helps users set intended positions, stay in position during use and allow for the user to lock in customized setting for future use.
This can help users open packaging and apply beauty products, providing much-needed independence.
The system comes with a built-in battery (three hours to full charge) and device charging which results in one-hour continuous use (approximately 10-plus applications).
L'Oréal's Lancôme will pilot HAPTA's leveling device with a lipstick applicator, followed by additional makeup applications in the future, per the company. 
As previously reported, this type of inclusive design philosophy has become increasingly common in the beauty space.
"Inclusivity is at the heart of our innovation and beauty tech strategy," said Barbara Lavernos, deputy CEO in charge of research, innovation and technology at L'Oréal. "We are dedicated and passionate to bring new technologies powering beauty services that augment and reach every individual's ultimate desires, expectations, and unmet needs."
"For years, Lancôme has sought to provide every woman with beauty solutions adapted to their needs," said Françoise Lehmann, Lancôme global brand president. "Beauty tech has enabled us to fulfill this mission in an even more powerful way, revolutionizing the way we develop beauty products and services and enabling greater personalization. With HAPTA we are going one step further by making beauty more accessible to use, because everyone should have equal access to it."
Meanwhile, L'Oréal's handheld, lightweight Brow Magic is designed to sidestep the need for professional services such as microblading, while allowing consumers to get precise brows that fit their facial shape. (See a demo in the video below.)
The device taps Modiface AR technology and technology developed by non-permanent tattoo specialist Prinker, including 2,400 tiny nozzles and printing technology with up to 1,200 drops per inch (dpi) printing resolution.
Brow Magic scans the user's face and makes recommendations for microblading, micro-shading or filler effects, per L'Oréal.
Consumers can scan their faces with the Modiface brow reader housed within the L'Oréal Brow Magic app. Users select desired shape, thickness and effect, then brush the L'Oréal Brow Magic primer through brows in a single, sweeping motion.
Users then apply a topcoat finish to lock in the look. The look can be removed with a standard makeup remover.
L'Oréal Brow Magic is expected to launch in 2023.
"The strength of L'Oréal's beauty tech program is supported through the quality of our partnerships," said Guive Balooch, L'Oréal global head of research and innovation's tech incubator. "Often, we find a brilliant technology that is being applied to something outside the beauty realm. Combining L'Oréal's heritage of beauty with these advanced technologies allows us to create entirely new beauty gestures—reimagining the original technology, and the traditional beauty experience, in the process."
"For L'Oréal, the future of beauty is inclusive," said Nicolas Hieronimus, CEO of the L'Oréal Groupe. "And this future will be made more accessible by technology. The two consumer technologies we are unveiling this year at CES represent the true purpose of our company: to create the beauty that moves the world."