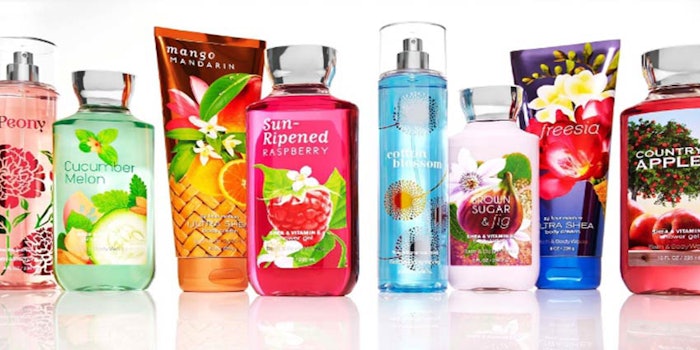 Dial up internet, Melrose Place, pagers, Crystal Pepsi and Cucumber Melon: the 90s are gone, but not forgotten, especially for Bath & Body Works.
The brand is relaunching eight of its iconic scents from the 1990s, beginning with Sun-Ripened Raspberry on May 20. Celebrating these discontinued fragrances, the brand is tapping into consumers' olfactory nostalgia, which was recently leveraged by Eurofragrance for its #Rememories scents.
The fragrances will be reintroduced in several formats: Fine Fragrance Mist ($14), Ultra Shea Body Cream ($13), Shea & Vitamin E Body Lotion ($12.50) and Shea & Vitamin E Shower Gel ($12.50).
Returning scents include:
Sun-Ripened Raspberry (launched in 1996)
Country Apple (launched in 1997)
Cucumber Melon (launched in 1998)
Freesia (launched in 1998)
Brown Sugar & Fig (launched in 2005)
Mango Mandarin (launched in 2002)
Cotton Blossom (launched in 2000)
Peony (launched in 2004)