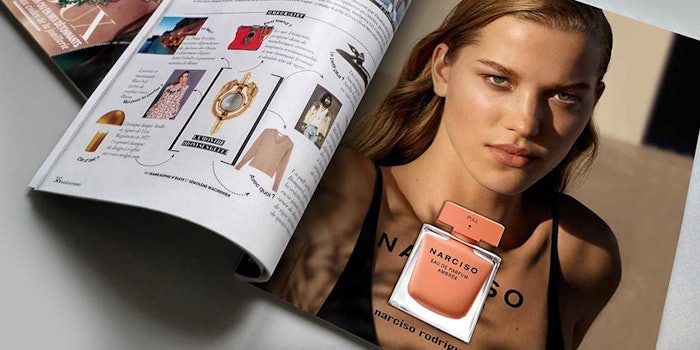 iD Scent, profiled in the November 2019 issue of Global Cosmetic Industry, has entered into an exclusive partnership with the Shiseido group in which the fragrance sampling firm is granting the exclusive use of its ScenTouch technology to the Shiseido group from January to December 2020. The eco-responsible sampling system is all the more important amid a global pandemic, which has shuttered many fragrance retailers.
The partnership has kicked off with the press campaign for Shiseido's Narciso Rodriguez Eau de Parfum Ambree perfume. The program will comprise more than 6 million ScenTouch samples distributed in more than 60 magazines in about 20 countries.
iD Scent argues that its recyclable paper-based sampling tech offers a "realistic, delicate experience." The design features an applicator loaded with perfume, which can be smelled or applied to the skin (or both).