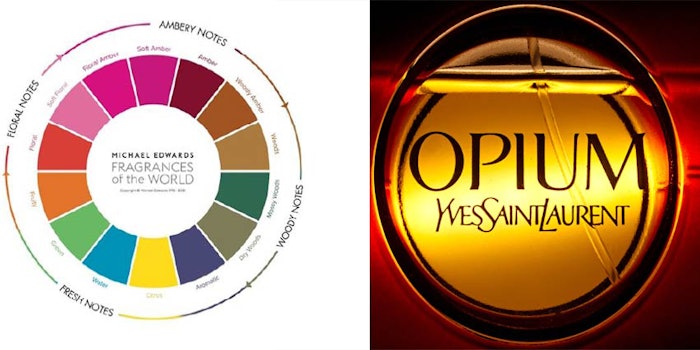 "Fragrances of the World," first published for nearly 40 years by Michael Edwards, is adopting "a more inclusive vocabulary" for his Fragrance Wheel and doing away with the outdated fragrance term "oriental." Beginning in July of this year, Edwards will instead adopt the term "ambery."
Update (July 2021): CPL Aromas has revamped its Olfactive Mapping, aligning with the recent unveiling by "Fragrances of the World" by Michael Edwards, and doing away with the term oriental in its many forms, replacing it with amber.
The company is in the process of adapting the new language to the other categories it leads on, including home care, home fragrances and personal care.
Rawya Catto, general manager for CPL Aromas Middle East and a fragrance expert, said "We are very happy to be among the first major fragrance houses to take the step of modernizing the language in our Olfactive Mapping. There was no malice when the first one was created almost a century ago in France, but the time is right to bring the fragrance industry forward, and we are here for it."
She added, "What we didn't want is change for change's sake. Besides the necessary update of the Oriental language across the board, we kept other classical structure names like fougère and chypre."
Aitana López de Carrión, CPL Aromas' development manager and in-house fragrance connoisseur, said, "We were happy to break internal traditions, starting with the reimagination of the Olfactive Wheel into a Chart, for better mapping capabilities; we also enriched and homogenized the descriptors to make our mappings more accurate and richer; and we are now working on developing the modularity of the Chart, to easily add or remove families based on applications or regions."
Chris Pickthall, CEO of CPL Aromas, commented, "We are happy to be among the first fragrance houses to support with our actions the important language statement by Fragrances of the World. It represents a shift from the old, Eurocentric fragrance world into a truly new, global world of olfactive wonders, fully in line with our ethos of sustainability, innovation and independence."
Previously:
Soft Oriental will now be known as Soft Amber;
Floral Oriental will change to Floral Amber;
and Woody Oriental will shift to Woody Amber.
Some may wonder: Why make the change at all?
The shift is part of a larger discussion, which was highlighted in May 2021 by Harper's Bazaar, which quoted Tania Sanchez, co-author of "Perfumes: The A-Z Guide": "'"There seems no good reason to stick with a confusing, Eurocentric term, when we could use clear, descriptive language instead.'"
Even The Fragrance Foundation's president, Linda Levy, believes "other terminology should definitely be applied instead."
The term "oriental" is widely recognized as a "Eurocentric term that geographically referenced the East relative to Europe," according to Karen Umemoto, director of UCLA's Asian American Studies Center, as quoted by NBC News. 
The word was accompanied by stereotypes that engendered fear and otherism, which reemerged strongly in the United States amid the COVID-19 pandemic, manifesting in violent hate crimes against those of Asian descent.
In addition, Sanchez noted to Harper's Bazaar, ""European cultures have historically fetishized and sexualized Asian people and cultures, and perfume marketing has unfortunately often played into this harmful fantasy."
This fixation can have dire consequences, as seen with the March 2021 shootings of six people of Asian descent in Acworth, Georgia. In this instance, the Caucasian shooter specifically cited a "sexual addiction" as a motivating factor.
As a result of many of these concerns, in 2016 the U.S. government banned the term from use in federal law, in favor of "Asian American."
In a press release, Edwards noted, "In the world of fragrance, there is a growing sentiment that the word [oriental] is outdated and derogatory."
He continued, "While many might recall the oriental sensuality evoked by such fragrances as Opium and Shalimar, younger people often feel no such connection to the description Oriental."
Edwards concluded, "Within the context of perfumery, the term Oriental was never intended to be offensive, but perceptions change."