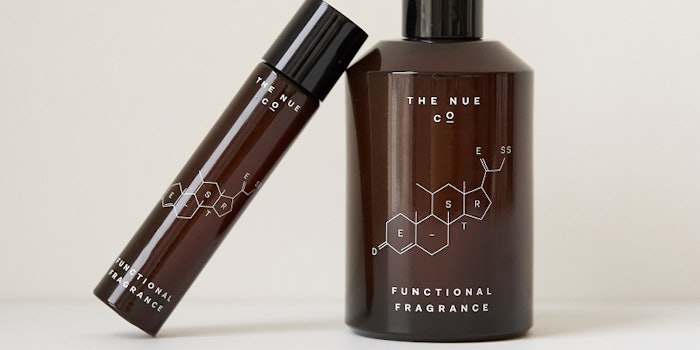 The Nue Co., an England-based supplement company, has a created what it calls Functional Fragrance. 
According to The Nue Co., Functional Fragrance was developed using data insight and research between cognitive function and the olfactory system. The supplement, which acts as a unisex fragrance, is meant to provide anti-stress benefits. 
The fragrance is described as clean, woody, spicy and smoky. Predominant notes include green cardamon, iris, palo santo and cilantro. 
"This fragrance is not like a typical perfume. It's not one you would get from a designer or a crowd-pleaser fragrance. The intention here was to create something that felt more organic and natural. It has a naturality, is refreshing, has texture, and possesses some richness—but not in an overwhelming way. There's no fruit or vanilla, or anything that makes it perfume-y. For me, this is a scent not a perfume. It's a perfect balance between freshness and warmth—exhilarating and stimulating versus calming. It's a scent to promote well-being," said Frank Voelkl, senior Perfumer for Firmenich.
Functional Fragrance is available in 10 ml ($40) and 100 ml ($155).
Ingredients:
Alcohol, Cardomome Verte SFE, Cardomom, Bergamot, Cilantro, Myhrr Oil, Myrrhone, Orris Firabs (Iris), Violet, Jasmin, Cedarwood Oil, Musk, Palo Santo, Ambrox, Guaiacwood.