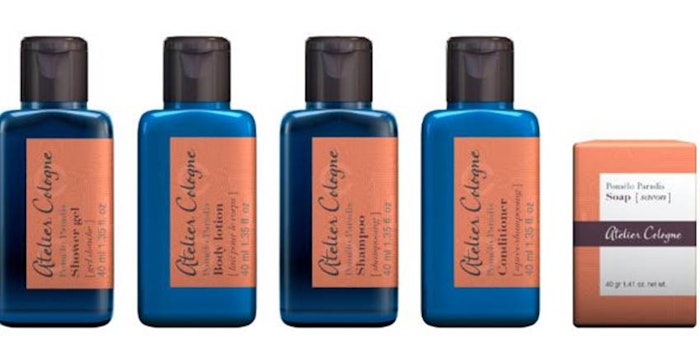 Atelier Cologne, which was recently acquired by L'Oréal, has launched the Pomélo Paradis hotel line in collaboration with Groupe GM. The range is available through Groupe GM's distributors and will be available in more than 70 countries beginning in September.
The natural range comprises a shampoo, conditioner, shower gel and body lotion in 40 ml and 80 ml bottles, as well as a 40 g and 80 g soap, and a 300 ml Ecopump.The products are available in four fragrances:
Orange Sanguine, with notes of blood orange and jasmine
Cédrat Enivrant, inspired by the French 75 cocktail, comprising notes of cedrat, mint and juniper berries
Grand Néroli, featuring notes of vanilla, neroli and galbanum
Signature scent Pomélo Paradis, with notes of pink pomelo/grapefruit, Bulgarian rose essence and vetiver
The products are free of parabens, phthalates, liquid paraffin, GMO, animal-derived ingredients, colorants and SLS/SLES.
"This Atelier Cologne range is truly exciting, as it represents a product offering with absolute commitment to excellence in terms of quality of ingredients, fragrance and the sensations these can evoke in users," said Laurent Marchand, president of Groupe GM. "Already, the response from hotels internationally has been overwhelming, and we are excited to see this line really take off."