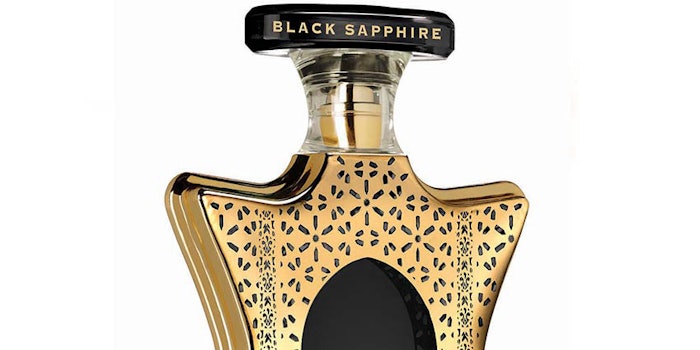 The Middle East is one of the hottest luxury beauty markets in the world, so it's not surprising that Bond No. 9 is expanding its range of Dubai scents, which previously featured Indigo, Emerald, Ruby, Citrine, Amethyst and Amber.
The range comprises classic and contemporary notes, including resin, musk, tropical spices, seaweed, raspberry and plum, and are packaged in the classic Bond No. 9 bottle decorated with Arabic starbursts on a gold background, as well as an arched door bearing the gemstone name of each scent. The fragrances retail for $550 (100 ml).
The 42-oz Bond No. 9 Dubai Perfume Fountain scented with Dubai Ruby and Dubai Indigo retails for $4,500.
The Bond No. 9 Dubai Treasure Chest jewel box, fitted with each of the nine Dubai eaux de parfums, retails for $4,500.
Dubai Black Sapphire has notes of neroli, saffron, beeswax, Turkish rose, gurjun, cedarwood, pepper, oud, benzoin, sandalwood, tolu balm and vetiver.
Dubai Jade has notes of violet leaf, raspberry, cumin, rose, lily, jasmine, cedarwood, amber and ambrette, musk, oud and birch tar.
Dubai Garnet comprises notes of bergamot, blackberry, cardamom, seaweed, pink pepper, rose, magnolia, jasmine, lavender, plum, cumin, musk, amber, myrrh, vetiver and oak moss.