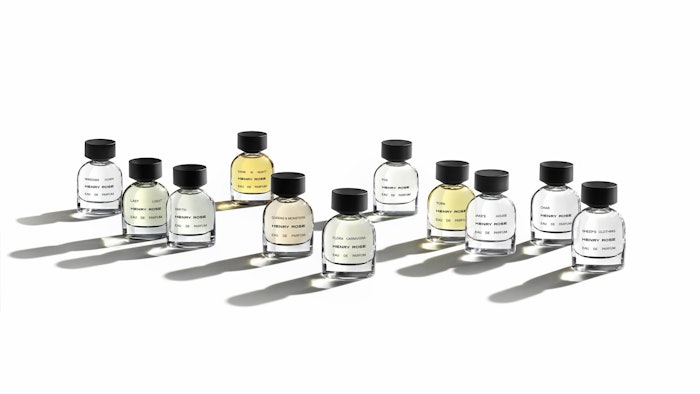 Michelle Pfeiffer's Henry Rose fragrance brand, founded in 2019, has received a series A investment led by Sandbridge Capital (Ilia, Youth to the People, Madison Reed, etc.). The undisclosed investment will be used to further expand the brand's retail reach, expand its team and grow marketing programs. Its first major advertising campaign is set to debut this summer, including a billboard in Times Square.
Report: Fragrance's Future: Tech x Sustainability
The brand has distinguished itself by disclosing 100% of its ingredients and by becoming EWG Verified and Cradle to Cradle Certified.
The brand now comprises 11 fine fragrances, as well as home and body products, leading to a greater than 2x increase in customers year-over-year, per the company.
"We are thrilled to partner with Michelle and her inspired Henry Rose team," said Ken Suslow, founder and managing partner of Sandbridge Capital. "There is a tangible groundswell among consumers for ingredient transparency paired with timeless storytelling across the clean beauty landscape. Michelle has thoughtfully captured this balance, artfully blending her pure mission-driven approach with a compellingly modern offering of best-in-class fine fragrances. We very much look forward to engaging our global brand building expertise in support of Henry Rose's already impressive growth trajectory."
"I founded Henry Rose based on my belief that we shouldn't have to sacrifice quality for safety," said Pfeiffer. "We partnered with Ken and the Sandbridge Capital team not only for the expertise they provide as beauty industry investors, but also for their commitment to our brand's mission. This partnership underscores our shared belief that greater transparency is the future and everyone has the right to know what's in the products they use."
"Over the past four years, Henry Rose has established itself as a disruptor in the beauty industry by challenging the status quo," said Debi Theis, president of Henry Rose. "The brand's evolution to date has been extremely intentional, so it was important to find a partner that would champion, rather than shy away from, our bold stance on ingredient transparency, safety, and sustainability. Ken immediately embraced our values as non-negotiables, and we are thrilled to usher in this next phase of brand growth together."