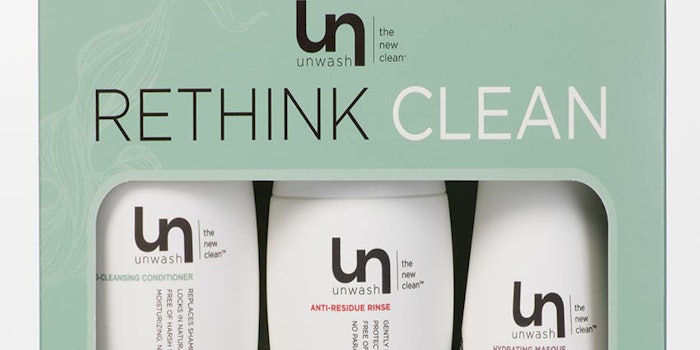 Brandon Schwartz , cofounder of Unwash, the shampoo alternative hair care brand, has a professional background that led him from talent management to hair care to software and back again.
Having learned about product development, distribution and marketing along the way, Schwartz was able put his USC entrepreneurial studies education to work in co-creating and launching Unwash in early 2015.
(Read more about how hair care is upending traditional products and rituals.)
One Thing, Done Well
At the same time, hair oils, rinse-off products and leave-in products were on the rise, as were gentle skin care category cleansers such as micellar washes. In this context, women, sick of struggling with harsh shampoos, were looking for alternatives. Enter: Unwash. 
Channeling a common tech world guideline, Schwartz and Dalva avoided being all things to all people and instead focused solely on shampoo alternatives and the rise of "cowashing."
The pair began with a one-step hero product with no damaging effects or color draining. With a unique surfactant as Unwash's point of difference, the simplicity of the brand proposition made it easy for consumers to understand. 
Rapid Incubation, Lean Team
Schwartz and Dalva brought the concept to Athena Cosmetics (of RevitaLash fame), which simultaneously hired the pair and acquired the brand. Athena, home to former P&G/Wella executives, acted as an incubator for Unwash, providing the cofounders with design, marketing, sales, legal and other resources required for a national launch. 
The Unwash team at Athena is lean, with a small group working to support the brand in various capacities—as Schwartz put it, "Everyone is involved in everything." On any given day, the team manages anything from new product development to customer marketing and sales planning, including how they're raising awareness for the brand and driving sales with their partners.
"Unwash products have quickly become a favorite among women and men seeking healthier hair with an alternative to the traditional daily wash and repeat."
The arrangement has allowed Schwartz and Dalva to work with the parent company's resources almost like a freelance force, which freed them to focus on strategic and distribution opportunities and to quickly scale up the brand. In fact, Athena allowed Unwash the rare opportunity to quickly expand a small brand without any of the difficulties larger companies have in pivoting rapidly toward a trend.
Earlier this year, Unwash's Bio-Cleansing Conditioner, Anti-Residue Cleanse, Hydrating Masque and Dry Cleanser debuted at Ulta Beauty. When the partnership was announced, Catherine O'Daniel, the retailer's director of store sales and strategic planning, said, "Unwash products have quickly become a favorite among women and men seeking healthier hair with an alternative to the traditional daily wash and repeat."
The move to debut nationally made sense as the cowashing/gentle hair cleansing category has already sprouted numerous competitors, including products like Renpure Coconut Mint Cowash Cleansing Conditioner, Shea Moisture Mongongo & Hemp Seed Oils High Porosity Moisture-Seal Co-Wash and dpHUE Apple Cider Vinegar Hair Rinse. 
Expanding the Brand
In every instance, the goal for him and the team is balancing investment and return and assessing when to take a risk, especially with the long lead times of some retailers.
Schwartz explained that he believes that simple technologies can help brands roll out nationally early on, augmenting processes (online distribution, presentation software, etc.) that would have been much more difficult in an earlier era.
Today, creating product and finding distribution is easier than ever as most companies and the decision makers therein are online. Finding a differentiation point can be the way to get a brand into mass distribution fast—consumers are looking for things that appeal to them personally. Schwartz explained that, if you can find that common thread, retail partners see that, too.
5 Guidelines for the Beauty Startup
In conversation, Global Cosmetic Industry asked Schwartz for his insights into the startup process. Below are a selection of his answers.
"Action is the best thing you can create," said Schwartz, who suggested that entrepreneurs should partner with people who don't get stuck in "analysis paralysis." The ideal partner, he suggested, will be action-oriented, get their hands dirty and work to figure out solutions, rather than obsessing over how things could go wrong.
Belief is critical. Schwartz suggested that entrepreneurs need to evangelize their ideas and get others motivated. At the same time, he said, it helps to believe that the path is easier than may be immediately obvious.
Get help. Schwartz believes that it's critical to find experts who can listen to your ideas or provide you with critical information. And, when seeking out experts, it's best to go to the top, people with the experience and time to share insights and make connections.
You can correct errors. Remember: there's nothing that can't be tweaked or redone.
Don't be afraid to talk about your idea. Schwartz noted that people's pet ideas often aren't as stealable as they think. As a result, they should be more open about their projects and take ideas wherever they come from.