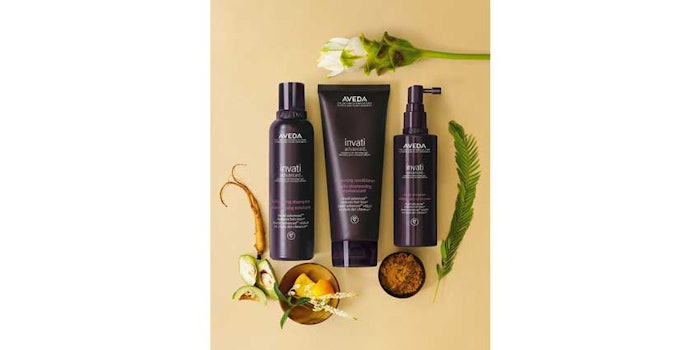 Aveda has introduced its new Invati Advanced Solutions for Thinning Hair.
According to Aveda, the newest version of its Invati Solutions for Thinning Hair is 98% naturally derived and reduces hair loss due to breakage from brushing by 53%. The new system gives users a simplified routine of just one time each day, as opposed to two times a day when it initially debuted in 2012. 
Justina Mejia-Montane, vice president, global product development at Aveda, said, "The new Invati system continues to deliver high product performance in a simpler regimen. Guests who are experiencing signs of hair loss and thinning shouldn't live without new Invati Advanced."
The Details 
Invati Advanced Exfoliating Shampoo
The shampoo exfoliates, cleanses and renews the scalp with wintergreen-derived salicylic acid, removing build-up that can clog pores. This formula cleanses the hair and detangles to help protect from breakage during shampooing. 

SRP: $33 for 200ml
Invati Advanced Thickening Conditioner
The conditioner thickens and delivers weightless conditioning to help protect the hair from breakage. Naturally derived amino acids mimic hair's building blocks to help strengthen hair from root to ends. 
SRP: 

$33 for 200ml
Invati Advanced Scalp Revitalizer
The new formula, featuring tangerine peel and Japanese knotweed, penetrates the surface to help support hair's natural keratin, while Aveda's patented energy ferment plus its Ayurvedic herb blend with ginseng and certified organic turmeric invigorate the scalp when massaged in. 
SRP: 

$65 for 150ml
For more information, please visit
www.aveda.com