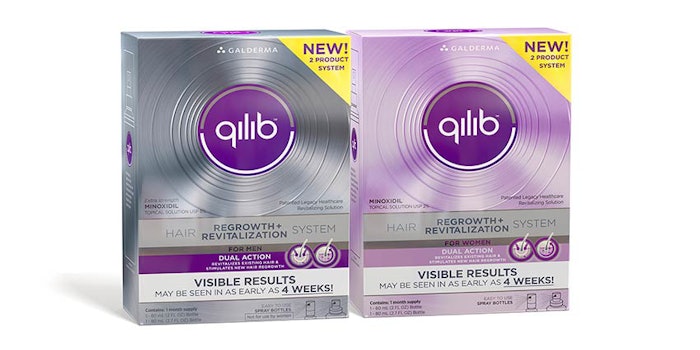 Galderma, which recently appointed a new regional leader, has launched qilib, a dual action system for treating hair thinning and hair loss.
The Hair Regrowth Treatment contains 5% minoxidil for men and 2% for women.The treatment reportedly "awakens" the follicles to stimulate new growth.
The Hair Revitalizing Solution comprises botanicals, vitamin C, proteins, lipids and antioxidants.
The qilib Hair Health Reinforcement Biotin + Multivitamin Supplement contains 5,000 mcg biotin, and vitamins B12, C, D3 and E.
The products are packaged in spray bottles.
According to Galderma, "When used as directed, 70% of male and more than 75% of female participants were 'satisfied with overall improvement' at 12 weeks of use."
Miles Harrison, president and general manager of Galderma Laboratories, L.P., notes, "The millions of sufferers of thinning hair and hair loss have had limited options that work, but now, qilib Hair Regrowth + Revitalization System is available to provide fast, visible results in as little as 4 weeks."
"The qilib Hair Regrowth + Revitalization System is a game changer because it showed clinical results in both men and women in as early as 4 weeks," says Amy McMichael, M.D., board-certified dermatologist and Professor and Chair of Dermatology at Wake Forest University School of Medicine. "For men and women frustrated with their current hair loss treatments, I encourage them to try qilib and see for themselves what a difference it can make to their hair."