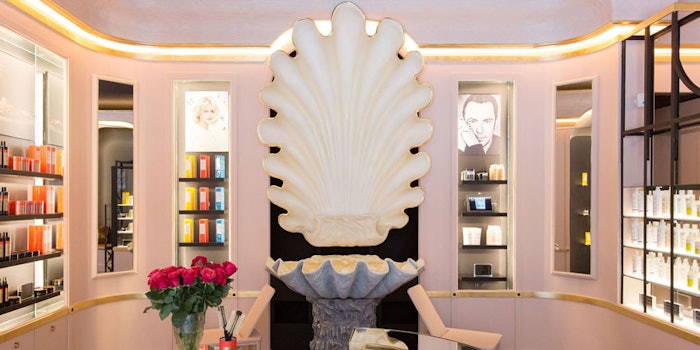 Veteran hair colorist, Christophe Robin, has bid "adieu" to his location at the Le Meurice Hotel and moved to 16 Rue Bachaumont in the hopes of creating an open and accessible space for his clients.
The new Paris location comes complete with Robin's salon as well as a boutique where beauty consultants help women ascertain their individual hair care needs and give recommendations regarding hair care products. Botticelli's The Birth of Venus gets a nod in the boutique in the form of a giant mother of pearl shell that acts as a shampoo bowl for clients to try the products, if they feel so inclined.
With the new location comes an array of new products as well. The Taha'a candle was inspired by French Polynesia and smells of ylang ylang, tiare flowers and frangipani. Herbal cocktails that developed by Robin himself come in flavors ranging from lemon bark to cinnamon to hibiscus. A range of four wooden brushes with natural boar bristles were designed to not have to be broken in and suit all hair types.
Robin spent seven years at his previous location and has visualized moving to an area of Paris that epitomizes the city that he adores.
For more information on the 16 Rue Bachaumont location visit: www.christophe-robin.store