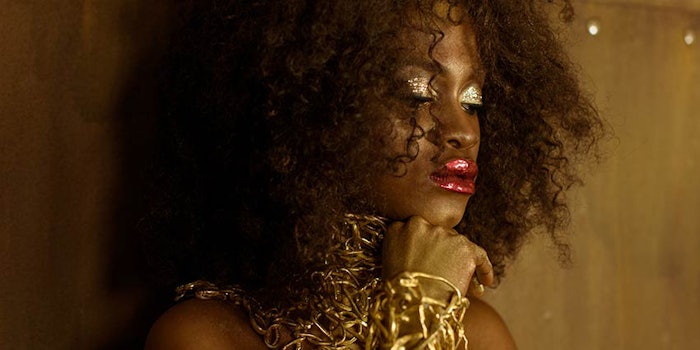 Curls are all the rage for hair care brands. And with good reason.
Consumers with textured hair—curly, coily and wavy—spend more than their straight-haired counterparts, and are highly motivated to try new products, according to a survey of more than 700 consumers and 30 online participants by TextureMedia LLC. 
An Aisle of Their Own
As more products targeted to textured hair come to the market, retailers are making more space on their shelves to service the category. Target is a good example, Michelle Breyer, TextureMedia's co-founder and head of business development, told Global Cosmetic Industry.which has dedicated more space to niche and other textured hair offerings, as well as Sephora's dedicated online portal for the hair care segment.
Textured-haired consumers shop primarily in physical stores, but do extensive research online. For them, top retailers include Target, Walmart, Sally Beauty and Ulta. In all cases, convenience is a key factor.
Textured-haired consumers want their hair care products and brands organized in dedicated retail aisles (68%) organized by hair texture or concern (20%), not ethnicity.*
"When given a choice of what that section should be named, the top choice was 'Curly & Natural,'" according to the researchers.**
Seventy-five percent of these consumers shop in-store (not online) for hair care at least once a month, while half shop in-store two to three times a month.
A Wake-up Call for Brands
Brands are beginning to respond to the demands of the consumer, said Breyer. This consumer-driven groundswell is pushing hair care players to launch more products that show an understanding of those with textured hair.
Niche players have a head start in this arena, and have often already made a name for themselves. And traditional "ethnic" brands are expanding to meet rising demand. But now top multinational brands have awoken to the huge market segment and the opportunity it presents, according to Breyer.
Recent launches in the segment have come from Pantene, Garnier, Bumble and bumble and the expansion of Chemify Logic beyond the digital pure-play, to name just a few.
The Mind of the Textured-haired Consumer
Textured-haired consumers are "product junkies," who will use whatever works, said Breyer. As a result, they will often blur the lines between professional, niche and prestige products. And when a brand works, these consumers spread the word through social media.
It's no surprise, then, that reviews (including those posted by influencers on blogs or YouTube) and ingredients (sulfate-free shampoos, natural offerings, shea butter, etc.) are the top factors for textured-haired consumers when buying new products. And when they buy, they're willing to spend more than their straight-haired counterparts.
Brands are now listening to shoppers, said Breyer, with consumer-driven products being developed to target specific texture types. Recent examples include solutions for the LOC (leave-in oil and conditioner) method (ex: OGX Creamy Hair Butter, Hydrate + Repair Argan Oil of Morocco) and protective hair styles.
Modernizing "Ethnic" Products
With the emphasis of texture and hair issue over specific ethnicities, today's textured hair products are moving away from the bright colors of traditional brands and adopting more sophisticated designs, said Breyer. In addition, the category is seeing unique formats like custards (Ouidad Curl Immersion Hi-defining Custard), puddings (Carol's Daughter Hair Milk Pudding) and meringues (Miss Jessie's Curly Meringue).
Finally, said Breyer, textured-hair brands are following the broader trend toward authenticity in marketing by featuring "real-looking" women of a variety of ethnicities and texture types, ensuring consumers see themselves within the brands seeking to serve them.
*Just 7% of those surveyed want their dedicated hair care aisles to be labeled "ethnic"
**14% want products separated by product type, while 13% want them separated by brand