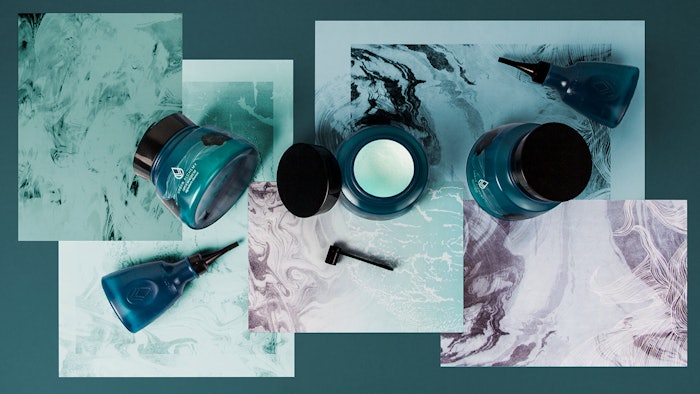 New Flag has launched a personalized hair care line suited for professionals and consumers—Urban Alchemy. The line consists of base shampoo, conditioner or mask products that are mixed with a choice of alchemies.
Each alchemy is specifically formulated to address the individual needs of all hair types and can be added to any of the three bases to create a custom formula. The full collection is available to consumers exclusively at Sally Beauty and distributed to professionals exclusively through Cosmo Prof.
Related: Hair Care News Roundup: Redken, Seed Phytonutrient and More
Urban Alchemy Prescription Blonde Toning Drops can be mixed in-hand, in a bowl or added directly to the shampoo, conditioner or mask. The violet pigment drops contain pro-vitamin B5 to moisturize treated hair and add violet to blonde hair. It should be used weekly to keep the desired color. The toning drops cost $14.99.
Urban Alchemy Salt Scrub Cleansing Shampoo is a gentle exfoliating scrub that helps remove dead skin cells and residues caused by the buildup of styling products. It is formulated with a sea spa complex, a combination of sea salt and algae to soothe and moisturize the hair and provide shine and bounce. It costs $30.
Urban Alchemy Hydrating and Soothing Conditioner is a deep moisturizing conditioner to use after the salt scrub treatment. It uses seaweed extracts and pro-vitamin B5 to condition and moisturize the hair to improve its natural shine. It costs $30.
Urban Alchemy's Prescription Care Shampoo, Conditioner and Hair Mask are customizable bases designed to mix with alchemies. Each base is formulated with an Omni Signature Complex with antioxidants and nutrients, including rosehip oil, biotin, calcium pantothenate, corn oil, vitamin E and horse chestnut to cleanse and moisturize the scalp.
The shampoo, conditioner and hair mask costs $10 each. The alchemies each cost $5.
Repair Prescription Care Alchemy prevents hair damage and split ends with argan oil.
Scalp Care Prescription Care Alchemy is formulated with aloe vera extract, echium oil and sunflower oil to nurture and protect the scalp.
Hair Density Prescription Care Alchemy improves hair thickness with a caffeine complex.
Color Lock Prescription Care Alchemy hydrates and maximizes hair color with hydrolyzed quinoa protein.
Moisture Prescription Care Alchemy uses hyaluronic acid to restore hydration in the hair.
Shine Prescription Care Alchemy uses abyssinian oil to add a natural shine to the hair.
Volume Prescription Care Alchemy contains hydrolyzed rice protein, rosemary, arnica, calendula and chamomile to improve hair strength.
Anthony Melzi, CEO of New Flag, North America, said, "New Flag is proud to pioneer a line of highly innovative and customizable products that will disrupt the hair care industry. We know that everyone has different hair needs and we have worked hard to create a product that can provide a customizable approach for all.  We're thrilled to launch our hero collection and are continuing to grow our offerings with new innovations coming soon."
Maryann Herskowitz, group vice president of merchandising, Sally Beauty, said, "Consumers are craving personalization, especially when it comes to hair care. With the full line of Urban Alchemy available exclusively at Sally Beauty, we're further expanding our breadth of professional quality products so consumers can craft a solution tailored to their specific needs and achieve their hair goals, no matter the hair type."
Matt McAdam, group vice president of merchandising, Beauty Systems Group, said, "Our goal is to be an ally to stylists by providing them with innovative products that meet the unique needs of their diverse customer base. By offering Urban Alchemy at Cosmo Prof, we can provide a customizable solution that starts with stylists behind the chair and continues with customer use at home."