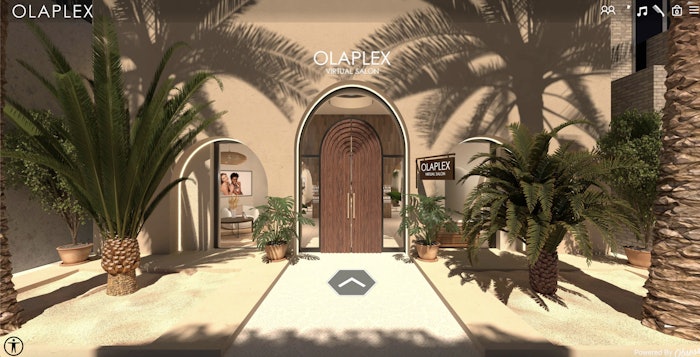 Olaplex launched a virtual salon that provides an interactive, immersive way for consumers and licensed stylists to engage with the hair care brand.
The virtual salon allows users to purchase Olaplex products, learn about the hair science behind the products, and customize hair repair and styling regimens from the Olaplex products that are suitable to their hair types.
"Our goal with the Olaplex virtual salon is to surprise and delight our customers," said Charlotte Watson, chief marketing officer at Olaplex. "We want them to have the feeling they are getting advice from professional stylists in a salon environment."
Upon entering the interactive salon, users arrive in the waiting room, where they can delve into Olaplex's social media channels to see how consumers are using the products or purchase Olaplex products off the shelves.
The stylist chair and washing stations provide information on how to use Olaplex products to repair certain types of hair damage and maintain hair styles, including healthy curls and highlights and balayage. Videos from Olaplex ambassadors demonstrate how to use the products. And this section of the virtual salon can connect consumers with local certified Olaplex stylists.
The back of the salon features Olaplex's Beauty Uncovered podcast, which covers beauty, health and wellness topics beyond hair care. Recent topics have examined how small businesses can thrive in a tough economic climate; how to get more girls involved in STEM classes; and how to redefine beauty standards, including diversity on the runway and the power of self-acceptance.
In addition, that area of the salon also lets consumers take Olaplex's hair diagnostic quiz so the brand's hair experts can find the right Olaplex products to address consumers' specific hair needs.
Gamification also plays a role in the salon. If consumers collect six combs scattered throughout the salon, they will receive prizes.
"Beyond surprising customers with a bit of entertainment, adding gamification was an important part of the strategy behind the salon," Watson said. "The combs are strategically placed throughout the experience, inviting customers to explore educational moments, from videos to podcast snippets to taking our hair diagnostic, where they can receive personalized recommendations."
And just like in real life, a break room is available to licensed professionals. They can access pro-only educational resources and experience some of the products in a 3D setting before trying them in salons.
Olaplex created its virtual salon as an organic extension of its brand and users. The virtual salon represents the science-enabled, technology-driven approach of the brand, while providing a convenient place for its digital-savvy customers to engage with the brand, according to Watson.
She said, "From our products to how we connect with our community, we put technology and innovation at the forefront of everything we do. Our hope is to connect with professional stylists and customers wherever they are in fresh and exciting ways. Our first virtual salon is just scratching the surface of how we're bringing innovation into every consumer touchpoint."