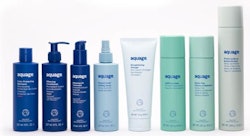 Aquage, a Beauty Quest Group-owned professional/consumer hair brand that takes its inspiration from the ocean, has rebranded with new sustainable packaging. The range has also been pared down, while adding a new water-saving Dry Shampoo and Blonde Care collection.
Per a company statement, "Aquage was looking to streamline our portfolio so that it offers products that still cater to every hair type and need for both care and styling, while also being a simple and easy to navigate shopping experience."
Aquage's new packaging launched in November 2022; revamped SKUs are available to professionals on Aquage.com, Aquagepro.com and Amazon.com. The updated range will also be available via Cosmoprof and Ulta this month. 
The SKUs include the brand's AlgaePlex formula, comprising eight marine botanicals, including protein- and amino-acid-rich kelp; Irish moss, containing beta-carotene, vitamins and minerals; and red and green algae to provide conditioning and antioxidant benefits.
AlgaePlex reportedly helps hair thrive and heal from damage done during the styling process. 
The brand's new packaging comprises 100% recyclable ocean-bound materials, thereby reducing its usage of virgin plastic.  
Deep dive: Read more about the latest in ocean plastic packaging.
The development of the materials has been conducted in cooperation with PlasticBank, a social impact organization devoted to stopping plastic from entering the ocean. 
Aquage's has committed to the annual prevention of 50 tons/2.5 million plastic bottles from entering the ocean. 
Meanwhile, Aquage's stylist-focused platform, The Backroom, will continue to feature educational content, classes, resources, techniques and product usage demonstrations. Laura Polko, the brand's ambassador and celebrity stylist, will offer her expertise and insights on the site. 
"Aquage's rebrand is a way for us to get back to the brand's core of high-performance products fit for the professional. A key part of the performance is AlgaePlex, a resource we need to preserve and protect," says chief marketing officer Mary Burns. "This mission is one of our driving focuses and a key part of our product's formulas, so reducing our oceanic footprint was a seamless next step as we continue on this path towards sustainability. We are happy to continue this conservation journey alongside our partners at PlasticBank, while still delivering premium formulas the brand is known for."