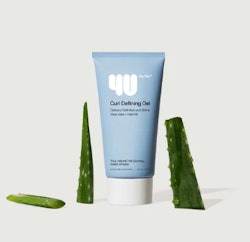 Amyris' latest consumer brand, 4U by Tia, has been launched in partnership with Sister, Sister actor Tia Mowry.
The company's previous consumer brand launches include Stripes with Naomi Watts, EcoFabulous and JVN with Jonathan Van Ness. 
The affordable, curl-centric hair care brand is built around Hemi15, Amyris' hemisqualane silicone alternative. The ingredient is sustainably produced via biofermentation, using sugarcane as a feedstock.
Hemi15 "protects precious curls by deeply penetrating the hair shaft to nourish and repair curls," per the brand, and helps improve elasticity and definition, while reducing frizz.
The 4U by Tia range comprises the Clarifying Shampoo ($9.99), Lightweight Conditioner ($9.99), Moisturizing Shampoo ($9.99), Moisturizing Conditioner ($9.99), Curl Defining Gel ($10.99), Leave-in Curl Cream ($10.99), Curl Refresher Mist ($10.99) and the Multiuse Hair Oil ($10.99).
It retails at the brand's site and, once live, at Walmart. 
Other key ingredients for the range include:
watermelon extract, rich in vitamins A, C and B
fatty-acid-rich hibiscus oil for hair strength and moisture
apple cider vinegar, which contains acetic acid and polyphonic compounds to balance pH; protein- and mineral-rich sea moss extract to add shine and fortify strands for added strength against breakage
flaxseed oil, which creates a flexible film on hair fibers for defined curls
apple fruit extract to hydrate and soften with magnesium, potassium and copper
aloe vera to strengthen and condition
vitamin E to diminish oxidative stress
acai oil to coat the hair in antioxidants
rosemary to calm and condition
aloe leaf juice to strengthen and hydrate
cassia seed to coat the hair in a flexible fiber for defined curls
chia seed to strengthen the hair root to stimulate growth and thicken strands
The range also includes sustainable packaging. For instance, the clarifying shampoo has recyclable cap (31% PCR) and bottle.
The latest launch follows Amyris' Q3 2022 results, which posted record consumer revenue of $46.6 million, a 98% increase for the quarter and 107% uptick year to date.
Per CEO and president John Melo, "Amyris outperformed key players in the beauty space according to the NielsenIQ 12 weeks trailing year-over-year growth rate of 7%," commented "Our ingredient business continued to sell out all production and entered the fourth quarter with an order backlog."