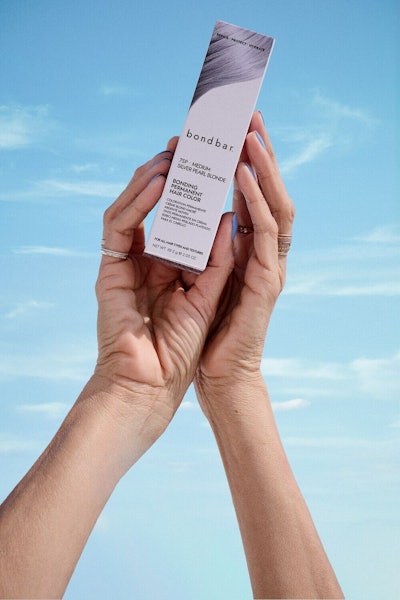 Sally Beauty is expanding its Bondbar hair repair system, first launched in October 2022, with a shade range of 30 permanent hair colors with built-in bonding technology, allowing consumers to repair while they color. Other SKUs include a reportedly first-to-market bonding blue shampoo and three styling products.
The range is inspired by the "skinification" of hair care, according to the retailer.
As previously reported, Bondbar's bonding technology works by penetrating deep into the hair cortex, creating new hydrogen and ionic bonds that support and restore the internal keratin structure. This is said to provide improved strength and manageability for damaged hair.
In line with the range's price accessibility, the new Bondbar SKUs all retail for less than $13.
The range of 30 Permanent Hair Color ($12.99) shades features Bondbar's core bonding technology. They can be used with the brand's Bonding Booster and Bonding Recovery to achieve as much as 53% less breakage compared to a standard color, per Sally Beauty. The Bondbar Crème Developer is also available in 10, 20, 30, and 40 volume to support all at-home hair coloring needs
The new Bonding Blue Shampoo Bonding ($9.99), said to be a first on the market, features the bonding technology and is designed to neutralize brassiness after one use. It can also brighten brunette hair while hydrating root to ends, per the company.
The Bonding Detangling Spray ($9.99) reportedly boosts wet detangling by up to 97% and nourishes hair while reducing breakage after one use.
The Bonding Leave-In Conditioner ($9.99) features a lightweight formula that adds volume and moisture, helps tame frizz, and smooths out hair.
The Bonding Curl Cream ($9.99) reportedly nourishes the hair and seals in moisture to help define the shape of curls with added bounce, softness and shine.
With these additions, the Bondbar range now features 14 products. The complete Bondbar line is available now in-store and online at SallyBeauty.com/bondbar.
"Our goal with the extension of the Bondbar line is to merge our long-standing leadership in the color category with our innovative Bondbar technology to support overall hair health," said Maryann Herskowitz, group vice president of merchandising at Sally Beauty. "The at-home hair color category needs products that offer these combined benefits. We are excited to introduce Bondbar Permanent Hair Color to provide our shoppers with the latest bonding technology that also helps maintain healthy, vibrant color at an affordable price point."