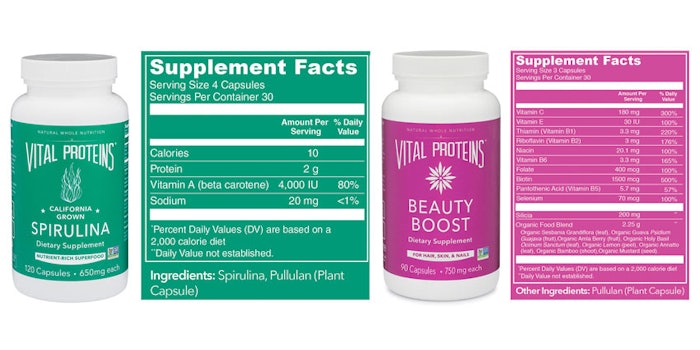 Adding to the brand's range of ingestible beauty products, Vital Proteins has launched two new vegan supplements.
Sourced from California grown spirulina, the plant-based capsules contain non-GMO Project Verified and 100% vegan spirulina. Each serving of Spirulina ($29) contains eight essential amino acids, vitamin A, vitamin K, gamma linolenic acid (GLA), phycocyanin and chlorophyll for overall health and wellness.
Beauty Boost ($49) offers 500% of the daily value of biotin and 300% of recommended daily value of vitamin C to support youthful skin, healthy hair and stronger nails. Other key ingredients include holy basil to help fight bacteria and promote clear, glowing skin, as well as bamboo for its immunity-boosting properties and digestion support.
"We always have our ear to the ground, listening to cues from our customers in an effort to ensure we're consistently evolving our offerings for them," explains Kurt Seidensticker, founder and CEO of Vital Proteins. "Although we're best known for clean-label collagen, we recognize that our bodies need a variety of natural nutrients to keep us looking and feeling our best—and the Spirulina and Beauty Boost capsules ended up being our response."
Spirulina and Beauty Boost join the brand's wide range of ingestible beauty products, including beauty waters, collagen and bone broths. Vital Proteins products are retailed at www.vitalproteins.com and natural foods stores.