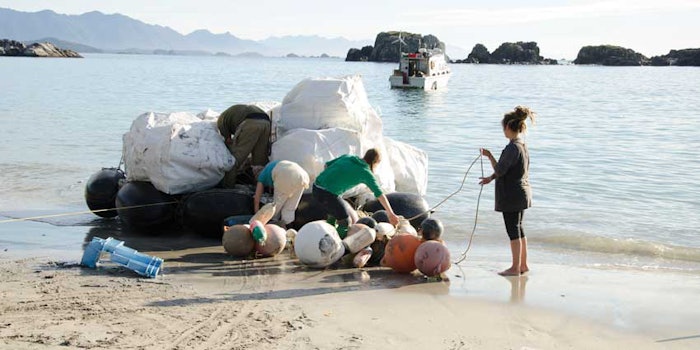 Building a future-proof brand requires marketers, product developers, formulators and suppliers to rethink every aspect of their jobs, from sourcing to product development to values.
#EcoGoals
These efforts are already having an impact. A recent CEW and Soil Associationa event revealed that certified organic and natural beauty sales in the United Kingdom grew 34.6% over the last two years, totaling £62.2 million in 2016.
Meanwhile, Euromonitor's September 2017 Passport report, "Ethical Living" (www.euromonitor.com), found that 66% of survey respondents are actively trying to have a positive environmental impact, while 60% are worried about climate change. More than 10% of millennials surveyed placed "making a significant difference in the world" among their top three life goals.
Values Drive Economic Benefits
Sustainability values have an even more direct impact on the corporate world. About 79% of job seekers, 84% of consumers and 67% of investors consider a company's ethical commitments when deciding where to work, shop and invest, according to a 2017 Sustainable Cosmetics Summit (www.sustainablecosmeticssummit.com) presentation by Nancy Mahon, global corporate citizenship and sustainability senior VP, Estée Lauder Companies.
She added that 88% of consumers are more likely to remain loyal to and 8% are more likely to buy from an unknown brand with strong social or environmental commitments.
At the same time, retailers are looking for brands to discuss sustainability practices and often score them against sustainability benchmarks. For these reasons, Mahon explained that brands must report their progress on sustainability regularly and honestly, including employee wellbeing and safety, green chemistry breakthroughs, product donations, recycling programs (such as Back to MAC), charitable contributions, responsible sourcing, governance and communications, and more.
The Back to MAC program, for instance, encouraged consumers to return empty packaging in exchange for a free product. The packaging was cleaned and pelletized, creating new packaging material for MAC and other brands. The process reportedly reduced carbon usage by 30%, in part by mixing shipments of empty packaging with finished goods.
Mahon said this long-running program works well for millennials, who are looking for less packaging or refillable concepts—even in the luxury space. She added that brands' own employees are the best ambassadors for these types of programs. She encouraged companies to leverage this engaged population to generate and share content regarding sustainability initiatives.
Going R.A.W.
L'Oréal's goal in developing the Biolage R.A.W. (Real - Authentic - Wholesome) Nourish Shampoo and Conditioner was to produce products that performed up to the high standards of professional hairdressers, while offering a substantial sustainability benefit, says L'Oréal USA assistant vice president Nour Tayara.
The result of this development project recently achieved MBDC's Cradle to Cradle Certified Silver status for both products based on an evaluation of their material health and reutilization, renewable energy and carbon management, water stewardship, and social fairness. (The lowest score in any quality category establishes the product's overall score.)
The certification is more common in the construction and power sectors, where firms have received Silver status for solar panels, adhesives and flooring materials. It's much less common in personal care and beauty. In 2009, Method received Silver certification for some hand wash SKUs. And, last year, International Flavors & Fragrances Inc. produced the first Cradle to Cradle Certified fragrance, PuraVita, which garnered Gold status (like the Biolage products, the company received Platinum status for the scent's Material Health Certificate). Obtaining Cradle to Cradle status in professional hair care, however, is essentially unheard of.
Tayara explained that the three-year project—including eight months to obtain the Cradle to Cradle certification—required internal community building around a single purpose at Biolage and L'Oréal, uniting the marketing, product development and industrial teams. He added that this process was the "most collaborative experience" he has ever seen. But how did Biolage do it?
Transforming to a Low-carbon Business
For a hairdresser, the moment a consumer walks into a salon and demands more sustainable—yet still effective—products is a wakeup call. Tayara notes that the hairdresser community has been seeking out more sustainable products for some time, which in part prompted the latest Biolage initiative.
Tayara says that many hairdressers have already instituted more green practices into their businesses, such as reducing waterb, lowering water temperatures and even recycling foil sheets. But products were a missing link.
The Biolage R.A.W. initiative is just one element of L'Oréal USA's sustainability mandate, Sharing Beauty With All, which includes a commitment that 100% of its products across more than 40 brands will have an environmental or social improvement by 2020. In 2015, 74% of its products had reached this threshold, a share that rose to 82% in 2016, according to L'Oréal. The company has also committed to a 60% reduction of its overall environmental footprint by 2020.
Transforming L'Oréal into a low-carbon business model involves improving impacts along the value chain, from ingredient sourcing to adoption of renewables to manufacturing and water efficiencies to distribution and transportation upgrades.
Improving every product in every category requires enhanced design without the loss of quality or performance, says Jonathan Maher, vice president of corporate social responsibility and sustainability for L'Oréal USA.
But developing sustainability aspects into products as consumer benefits necessitated that the company first map out what benefits it currently offered. The result was a list of 143 specific benefits, including "sensitive hair" and "anti-dandruff." L'Oréal's team then combed its database of 40,000 formulas to better understand their profile in terms of environmental impact, considering what occurred both upstream and downstream.
New Levels of Collaboration
As Tayara explains, sustainable product design requires a highly collaborative cross-functional approach. Maher describes this intensive systems approach as "invention by necessity," requiring departments to understand that any change in one area will have an effect across the other teams.
For instance, when the packaging group opted to use 100% post-consumer-recycled (PCR) PET plastic for the shampoo and conditioner bottles, marketing needed to be made aware that the result would be a color change. Meanwhile, the selection of renewable and natural materials created manufacturing challenges, necessitating holistic thinking beyond departmental silos.
The Formula & Manufacturing
Natural raw materials still represent a relatively restricted palette compared to their conventional counterparts, says Tayara. Producing sustainable products forces teams to "let go" of many ingredients and chemistries and to embrace new and untested methods. And, to attain consistency of product, natural ingredients must be repeatedly batched to fix issues and achieve the desired result. Maher says that significant trial and error was required to achieve the high level of naturalness and environmental profile sought by hairdressers.
The Nourish Shampoo, which retails for $25.00 for an 11 oz bottle, boasts an ingredient label that comprises 77% natural origin ingredients that are 99% biodegradable, earning it Platinum status under the Cradle to Cradle Product Standard's Material Health Assessment, which assesses impact on human and environmental health. The ingredient label is as follows:
Aqua/Water/Eau, Decyl Glucoside, Cocamidopropyl Betaine, Sodium Cocoyl Isethionate, Cocamide Mipa, Sodium Chloride, Glycerin, Parfum/Fragrance, Sodium Benzoate, Brassicamidopropyl Dimethylamine, Hydrogenated Coconut Acid, Salicylic Acid, Sodium Isethionate, Mel/Honey/Miel, Sodium Phytate, Caramel, Chenopodium Quinoa Seed Extract, Alcohol, Citric Acid.
For good reason, water remains the first ingredient on the label. Perhaps future innovations will allow formulators to decrease this portion in the service of enhanced water conservation.
Meanwhile, the products, like the rest of the R.A.W. line, were manufactured in L'Oréal's hair care manufacturing plant in Florence, Kentucky. That facility achieved 100% renewable electricity at the end of 2016 due to a combined purchase of locally sourced renewable energy certificates and the development of a massive on-site commercial solar array, which will soon be completed.
The Packaging
The Biolage R.A.W. Nourish Shampoo and Conditioner are packaged in bottles that are made of 100% PCR PET plastic, showcasing the company's commitment to material reutilization. Using PCR has issues, says Tayara, because the plastic innately features gray hues. The Biolage packaging teams leveraged this "flaw" by incorporating complimentary gray hues into the packaging design.
Maher notes that, in some cases, the packaging has a greater impact on a product's sustainability, relative to the formulation. In the case of the Biolage R.A.W. project, the packaging was lightweighted to boost its sustainability profile.
The company now has a greater understanding of the PCR plastic supply chain, he adds, making subsequent projects that much easier. Maher says that it is generally easier to incorporate this type of material into hair care than it is skin care, but that doesn't make the prospect impossible. Indeed, he notes that PCR has begun to be developed for all of the company's categories.
The Future
Cradle to Cradle ensures its certifications are not the end of the innovation road by requiring that certified products show continuous improvement every two years. So, expect to see additional sustainability innovation in the SKUs soon.
Meanwhile, L'Oréal is applying the lessons learned in the Biolage R.A.W. project across other categories. As Maher says, "Once you do this once and then twice, it gets easier and easier."
The company's new insights into post-consumer-recycled supply chains and formulation challenges can benefit future launches by greatly reducing the learning curve. Maher says that similar efforts are already underway in other categories.
Telling the Brand Sustainability Story
L'Oréal has developed the Biolage R.A.W. Nourish Shampoo and Conditioner to offer performance that speaks for itself, says Maher. However, communicating the sustainability benefit is more complicated.
Brands must find a way to explain the holistic nature of a product's value chain, he adds. This means going beyond traditional claims and telling a larger product story that encompasses the value chain from ingredients to packaging. It also means "widening the lens," says Maher, and talking about traceability.
During a presentation at the 2017 Sustainable Cosmetics Summit, Global Cosmetic Industry contributor Sourabh Sharma (Fig or Out) noted that U.S. millennials are overwhelmed by products, so brands need to stand out and make the case that they are different. While these consumers care about issues such as recycling and sustainability, brands' sustainability arguments must make clear what's in it for them.
Sharma added that millennials expect sustainable products to lead to a better lifestyle and are therefore less interested in the minutia of processing and other sustainability benchmarks. Therefore, he encouraged brands to create a story and to turn sustainability elements into an experience.
While discussing the sustainability of products is all well and good, however, Maher says that a large factor in a product's lifecycle is consumer behavior. Therefore, beyond telling a good story, it will be critical to encourage improvements in recycling rates, use of cold water, etc.
Beauty Sustainability Leadership
According to the 2017 BrandZ Top100 Most Valuable Global Brands ranking, compiled by Kantar Millward Brownc, L'Oréal Paris is the industry leader, with a brand value of about $23.9 billion. This represents a 2% year-over-year growth, according to Kantar Millward Brown. Given its scale, L'Oréal is uniquely positioned to truly move the needle when it comes to sustainability in beauty.
"It is exciting to have L'Oréal supporting the momentum behind the Cradle to Cradle movement," says William McDonough, a globally recognized architect, leader in sustainable development and co-founder of MBDC. "Today we are seeing fragrances, personal care products, fashion and more consumer industries putting health for people and planet first by pursuing Cradle to Cradle Certified materials. We encourage other companies to follow L'Oréal's lead in this journey toward a circular economy defined by quality and beauty."
Lewis Perkins, president of the Cradle to Cradle Products Innovation Institute, ads, "A growing number of companies are relying on the Cradle to Cradle Certified Product Standard to verify the material health and positive impact of the products they create. Personal care is one of the most highly influential product sectors in the global economy. We are delighted to see highly recognizable brands like L'Oréal use their leadership to demonstrate the value of Cradle to Cradle Certified in innovating and making products with a positive future in mind."
Footnote:
awww.cewuk.co.uk; www.soilassociation.org
bEuromonitor's 2016 Beauty Survey (www.euromonitor.com) found that 12.5% of global respondents cited water efficiency as a desired product feature, a higher percentage than responded with recycled packaging or sustainably sourced ingredients; http://blog.euromonitor.com.
cwww.millwardbrown.com