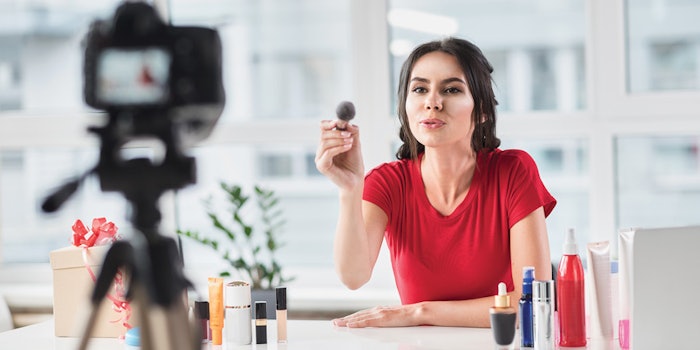 The challenge beauty brands have always faced is how to scale a highly personal, one-on-one conversation with the masses. For ages, women and men have been talking about beauty, sharing beauty secrets and tips from mother to child, friend to friend, salon professional to the client in the chair. Every face shape, complexion, and hair and skin type is different, and therefore the tips and tricks that work for one person may not work for another. Enter social media—finally, an easily accessible, visual medium for a visual industry.
From product education tips and tricks to trendspotting and trendsetting, social platforms provide beauty brands with the tools to make that one-on-one beauty experience scalable for customers.
Education & Trust
Historically, brochures, product inserts, and books filled with photographs or illustrated instructo-graphics were among the only methods of product education brands had at their disposal. Although hugely popular, glossy books by artists were often large in size, unwieldy to reference and unable to break down the nuances of even the most straightforward techniques.
Social media facilitates access to even better information in the palm of the consumer's hand. In-depth YouTube tutorials now provide viewers with a multitude of eyeliner application instructions and tips, and sped-up Instagram videos of influencers doing their makeup offer a quick run-through of their step-by-step makeup application process. If a consumer is seeking product knowledge, social media is the place to go.
Influencer and user-generated content is the most popular material across all social platforms. Real people using and discussing your products on their social pages is the most powerful and authentic way to create brand content and drive engagement. It's important to remember that the reason beauty influencers are so valuable is that they are real people too.
Beauty influencers have established credibility in the industry and access to larger audiences. However, don't overlook the value of micro-influencers sharing and talking about your brand as they often have higher engagement rates with their fans.
User-generated content is popular across all platforms, and much more likely to be trusted over brand claims: 52% percent of beauty consumers believe the advice of beauty experts and editors over traditional advertising, according to a WWD reporta. The most important thing any brand can do is to get your loyal fanatics talking and sharing!
Inspiring Consumers
Social media provides a multitude of ways to inspire and encourage your customers. Beauty enthusiasts love motivational tips, daily mantras and inspirational messages. Beautiful pictures and imagery in any form are always appreciated. Instagrammers can use your products to create innovative looks that have never been seen before; YouTubers can demonstrate an inventive application technique in a video.
Even exposing the reality "behind the curtain" can be inspirational. Sharing before-and-afters and revealing cover-ups and challenging conditions beneath the final, polished result can be powerful and motivating. Many top influencers share deeply human stories of how they overcame their insecurities or physical conditions to find solace in beauty. All of these techniques have the potential to amplify your brand value.
Reaching Valuable Omnichannel Shoppers
Social media is a fantastic tool for introducing your product to audiences who are unaware of your brand and expertise. Even existing customers who are aware of your brand are not visiting your website every day, but they are more than likely regularly logging on to their favorite social platforms. In fact, according to data from Women's Marketing, 21% of beauty consumers look to social media before making purchasing decisionsb.
Leveraging the educational and inspirational tools outlined above allows your brand to build authority on the topics that matter to you and your consumers. Social media is more than an avenue for advertising; it's a means of creating a cohesive space and forum for your fans to discover and discuss the perspectives and products that you offer.
Today's top beauty consumers are omnichannel users and omnichannel shoppers. Omnichannel customers are also more valuable, spending an average of 4–9% more on every shopping occasion in-store and 10% more online than single-channel customersc.
They are exploring and discovering beauty everywhere they go. Omnichannel strategies and cross-platform consistency will ensure your education and helpful content boost your expertise. Top it all off with your clear SEO plan and established goals, and your efforts will increase your reach.
Disrupting the Path to Purchase
Sixty-four percent of millennials believe being active on social media is important, and 63% of beauty consumers are more likely to trust blogger and user reviews over brand claims, according to research from Women's Marketing (see footnote a). Social media has created a new tradition of pre-purchase product vetting: customers learn about products on Instagram, YouTube, Facebook and beauty threads before they buy online or in retail.
A.T. Kearney surveyed 800 online shoppers and found that 55% were very comfortable shopping online and that 36% research beauty and personal care products online before purchasing in-store. Nine percent find new products in-store and buy online. While in-store, shoppers compare prices on their phones, take photos of products they want to remember for later, look up promotions, chat with friends about various buying options, search product information on Google and Tweet about their shopping experiencesd.
Digital marketing has capitalized on this opportunity by introducing amazing tools to geo-locate consumers nearby or inside retail locations, offering them specific incentives to try or buy in-store.
Refining Targets
Social media tools allow brands to be highly targeted with their reach. Relevant hashtags, targeted groups, forums, influencers and even specific social platforms are great resources for reaching particular demographics and niche audiences.
Looking to engage with "women aged 25 to 35 who have rosacea and have recently become engaged"? Hoping to target "health fanatics, who exercise regularly and only buy organic"? Armed with the knowledge of where your brand can provide the most value and what niche audiences find your products most appealing can allow you to leverage social media's refinement tools to filter and boost content that connects with new fans and followers who are already interested in what you have to offer.
A word of caution: do not under-value or rush this stage. Social media can be an expensive marketing tool, and countless marketing hours and dollars can be spent blindly blanketing the opportunities available. This is a critical area where a measured, strategic approach can save you a myriad of resources in the long run.
Humanizing Brands
Social media is the place for the topics that you care about passionately—the details that you just can't wait to share, if only you had someone who would listen. Social media is an excellent platform for telling all of your stories, and stories within stories. Can't fit messaging on your packaging? No problem. Is your story too long for the website? Turn it all into a social media campaign.
If you're active on social, you have the perfect opportunity to humanize your brand. This is especially important to the belief-driven buyer. Consumers with passionate beliefs actively seek out and purchase brands that align with those tenets. In a recent Sprout Social reporte, 66% of beauty buyers said they are "willing to spend more for products and services from companies who are committed to making positive social and environmental impacts."
The majority of these customers tend to skew younger. However, in a 2017 global study, Edelman found that 50% of all consumers are choosing or rejecting brands based on their beliefsf. Consumers want something to believe in, and they're willing to pay for it.
Position Yourself to Prosper
Visuals, conversations, communication and education are the backbone of the beauty industry, and social media has firmly planted itself as the tool for facilitating access to that information. Today, your brand's success is highly correlated to your ability to engage with consumers on social. Embrace this inescapable truth, prepare accordingly and your brand will be positioned to prosper.
Footnotes:
ahttp://wwd.com/beauty-industry-news/beauty-features/beauty-industry-social-media-10347599/
bwww.womensmarketing.com
cEmma Sopadjieva, Utpal M. Dholakia and Beth Benjamin, "A Study of 46,000 Shoppers Shows That Omnichannel Retailing Works," January 3, 2017; https://hbr.org/2017/01/a-study-of-46000-shoppers-shows-that-omnichannel-retailing-works
dHana Ben-Shabat and Wendy Tng, "Beauty and the E-Commerce Beast," April 2017; www.southeast-asia.atkearney.com/paper/-/asset_publisher/dVxv4Hz2h8bS/content/id/12205218
eDominique Jackson, "How to Measure the Value of Social Media," April 19, 2017; https://sproutsocial.com/insights/social-media-value/
f"More Than Half of Consumers Now Buy on Their Beliefs, 2017 Earned Brand Study Reveals," June 18, 2017; www.edelman.com/news/consumers-now-buy-on-beliefs-2017-earned-brand/
Sheri L. Koetting is the founder and chief strategist of MSLK, a marketing and design agency based in New York. MSLK specializes in helping beauty brands find their voice in today's crowded marketplace through 360° brand positioning—from overall brand strategy to brand identity, packaging, retail experience, websites and social media campaigns. Contact: [email protected].