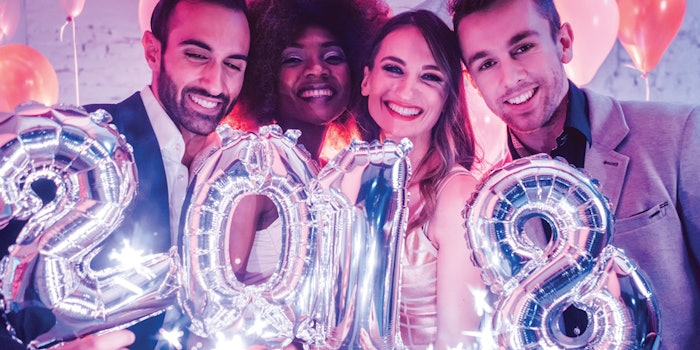 There are long-term trends—things like the rise of e-commerce, the explosion of the natural-oriented market, increased pressure for greater regulatory control and brand transparency, and an ongoing churn of industry acquisitions—that have been building for years, and more localized trends, which have risen to notable prominence in this calendar year. When I think back on what we've reported in 2018, I've identified a few key elements that made this year so unique for beauty and personal care.
1. Digital-to-Physical Migration
The omnichannel is nothing new, but in the wake of rising digital customer acquisition costs, indie brand saturation, and changing social media algorithms that have decreased unpaid reach for brands and influencers, beauty's digital leaders have found new ways to expand in the physical realm, which still boasts as much as 90% of retail sales, according to some estimates. Walgreens recently partnered with Birchbox (Page 12) to offer the sampling service and access to prestige brands to its shoppers, CVS worked with on-demand beauty service Glamsquad to offer experiences in-store, and fast-beauty brand Winkie Lux expanded its physical footprint with Instagram-friendly retail experiences.
2. Skin Care's Boom
With the rise of wellness lifestyles, K-beauty innovation, buzzy gender-neutral and Instagram-friendly indie brands, ingestibles, microbiome innovation, and customized product options, skin care growth built on its 2017 momentum. Last year, 76% of skin care gains in the U.S. prestige sector came from brands outside the top 20, while 19% of dollar performance was driven by new launches, according to NPD data (www.npd.com). With this year's continued indie escalation, expansion of K- and J-beauty (see below), skin care is set for another banner year.
3. Incubator Fever
Incubators are nothing new, especially in Silicon Valley, but the beauty industry truly ramped up its investment programs in 2018. From Target's Takeoff boot camp, which serves to build the retailer's "differentiated assortment of must-have products," including beauty and personal care, to L'Occitane Group's Obratori Startup Studio in Marseille, which is focused on developing solutions for beauty, retail digitalization and well-being, to Johnson & Johnson Innovation LLC's JLABS in New York City, which will foster collaboration with the New York Genome Center to support nascent biotech, pharmaceutical, medical device, consumer and health tech companies, the industry is getting more and more involved in supporting early-stage innovations and companies through access to capital and resources.
4. Manufacturing's Indie Makeover
Industry infrastructure continues to reshape itself for a market filled with indie and startup clients. This year, services offering low minimums, expanded stock packaging offerings, turnkey manufacturing and more rose in prominence.
5. Move Over K-beauty, J-beauty is Here
Driven by quality and technology, buzz around J-beauty elevated awareness of Japanese innovations, particularly in skin care, even as K-beauty continued to explode in key markets such as China and the United States.
6. Gen Z is the New Millennial
This year was the tipping point for this generation, which generally falls between the birth years of 1995 and 2005. Driven by increased connectivity, plummeting brand loyalty and shifting value systems, get ready to spend the next few years obsessing about all things Z.
7. Ugly Trade War
With trade groups and individual companies scrambling to secure tariff exemptions under the Trump Administration's expanding global trade war, real concerns about supply chain stability are on the rise, with retailers like Walmart asking cosmetics companies to consider alternatives to Chinese sources. While this is far easier said than done, the market is clearly rattled and rethinking how global business is structured.
8. Globalizing Animal Testing Bans
This year, Unilever announced its support for a global ban on animal testing for cosmetics, in alignment with Humane Society International, even as California Governor Jerry Brown signed into law that will make it unlawful for cosmetic manufacturers to sell any cosmetic in California if the final product or any component of the product was tested on animals after January 1, 2020, with some exceptions. While China's regulatory requirements continue to be a major hurdle in global animal testing bans, the movement is well underway.
On a personal note, I've loved working with and meeting so many incredible industry personalities and innovators this year. And, most of all, I'm thankful for you, our readers. I wish you and your loved ones peace, health and prosperity in 2019 and beyond.
Look for our 2019 Global Cosmetic Industry Directory next month, featuring suppliers, manufacturers and service providers. To subscribe, visit www.gcimagazine.com/magazine.