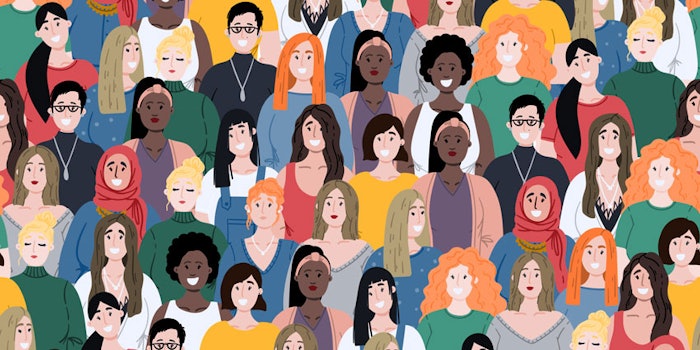 The definition of inclusive beauty is changing. What started as brands taking a more conscious approach toward representation within advertising, communications and extended product ranges has now become a baseline expectation for consumers.
So, what does this really mean in today's beauty climate? And how will this develop in the future?
1. Embrace the Naturals
 Launched earlier this year, Unilever and Sundial Brands' line of textured hair products, Emerge, was a stake in the ground for a refreshed approach to inclusive beauty. Emerge's appeal not only sits with multicultural Gen Z women, but with the next generation of females who prefer not to be boxed into societal beauty ideals and instead embrace their natural style. 
This is a trend that's only set to explode as celebrities like Lizzo spearhead, and very publicly celebrate, their natural appearance as a core part of their identity. 
For Gen Z, diversity is all about championing self-acceptance and embracing imperfections. This is adding a new dimension to what we mean by being inclusive. And while the underlying sentiment has always been about championing all identities, we've only just scratched the surface of seeing this within beauty and neighboring industries like fashion.
The following are opportunities for brands to help consumers flaunt their differences while promoting self-confidence as they come of age.
2. Champion Underserved Communities 
In order to be truly inclusive, brands must think beyond the most obvious physical traits—i.e., skin tone and hair texture—and pave the way for assisting underserved communities. Brands are expected to help consumers acclimate to and overcome their challenges.
Visibility for Disabilities 
While it doesn't come from the beauty world, Mattel's range of inclusive Barbie dolls is a great example of recognizing the importance of representation and embracing non-traditional beauty ideals, specifically for people with disabilities. 
The concept behind the range, which includes a doll with no hair, one with the skin condition vitiligo, one in a wheelchair and another with a prosthetic limb, was formed by the brand so that young consumers could "find a doll that speaks to them."
The key to success here is thinking end-to-end. Considering how to diversify your messaging at the point of communicating a new product launch is too late.
Positively, some beauty brands are already thinking this way. A great example comes from British startup Kohl Kreatives, which has created a range of multipurpose makeup brushes designed specifically for consumers with disabilities and those who have difficulty applying makeup, including individuals living with motor disabilities. As an added bonus, the brushes are made from recycled plastic.
The startup also offers free workshops and tutorials in the United Kingdom and Hong Kong to show consumers how to use the brushes. 
Transgender and Non-binary Resources
Kohl Kreatives' workshops and tutorials are also meant to serve transitioning transgender people and cancer patients that are looking to use makeup in a more transformative way.
Additionally, Sephora partners with the Trans Employment Program to offer 90-minute "Classes for Confidence" in the United States. These complimentary beauty sessions are available for people transitioning and those identifying as transgender or non-binary.
Inclusive Brands Start with Inclusive Leadership
Inclusivity has to be built into your products or services from the off. In order to make this happen, change needs to come from the highest levels of leadership, which requires diverse representation in the boardroom. Diversity within a company's upper management could ultimately translate into brand-wide inclusion. While it will take some time to come into effect, this could be a successful way forward in 2020 and beyond.
3. Digital Representation—Think Longer-term
While there is still a lot of work to be done in the short-term, it's important that brands look to the future.
In the decade ahead, we will see consumers placing greater focus on their digital identity as avatars and augmented beings become more prevalent. The diverse and individualized representation will be equally, if not more, important as real-life representations. Consumers will expect to create digital beings that directly match their own identity. 
We're already seeing early signs of this tech adoption from the beauty industry. Last year, Japanese skin care brand SK-II partnered with Soul Machines to create the world's first autonomously animated digital influencer, Yumi, as the new face of SK-II. The strategy formed part of SK-II's ongoing transformation and approach to connect with a generation of beauty consumers who are looking for more meaningful experiences with the brands they know and trust.
As more brands create and collaborate with digital influencers, it will be vital that they align with inclusive values from the outset.
While still at a nascent stage, brands shouldn't underestimate the power of these technologies. As consumers increasingly regard digital avatars as virtual extensions of themselves, it is key for brands to apply the same initiatives fostered towards diversity in the physical realm to the digital landscape.
Whether catering to the real-life consumer now, or their digital counterpart in the future, it's imperative that brands think long term and holistically to recognize the shifting expectations consumers have towards diversity and inclusion across platforms and realities.