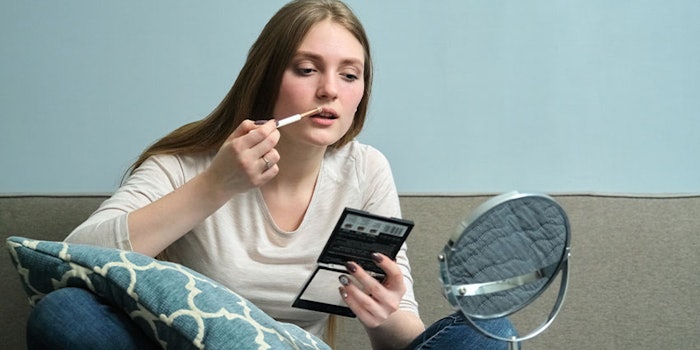 The pandemic swept events and in-person experiences off the table, which have become an increasingly important part of beauty brands' marketing strategies, whether taking place in physical stores, pop-ups or at festivals. Stores were shuttered, duty-free outlets deserted, and would-be shoppers are now stuck at home. 
The past six months have taught us a great deal about the art of brand experiences. We've learned that they were never really about the environments they took place within. They are about people; brands augmenting their lives to make the everyday a little more exciting. 
It doesn't take the latest in-depth webinar series to know where people have gone. It turns out we're adaptable and, rather than turning our back on the activities that were once only possible outside of our front doors, we've brought our favorite pastimes into our homes.
Staying Entertained at Home
We've seen a global increase in intent for activities such as cooking (+54%), at-home entertainment (+40%) and home improvement (+22%), according to McKinsey. Zoom's daily user base grew from 10 million to 200 million in the three months over lockdown as more of us were forced to work away from our offices.
These changes in behavior have created a range of unexpected new challenges for brands. For many beauty brands, product trials are the cornerstone of marketing strategies. With the dramatic reduction of foot traffic in stores, these brands now face the challenge of sampling efficiently and effectively, often virtually.
For others, engagement may be the foundation of their approach. Content only goes so far. Beauty brands often need tangible interactions rather than passive absorption.
Incorporating Digital Platforms
The good news is solutions do exist for beauty brands facing these sorts of challenges. Innovation is occurring that represents the immediate future for brand experiences and all the benefits they bring.
In China, beauty brands used everything from WeChat to Weibo to ShopShops to harness the power of broadcasting live from physical spaces, showing products and doing demonstrations as a way to enlighten us on a more human level. 
In the United Kingdom, Grazia partnered with No. 7 and Bare Minerals to host a week-long digital beauty event, including makeup tutorials and celebrity beauty routines with ticketed Zoom webinars and free content on IGTV.
The Body Shop used Instagram to promote their #TimeToCare campaign, where influencers shared their top in-home pampering tips to The Body Shop's followers.
Finally, NEOM created their Sleep with NEOM virtual festival, an online evening event showing attendees how to create a calming environment in their homes to enjoy a better night's sleep.
5 Tips for Consumer Engagement
So, what makes a great brand experience at home? Here are five key tips for beauty brands to bear in mind when activating in living rooms nationwide.
1.
Remember the difference between experience and content
Experience and content are not the same thing. Experiences are powerful because they involve an interaction. The act of applying your own makeup and trying out a new look is so much more memorable than watching someone else doing it.
2. 
Amplification is essential
Creating direct experiences in thousands of homes can bring logistical challenges, particularly if there are tangible items at play, which can add up in terms of budget (think physical invitations, product, props, postage, etc). As always with experiential, it's vital to look at how social, influencers, content and PR can be leveraged as part of an integrated plan to increase the indirect reach of these experiences,neatly weaved into the crux of the idea. 
3. 
Think about an occasion to align with
Marketing is all about building associations. To build habits (and ultimately increase sales), at-home experiences should align with a natural consumption moment in the home. This is how we can change perceptions—and how products naturally consumed on-the-go, for example, could begin to become relevant in people's lives again. 
4. 
Zig when others zag
Just because your competitor did a virtual festival live over Zoom doesn't mean you should do the same. There are a multitude of ways a brand can augment and improve the at-home experience. Look to other sectors for inspiration. 
Can you enhance the packaging as Amazon did with its AR delivery box experience? Or create immersive experiences in local neighborhoods, as Peak Performance achieved with its digital pop-up stores that opened at "magic hour" through mobile devices?  
 5.
Idea first, format second
Experiential is a flexible marketing discipline. The possibilities for an experiential activation are endless and the best marketing is distinctive and original. Keep the brief focused on the business problem. Stay media neutral and avoid getting prescriptive.
Despite these turbulences, the opportunity to engage with consumers in their homes exists. For those willing to grab that opportunity, the chance to stand out from the crowd and drive brand advocacy is enormous. 
Be agile, the future belongs to the fast.
Hayley James is vice president at brand experience agency Sense New York.