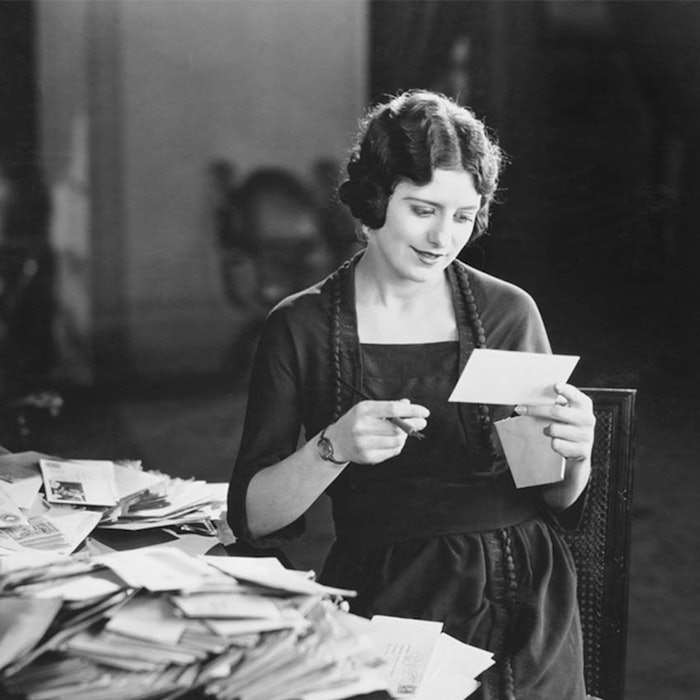 As I sit on an airplane with Wi-Fi, I am connected to the reality on the ground via two devices. Even thousands of feet up in the air, we can no longer get rid of our hyper-connectedness, our digital addiction—we are all hyper-connected and will continue to be. But there's more to connectedness than digital media.
Previously: Am I Talking to Myself? A Case Study on Rebranding
Going Vintage
At the October 2015 International Spa Association conference, I listened to PR guru Darlene Fiske, owner of her eponymous public relations firm The Fiske Group, talk about vintage networking in the age of new media.
Further reading: Marketing Moves for Age Demographics
She encouraged us to tweet during her session, and framed her talk by reminding us that vintage networking is not "against digital," that it continues to embrace digital media.
The combination of digital and vintage, according to her, is the most effective way to create a PR buzz around a brand, in particular a beauty brand. In that spirit, here are some of Fiske's tips to make your beauty brand or boutique stand out from the crowd.
Know that People are Overloaded and Tuning Out

The million-dollar question is: how do you stand out, as a brand or retail store, in a world that is deluged by information, most of it sent digitally?
For context, it's important to know that ...
Every 60 seconds:
168 M emails are sent
700,000 Google searches are performed
Every day:
We see 5,000 different marketing messages
In response:
Press releases that contain multimedia get 77% more responses compared to text-only releases
90% of professional admit to throwing away important information without even reading it
Professionals spend 51% of their time managing information instead of acting on it
The need to stand out, and be remembered is more important than ever.
Be Seen as an Invaluable, Trusted Resource
Part of information overload is the fact that there is a lot of misinformation out there—not everything on the internet is true! Fiske's recommendation is to focus on trust.
How do editors know who to trust? Who will provide trustworthy information? How are good sources for quotes and stories?
You may be trustworthy—but is that what the World Wide Web says about you? Make sure you:
Google yourself often
Google your brand often
Manage your image on social media: "You are what you post."
Do the Unexpected: the Vintage Touch
To stand out in your marketing and PR efforts, do the unexpected, Fiske urges. This is where the "vintage" touch comes into play.
Fiske is a firm believer that, given their personal power, "letters are going to make a comeback." So:
When an editor includes your brand in a story, always send a hand-written thank you note
Also send hand written notes for no reason, for example praising a journalist on a recent article you loved (be specific in your praise)
Send a box of cookies to an editor or a prospective client, with a note that says, "It would be so sweet to work with you."
Use your phone as a phone; call your customer instead of always emailing him or her; make sure to brush up on your phone manner—sometimes we email and text so much we forget how to speak effectively with one another
Take Advantage of Digital Media, Thoughtfully
At the same time, leverage digital media to make personal connections:
Connect with someone on Twitter—sometimes people feel more accountable to responding on this platform as it is visible and open
Wish people happy birthday on Facebook—Facebook on your birthday is "one big digital hug" and it just makes people happy
Comment on social posts with something meaningful—again, with the goal of creating a connection
Remember the details—if you see on Facebook that someone's daughter just graduated from college, congratulate her on her child's accomplishment next time you see, speak to, or email her
Fiske adds a caveat however: "Internet-stalk all you want, and do your research, but don't share all of the information you have learned about someone with them—a little bit goes a long way."
Make Your E-mails Stand Out
Given the facts about email overload and information management, make sure your emails are not only opened, but also read. Fiske's recommendation in three words? "Bravo to brevity."
To her, this means:
Show them, don't tell them: send images as much as possible as people don't want to read, they want to see something
Write like a tweet
Keep emails to a few lines and make it easy for someone to respond
Nobody has time for fluff, get to the point
Make your subject line matter: write in captions (look at the emails that capture your attention through the subject line and mimic these)
Mind Your Vintage and Digital Etiquette
No discussion of vintage and new media is complete without a review of some basic etiquette rules: what would Emily Post Say?
"No" is better than nothing: always give someone the courtesy of a reply
Texting: only text only when you have a relationship with someone or if someone has specifically asked you to communicate in that manner (possibly because of the deluge of emails coming their way)
Be a good listener—which often means, put your phone away
To illustrate, Fiske quotes from a New York Times story: Stop Googling, Let's Talk:
"The mere presence of a phone on a table between them or in the periphery of their vision changes both what they talk about and the degree of connection they feel. People keep the conversation on topics where they won't mind being interrupted. They don't feel as invested in each other. Even a silent phone disconnects us."
Conclusion: put your phone away during meetings, don't just turn it on vibrate. Leave it in your purse.
Common Sense Tips
Fiske concludes with overall classic PR tips. It's common sense advice, but it's surprising how many of us forge these:
You have to read the magazines that you want to be in
Stay current with world events and news so that you can tie your pitches into relevant news
Get social—comment on social media, tweet, retweet, be personal and personable, connect
Meet journalists in person—invite them to coffee, lunch—anything to get face time
There is no such things as "off the record"
Personalize your approach—there are no "one size fits all pitches"
Words matter; grammar matters; spelling matters; don't' be the perfect illustration of this trend "sadly I do my best proofreading after I hit send"
Ada Polla is the co-creator of the Swiss antioxidant skin care line Alchimie Forever. Her strategic focus and implemen­tation have yielded double-digit annual revenue growth for the company. She holds an MBA from Georgetown University, majored in art history and political science at Harvard University and graduated magna cum laude with a Bachelor of Arts degree in 1999. She is also a GCI magazine editorial adviser.