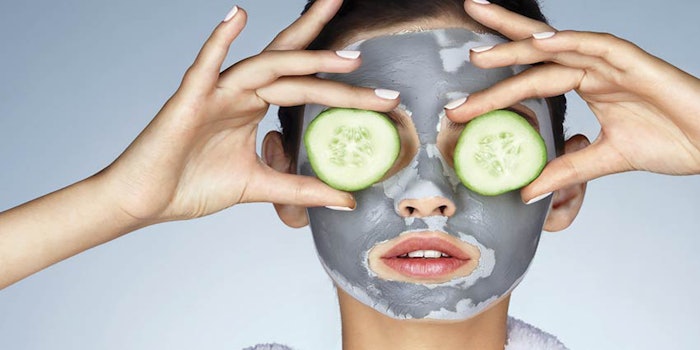 Last year ended in both a boom and a whimper for the beauty industry. In the United States, December prestige beauty sales comprised just 4% of 2016 sales, compared to 9% of total sales in 2014, according to figures provided by Karen Grant, SVP, global beauty industry analyst, NPD, during a recent CEW beauty market briefing. More surprising: December 2016 sales were half of those in 2015, while dollar growth for the fourth quarter slowed from 7% in 2015 to 5% in 2016.
Per NPD numbers, fragrance was no longer the king of the holidays. In the fourth quarter of 2016, prestige fragrance sales fell 1%, compared to a rise of 12% for makeup during the same period. In fact, prestige makeup generated $525 million more in sales than did fragrance in the fourth quarter of the year.
During the CEW briefing, Jordan Rost, VP, consumer insights, Nielsen, explained that the top 20 beauty brand's 2016 sales declined 0.3% year-over-year, while the top 100 and 200 brands collectively rose 3.2% and 4.5%, respectively.
Grant noted that social media-driven brands are converting consumers far faster than their legacy brand counterparts. As a result, said Rost, smaller beauty players are reaching scale faster than ever before, achieving $100 million in sales in record time. Today's indie is tomorrow's multinational disruptor.
In 2016, U.S. beauty sales totaled $24.03 billion.
"A proliferation of trends has fueled growth and innovation in many aspects of the industry; however, it has brought with it a restructuring in beauty," said Grant. "As consumers seek feel-good experiences and strive for healthier lifestyles they are, at the same time, redefining the meaning of beauty in their lives."
Indeed, the beauty care industry is undergoing a significant restructuring. With makeup booming, millennial consumers calling the shots, traditionally strong U.S. December sales flagging, and digital and omnichannel brands disrupting business models, 2016 will go down as a year of change, setting up a dynamic environment with plenty of pitfalls and numerous opportunities for the nimble.
Another Billion in 2016
In 2016, U.S. beauty sales totaled $24.03 billion, according to Jordan Rost, VP, consumer insights, Nielsen. Grant tagged the prestige category at $17 billion, representing a growth rate of 6% (2015: 7%), compared to the 2% gain in the mass segment. The prestige segment has now grown at a steady $1 billion dollar rate every year since 2012.
South America's prestige beauty segment grew 14%, according to NPD data, while North America and Europe grew by 7% and 2%, respectively. Notably, France, where two thirds of prestige beauty sales are attributed to fragrance, was the only European market to drop in 2016.
Scattered Channels
Beauty shopping has dispersed across a growing array of channels, said Grant. She noted that the fastest growing channel in both the overall market and the prestige space was beauty supply, followed by the internet.
Other fast-growing channels in the general market included drug and specialty, while warehouse was a strong grower in the prestige space. Rost noted that one-third of U.S. consumers purchase products via a subscription, with top 10 options including men's shaving.
Grant presented data that showed a greater portion of prestige beauty sales migrating online, led by skin care, followed by makeup and fragrance. In December alone, online prestige sales rose by $100 million, totaling nearly $500 million.
The women's facial skin care segment rose just 1% in 2016.
In fact, 80% of total sales gains for prestige beauty could be attributed to the online channel. A big winner was Amazon, which captured more than 50% of beauty buyers age 18–34.
As retail outlets—digital and physical—have proliferated, so too have the number of products launched across categories. This growing array of options puts significant power in consumers' hands, said Rost. However, he cautioned, this increase in options has not led to growth, especially for the industry's biggest brands.
As a result, it's critical for brands to leverage digital research tools, particularly social media platforms, to ensure they are front-of-mind in the path to purchase. Though shopability on these platforms is far from seamless, Rost characterized the digital space as a "brand playground" in which consumers are far more brand-loyal, compared to the brick and mortar channel.
Skin care consumers are heavy users of digital platforms for brand discovery.
The brands that leverage digital research tools and make products readily purchasable on discovery platforms will win the path to purchase. This will become increasingly important as in-home AI tools such as Amazon Echo proliferate. Assuming that technology will own choice, what will it mean for brands?
Skin Care 2016 Sales
U.S. skin sales grew 2% in 2016, according to Rost. Men's skin care alone grew 4% in 2016, per NPD data, with key segments growing by 7% to 74%.
Grant noted that, unlike other beauty categories, skin care's mass sales growth outpaced that of the prestige segment, the latter of which rose by 3%. She added that prestige skin care has a greater share of sales coming from the online channel, compared to makeup and fragrance.
What Declined in Skin Care
The skin care category's modest gains overall reflect its 2% decline in new product introductions, said Grant. At the same time, standalone anti-aging products continue to stagnate as younger consumers turn toward more preventative skin care products.
What Grew in Skin Care
Skin care saw gains in the natural/spa and clinical areas. And, while the overall women's facial skin care segment rose just 1% in 2016 (according to NPD figures), hot categories in facial skin care, like sheet masks, grew by anywhere from 8% to 84%. Masking has gained some traction with men, according to NPD data, and exploded in the women's market worldwide by 24–53%, depending on the region.
Grant's briefing noted that makeup-inspired skin care is on the rise. In terms of skin care formats, oil declined slightly while clay and paper rose by 7% and 14%, respectively.
Skin Care Brand Discovery
Rost noted that skin care consumers are heavy users of digital platforms for brand discovery, with the top sites including Pinterest, Instagram and Twitter. In addition, using charcoal masks as an example, it is increasingly clear that search traffic can closely track sales trends.
The Good and Bad in 2016 Fragrance Sales
December was once reliable territory for fragrance industry sales, said Westly Morris, senior vice president, fine fragrance, Mane, during an introduction of the CEW trend briefing. Yet, in 2016, U.S. December prestige fragrance sales were down.
Rost explained that 2016 fragrance sales dropped 6%, year-over-year. According to Grant, mass sales dropped significantly, while prestige sales rose 1%. All of the prestige gains were made in the online space, which increased sales by $91 million. Grant added that the overall fragrance category saw 9% fewer launches in 2016, compared to the previous year.
Flankers added $84 million to the fragrance market.
According to NPD data, 10% fewer women age 18–24 and 5% fewer women age 25–34 reported shopping for fragrance in all of 2016. Of those that did, 76% reported purchasing fragrance as a treat for themselves.
Fragrance Highlights
According to Grant, the niche fine fragrance segment has added more than $240 million to the fragrance market since 2014. She noted that flankers added $84 million to the fragrance market, comprising 21% of total sales. In addition, per NPD data, consumers worldwide tend to favor fragrances alone, over gift sets, the latter of which have experienced declines in roughly half the global markets.
Fragrance's Millennial Problem
Millennials are less likely than previous generations to adopt a signature perfume. A recent analysis from Kissura Craft, director, industry analyst, beauty, at NPD, noted that just 10% of fragrance wearers have a signature scent. Those consumers "are more likely to be 45-years old and older, men and white." Not necessarily a high-revenue-growth demographic.
"Forty-three percent [of fragrance consumers] are very engaged like me and have a wardrobe of fragrances, as we like to try new and different scents," Craft's analysis continued. "These wearers are more likely to be under 45 years old, women, and black or Hispanic. The other 46% tend to be white, and are somewhat engaged with a narrow selection of fragrances, as they stick to just a few favorites."
Makeup comprises nearly 50% of total beauty sales.
Fragrance e-commerce site Scentbird has endeavored to address these preferences by offering a "30-day supply of any designer fragrance every month for just $14.95." The company has also launched fragrance gift box sets such as Sassy Bombshell ($59.95, includes a one-month Scentbird subscription), which comprises a trio of sample-sized scents: Not a Perfume, So Nude and Eros Pour Femme.
Bringing Emotion Back to Fragrance
Craft's report pointed out other market dynamics that require the fragrance industry to rewrite the rulebook. She noted, "If fragrance marketers communicated the mood or feeling of a fragrance, doing so would speak to the nearly 70% of wearers who like to let their moods dictate which fragrance to wear."
In fact, Phlur, an indie perfume brand from Austin, Texas, addresses this opportunity by accompanying fragrance descriptions on its website with a compilation of visuals that evoke the concept of the fragrance, as well as a soundtrack of music that reinforces the scent's emotional cues. The belief, as articulated by Phlur, is that the public can better connect to emotional cues than a simple laundry list of fragrance notes.
2016 Makeup Sales
Makeup comprises nearly 50% of total beauty sales, Morris noted in his CEW introduction, highlighting a fundamental shift in the composition of the beauty market, which has traditionally been somewhat evenly divided among makeup, skin care and fragrance. According to Rost, cosmetics sales grew 3% in 2016. In December alone, makeup achieved sales of more than $1 billion, said Grant, accounting for 42% of all women's prestige beauty sales for the month.
Grant noted that the prestige makeup category vastly outgrew mass, rising 12% globally in 2016. In fact, prestige makeup sales rose 6% in Europe, 13% in North America and 23% in South America, according to NPD figures. Grant added that 76% of total beauty incremental gains and 83% of the volume worldwide in 2016 came from prestige makeup.
Goody pointed to U.K. counterparts such as MMUK Man, which caters to the 15% of U.K. males under 45 who bought makeup in 2016.*
Some makeup categories grew by as much as 18–34% in 2016, while face, lip and eye products rose by 13%, 13% and 12%, respectively, per NPD data. In lips, the biggest color growth came from nude/brown and mauve tones.
Makeup launches that outperformed the market last year included Urban Decay Vice Lipstick (MSRP: $17.00), Benefit Gimme Brow (MSRP $24), Too Faced Born This Way Naturally Radiant Concealer (MSRP: $28) and Tarte Grav3yardGirl Swamp Queen Eye & Cheek Palette (MSRP: $45). It's notable that the leading brands were indies or previously indie brands.
Sixty-one percent of U.S. women reported using makeup in 2016, said Grant, a gain of 2% since 2014. That's 2.5 million more women using makeup. The category's dynamism has been driven by high launch activity (up 24%, year-over-year in 2016) and gains in fringe categories.
Sixty-one percent of U.S. women reported using makeup in 2016.
But women aren't the only ones boosting makeup. A recent report from Mintel analyst Alice Goody noted that U.S. makeup brands like CoverGirl have begun to embrace male influencers in pursuit of a rising number of makeup-wearing men. Goody pointed to U.K. counterparts such as MMUK Man, which caters to the 15% of U.K. males under 45 who bought makeup in 2016.*
*Goody conceded that some portion of that 15% perhaps bought makeup for a loved one, though that's unlikely to be the whole story.