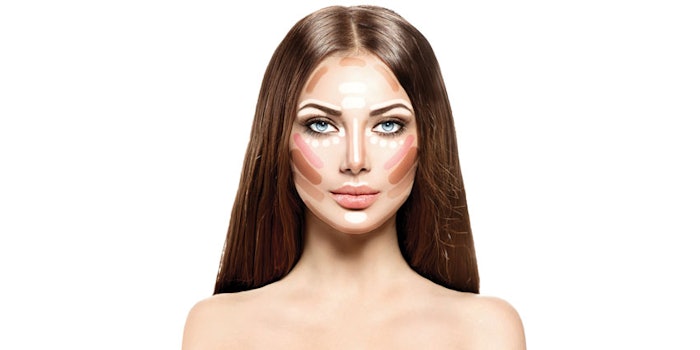 Half of Ulta Beauty's sales come from so-called "beauty enthusiasts," according to CEO Mary Dillon a. These shoppers freely mix and match prestige and mass products, indie and legacy brands, and are always looking for the latest trendy beauty solutions. Meanwhile, Walgreens has launched Beauty Enthusiast, a beauty club within its Balance Rewards loyalty program, targeting a similar set of consumers. But who are these beauty enthusiasts? How do they think? What do they want? Here, Denise Herich takes a closer look. –Editor in Chief
The ultimate beauty lover goes by many names: beauty junkie, beauty diva, beauty queen or beauty enthusiast. But, whatever you call her, b there are several facets about this uber-beauty consumer that are undeniable: she loves the role beauty plays in her life, she's attached to her favorite brands and, when it comes to her attitude toward beauty purchases, less is definitely not more. Indeed, her appetite for beauty information, tutorials, articles, advertisements, videos, samples and products is growing—this beauty enthusiast cannot get enough. She is eager for what your brand has to share, tell, show and, most importantly, sell.
A Mindset, Not a Demographic
But who is this beauty mega-force? Is she a Gen Xer with the cash to spare to afford her habit? Or is she the baby boomer, who helped put some of today's leading brands on the map with her support?
Today's beauty champion is everyone from millennials to baby boomers. Beauty enthusiasts are women aged 18–60-plus who love the role beauty plays in their lives, have a strong emotional attachment to their beauty brands, and who are not afraid to show it by wearing and using a vast amount of products, and by dedicating a large proportion of their discretionary budgets to beauty purchasing.
Too Much Beauty? No Such Thing.
Unlike a beauty minimalist, who uses just the scant amount of products she can get away with, doesn't follow trends, and sticks to her favorite brands year after year, the beauty enthusiast actively engages with the entire beauty experience. They know every product that's au courant; are aware of the latest trends and technologies as (or even before) they come down the pike; they follow the leading bloggers and beauty influencers; they keep up with brands on social media and their websites, and in many ways this beauty diva is also a beauty authority in her own right.
But don't ask her to be (too) loyal because that's not really her motivation. Sure, she will have her favorite products, but to get to this gal's heart, you need to feed her need for more. In fact, if she had a tagline, it would be, "There's no such thing as too much beauty."
7% of beauty enthusiasts shop for beauty products daily 
Today's beauty enthusiast is a brand's dream: she is connected, engaged, and informed about beauty, she values the benefit it brings to her life, and she loves to share how she feels about beauty with everyone she knows. To gain an even deeper understanding of just what makes this beauty tick, we surveyed thousands of consumers and asked them to tell us their thoughts on beauty: how often they use and purchase products; where they find them, and more.
Beauty Is Rooted in Her Lifestyle
Beauty is important both to the beauty enthusiast's everyday life and her overall sense of well-being, underscoring why 92% have purchased a product from their favorite beauty brand in the past 12 months.
While some consumers might view shopping for beauty as a chore only completed when they need new products, not so the beauty diva. She likes to shop for beauty, and looks forward to the excitement and satisfaction it brings. In fact, 41% of beauty enthusiasts are shopping for new beauty products every month. Another 24% are shopping every week—and although small, 7% are shopping daily!
Why She Buys
Although our beauty lover is addicted to all things beauty, she does have purchase motivators that guide her shopping behavior. When considering a new beauty purchase:
92% say that "products are suitable for me" is an extremely important factor
88% are motivated by "a brand I know and trust'
 79% are motivated by samples before purchase
 78% are motivated by price
When asked what would make her purchase more beauty products, 77% of enthusiasts said, "If the price was lower."
What She's Buying
Color cosmetics are the beauty enthusiast's biggest indulgence. In the past 12 months, 85% of beauty enthusiasts have spent up to $75 on makeup such as foundation, eyeliner, lip gloss and eyeshadow. Other categories are also earning her monthly spend: 72% of beauty enthusiasts have spent up to $50 on facial skin care; 85% have spent up to $50 on bath and body care; and 79% have spent up to $50 on haircare or hair tools.
44% of enthusiasts buy significantly more beauty products based on their online habits.
Where She's Buying It
The beauty enthusiast has her go-to retail favorites:
69% shop at superstores such as Target or Walmart
62% at drugstores like Walgreens or RiteAid
61% are hitting up Sephora, Ulta or another specialty beauty retailer
55% are browsing the online beauty department at Amazon.com
Interestingly, while more conventional beauty consumers might seek out products from very specific sources (such as a drug store for the beauty minimalist), the beauty enthusiast doesn't limit her search for new beauty products to only "beauty retailers." Because beauty is such an important part of her daily ritual and plays such a starring role in her life—Leave the house without makeup? Not this girl!—the avid beauty consumer is always on the lookout for products wherever she is shopping: drug stores, luxury department stores, discount stores, etc. And, usually, she finds them.
What Influences Her
The Internet has taken over as every beauty consumer's primary method of gathering information about brands, products and technologies. Seventy-percent of beauty consumers say they spend significantly more time online than they did 10 years ago, with 42% spending between three and five hours, and 32% spending six to 11 hours, per day, online browsing, reading email, checking-in on social media or shopping.
Not surprisingly, a vast majority of the time beauty enthusiasts spend online is spent on social media:
 66% say up to half their online time is spent on social sites
22% spend 51–75% of their time on social media
What's she is doing while online plays a big part in how she engages with her favorite beauty brands. The beauty enthusiast wants to feel connected to her favorite products and brands and, consequently, spends a good bit of her time online researching and gathering information that will help her find even more great beauty products to use and purchase.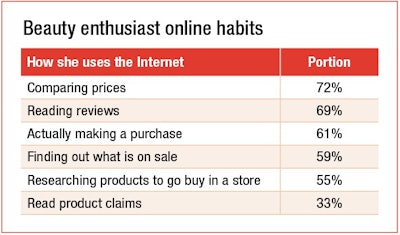 The connection she experiences—both to brands and other beauty consumers—by engaging on social media is very important to the beauty enthusiast. When it comes to talking about, trying, or sharing her thoughts on beauty products, this consumer is the most social of all butterflies.
There is no such thing as too much beauty.
 Ninety percent of these consumers post product reviews or rate products for the sheer fun of it: "I love the product and wanted to share my experience!" Because beauty is such an important part of the beauty enthusiast's daily life, she relishes the opportunity to be a beauty authority and share her experiences with others:
 80% of beauty enthusiasts post reviews or comments because they want other women to benefit from what they learned using a specific product
 58% want to make sure other consumers don't make the same mistakes they did when using a product
The sites on which she's most likely to post product reviews or comments? Amazon.com (88%) and Sephora.com (37%). The sites she's most likely to read product reviews or comments? Amazon.com (89%), Sephora.com (54%) and Ulta.com (50%).
What She Trusts
Not everything the beauty enthusiast reads online carries the same influence. What really grabs her attention are consumer claims from women like her, and seeing actual photos of other women either wearing the products or showing a transformation after having tried the products.
Eight-three percent and 86% of beauty enthusiasts say positive consumer claims and great consumer reviews, respectively are highly influential. Other influential factors include loving the way a product looked on someone else (72%) and before-and-after pictures (61%).
Today's beauty enthusiast is a brand's dream: she is connected, engaged, and informed about beauty, she values the benefit it brings to her life, and she loves to share how she feels about beauty with everyone she knows.
Finally, just because she's embracing everything social about beauty doesn't mean this consumer has completely given up on more traditional forms of beauty news. Even though 52% of beauty enthusiasts completely agree that, today, most of their beauty information comes from online sources (vs. 10 years ago, when she relied on print publications and ads), 36% of beauty divas still look for beauty advice in good old paper magazines like Allure and Cosmopolitan, 35% in Glamour and 21% in InStyle.
Beauty in the Next 10 Years
Not surprisingly, the beauty enthusiast has an opinion about beauty trends and changes coming to the industry in the coming years:
 82% believe personalized technology to help find the perfect look or color will become more popular, as well as the use of selfies to find the best product (58%)
82% say consumer claims (from women like her with similar concerns) will become a more popular purchase motivator
77% say the influence of social media will be even stronger
 82% say natural/organic products will rise in popularity
 74% say the same will be true for eco-packaging
74% say the advent of multi-benefit devices, such as one tool that will offer laser hair removal and skin rejuvenation, will be more popular
Here's what she thinks will be important and trendy in four main beauty categories: skincare, makeup, hair care, and cosmetic treatments over the next ten years:
The most important factors for beauty over the next 10 years 
Although there are many different beauty personalities, and not all consumers are as addicted, connected and attached to beauty as the enthusiast, in many ways she is the barometer for what the industry has done, is preparing to do and how far it can go.
Listening to the enthusiast when she talks about beauty and paying attention to how she interacts with not just your products, but your website, social media feeds and brand messaging can provide you with critical intelligence into how to capture not just her, but all beauty consumers who, whether they realize it or not, are following her lead.
This article includes data derived from three primary studies conducted by The Benchmarking Company, including The Sephora Shopper (2015 – 5,000+ respondents) and 10-Year Trends (2015 – 3,400+ respondents) and TBC's upcoming 2006–2016 PinkReport Retrospective: A Consumer Love Affair with all Things Beauty (2016 – 2,700+ responses).
Based in sun-seared San Diego, Denise Herich is co-founder and managing partner at The Benchmarking Company (www.benchmarkingcompany.com). The Benchmarking Company provides marketing and strategy professionals in the beauty and personal care industries with need-to-know information about its customers and prospects through custom consumer research studies, focus groups, its annual PinkReport, and consumer beauty product testing for marketing claims.
(a) Remarks given at the 2016 CEW Transformational Leader event in New York.
(b) Of course, some beauty enthusiasts are male.