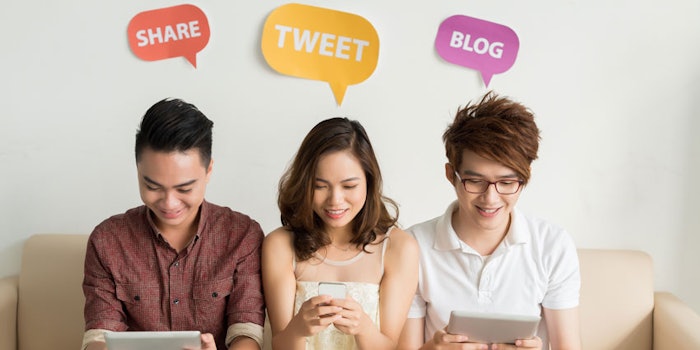 On February 7, Women's Wear Daily held its Digital Beauty Forum in Manhattan. This annual event highlights the latest trends in online retailing and digital media platforms. The special focus this year was on the growing importance of influencer-driven social sharing. Indie breakout brands HudaBeauty, Frank Body and Makeup Geek weighed in with key insights from their social success stories.
Brands looking to boost social reach, should keep the following five takeaways in mind:
(1) Define who your brand's core influencer is.
Ginny Chien, executive director of global & digital consumer marketing at Smashbox, explained how brands can best increase engagement by making sure they're targeting the right folks.
An influencer has the most influence when they're properly aligned with a brand's personality and values. Bloggers, YouTube creators and Instagram stars with smaller followings might be more worthwhile to work with if they really "get" your brand. They might not be the biggest players, but they're the right players.
(2) Consider the price-sensitive customer.
In the way the fast-fashion concept took hold of the fashion industry, fast-beauty will be an exciting area to watch. Natalie Mackey, CEO of Glow Concept, spoke about the success of its fast-beauty brand, Winky Lux, and highlighted one of the hot-buttons of the "Gen Z" consumer: price.
Catering to the 29 year-old and younger customer, Winky Lux found a sensitivity point at $15 and priced its line accordingly. Emphasizing speed to market–Mackey says the concept to consumer cycle is 45 days–the brand can capitalize on trends and push them to the consumer at an affordable price.
(3) Develop a global audience.
Online the whole world truly is watching, as Huda Kattan, Founder of Huda Beauty, made clear. Relaying her personal story from makeup artist and beauty blogger to eyelash and lipstick designer, Kattan found success first at Sephora in Dubai before expanding to other areas of the world. Thanks to her incredible social reach she leveraged her beauty passion and expertise to build a cult following and drive consumer engagement.
Similarly, Australia-based Frank Body, built an audience in its home country before expanding into the U.S. with retail partner Urban Outfitters. Creative social media engagement created a demand for the product in more than one country even before it was readily available, making it attractive for potential retailers.
(4) Learn from tech companies.
Mila Mendez, of Laura Geller Beauty, pointed out, tech companies have taught consumers to expect more from brands online—whether it's having an optimized ecommerce platform or being quick to market with a product. To meet customer needs, beauty brands can take another cue from tech companies' playbook: ideation and iteration.
With Facebook polls and customer surveys, brands can easily ask customers what they want, bring customers into the process and test and create new products with them. See what succeeds, what fails, learn and start again.
(5) Be in the moment with your customer.
Social media is all about sharing, and with the rise of live video streaming through Facebook and YouTube, it's all about sharing in the moment. Marlena Stell, CEO of Makeup Geek, encouraged using live video to really connect and engage with customers in the most authentic and personal way.
Brands can answer customer questions, offer tips and tricks and bring fans behind-the-scenes of what they're working on for the next launch. Give fans an inside look and they'll get excited for what's coming next.
Nicole Beckley is the marketing director for Merlot Skin Care, a natural grape seed-based skin care brand.