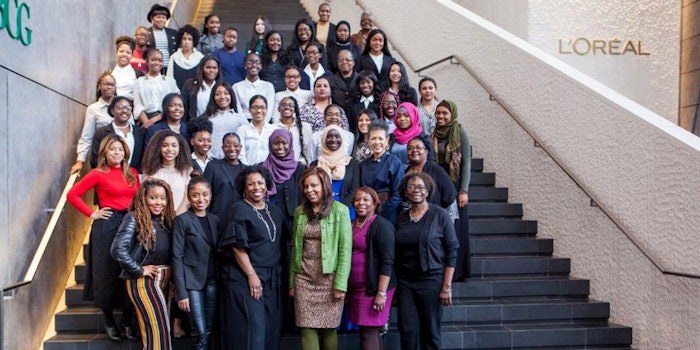 L'Oréal USA welcomed 13 high school students at 26 college students to its Hudson Yards headquarters as part of the New York Coalition of One Hundred Black Women's Annual Role Model Program. 

This program was created to provide students with "a realistic understanding of various professions, to learn practical workplace skills and to allow them to shadow professional women in their chosen careers."
The four-day program included both workshops and presentations given by professionals in the fields of beauty, social and professional etiquette, dressing for success, social networking, financial literacy, life skills, leadership, personal growth, and presentation skills. 

"It's gratifying to hear how much the students benefit from their experiences during Role Model week," said Cheryl Green-Foster, president of the New York Coalition of One Hundred Black Women.
On the final day of the program, scholarships were awarded to five participants. 
1st place— Naa-Afi Tackie
2nd place— Serphie LaGuerre
3rd place— Yacine Ndiaye

The Evelyn Payne Davis Scholarship—Emily Gonzalez

The High School Scholarship—Beatrice Igboekwe.
"Each year, L'Oréal USA's collaboration with New York Coalition of One Hundred Black Women's Role Model Program presents the opportunity to demonstrate and reaffirm our commitment to supporting programs that energize and encourage women and girls," said Cecilia Nelson-Hurt, L'Oréal's assistant vice president of Diversity & Inclusion. "In addition to presenting personal and professional growth experiences, L'Oréal USA is proud to have awarded scholarships each year to Role Model Program students for the past 19 years."