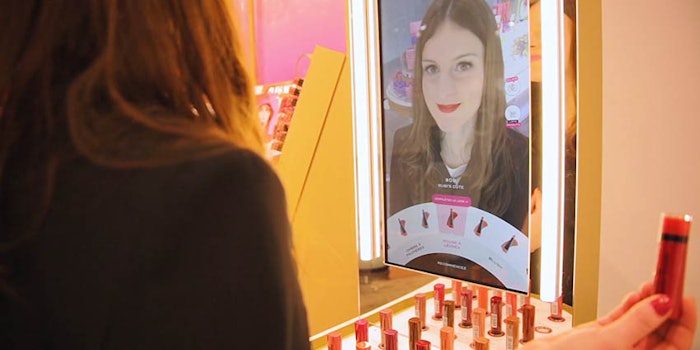 Coty has debuted a new blended reality Magic Mirror at its newly relaunched Bourjois Paris boutique.
The Magic Mirror, which allows shoppers to pick up a lipstick and instantly try it on their lips, features the Bourjois Rouge Velvet Lipstick collection; shoppers may complete their digital look with onscreen eye makeup and blush, matched to their skin tone, and take a selfie of their final look to email or print in-store.
The company found that 72% of consumers surveyed sought an in-story beauty experience that combined physical and digital elements, citing the availability and hygiene concerns surrounding traditional testers.
Coty developed the technology in collaboration with Holition and Perch.
"As part of our desire to reinvent the retail experience through purposeful and personalized innovation, the Bourjois Magic Mirror represents the most extensive integration of physical products and digital content in the beauty industry," said Coty  global digital innovation senior director Elodie Levy. "Most women intuitively prefer to play with a lipstick rather than touch a screen, as there is an inherent sensual aspect in cosmetics packaging that no technology can replace, and our new Magic Mirror provides this desired experience to shoppers."
Added Trevor Sumner, CEO of Perch Interactive: "The next generation of in-store marketing is about blending digital experiences naturally into the shopper journey. The Bourjois Magic Mirror uses computer vision to sense the most important indication of interest in physical retail - when a shopper touches a product - unlocking an experience that encourages natural pathways of discovery, education and engagement."