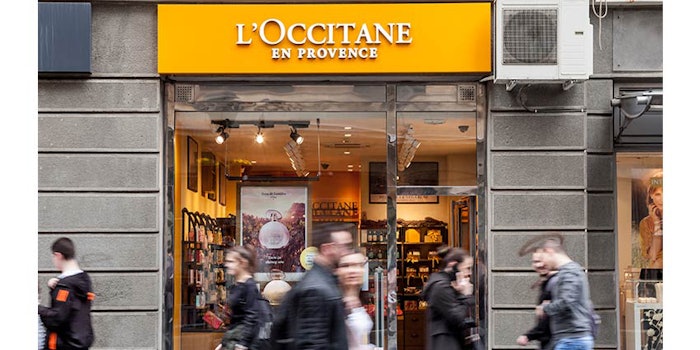 L'Occitane International S.A. (L'Occitane) has announced its 2018 fiscal year results.
The company saw a constant rate improvement of 4.6% over 2017, reporting net sales of €1,319.4 million. Growth drivers included same store sales growth and the spa business; web sell-out channels grew 19.2% at constant exchange rates, equivalent to 13.7% of total sell-out sales.
Sell-out sales accounted for 74.% of net sales, recording €987.8 million for a 4.8% increase. The increase was driven by positive same store sales growth, non-comparable stores and other sales, such as new and renovated stores. During the fiscal period, the company opened 41 stores and renovated 153.
Related: L'Occitane Announces Fiscal Year 2018 Interim Results
Driven by growth in travel retail, B2B and web partner and distribution channels of the L'Occitane en Provence brand, sell-in sales accounted for 25.1% of total sales (€331.6 million, a 4% increase).
The fastest growing markets were China, Brazil, the U.S. and Hong Kong, with sales in China growing 20.5%.
"We concluded FY2018 with a strong final quarter, particularly in Asia, where we are continuing to introduce more and more consumers to our world of all-natural products with proven ingredients and recipes," said chairman and CEO Reinold Geiger. "Looking forward, we will continue to boost our appeal through the use of innovative storefronts that highlight our true stories and origins, creative marketing initiatives, and new products including the Aqua Réotier range and a promising new hero product due to be launched later this year. We believe these initiatives will bridge the customer experience in a way that effectively supports both our offline and online sales."